12 July 2014
Gertrude Stein the librettist: free event at the British Library
On Monday 21 July the British Library's Eccles Centre for American Studies will be hosting a free lunchtime talk by Mary Chapman (University of British Columbia) on Gertrude Stein's libretto for Virgil Thomson's opera The Mother of Us All. Her title is 'Gertrude Stein: Suffragist, Librettist, Modernist, or Nazi Collaborator?'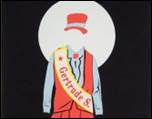 Getrude Stein first collaborated with Virgil Thomson on the opera Four Saints in Three Acts, which remains the composer's most famous work. It was almost twenty years later that they worked together on a second opera, The Mother of Us All. The opera is ostensibly a portrait of the pioneering suffragist Susan B. Anthony in postbellum America, but in her talk Mary Chapman will argue that the opera also gave Stein an opportunity to consider her own political role in Vichy France prior to the enfranchisement of French women.
The talk is part of the Eccles Centre's Summer Scholars series, a series of free daytime events this summer where writers and scholars will discuss their work and forthcoming publications in an informal setting. Attendance is free and all are welcome. Tea and coffee will be provided. To reserve a place for any event, please email eccles-centre@bl.uk. All events take place at the British Library Conference Centre, Chaucer Room. Mary Chapman's talk is on Monday 21 July, 12:30-14:00.
Mary Chapman is an Associate Professor of English at the University of British Columbia, in Vancouver, Canada. She specializes in American literature and transnational American Studies; in particular, she works on intersections between cultural forms (parades, print culture, parlour theatricals, suffrage activism), literary production, and
politics in nineteenth- and early twentieth-century America.
The full Summer Scholars leaflet is available here: http://www.bl.uk/eccles/pdf/ecclessummerscholars2014.pdf