14 August 2014
Pax Aeterna (1917): silent film screening at the British Library, 29 August 2014
On 29 August at 6.30pm the British Library presents a rare screening of the classic World War I silent film, Pax Aeterna.  Directed by Holger-Madsen, this feature-length film was first screened in Denmark in 1917.  Its message of peace was warmly received by war-weary audiences throughout Scandinavia and Europe in 1917 and 1918, but the film has long since fallen into obscurity. 
This exclusive performance reunites the film, which survives in the archives of the Danish Film Institute, with a musical accompaniment by the Viennese composer Franz Eber.  Eber's score was composed for screenings at the Wiener Konzerthaus organised by the Red Cross to raise funds for tuberculosis relief in March 1918.  The musical accompaniment was originally performed by a full orchestra, but a piano reduction which survives in the archives of the Konzerthaus will form the basis for the reconstruction at the British Library, to be recreated by the renowned silent film pianist John Sweeney.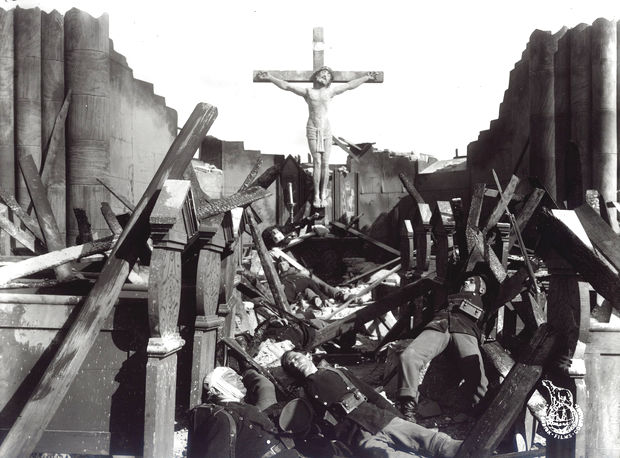 With stunning visual imagery, the film explores utopian themes of love and peace in the midst of conflict, charting the fate of the fictional King Elin XII, a peace-loving leader of a European nation, and his son Crown Prince Alexis.  The King has dedicated his life to the pursuit of eternal peace (pax aeterna) between nations, an ideal supported and propounded in the writings and lectures of the Professor Baron Claudius. Alexis is in turn in love with Claudius's daughter Bianca, but is unable to profess his love because of her lower social status.  The King's death on the eve of war with a neighbouring state thrusts Alexis into power and highlights the tragic personal consequences of war, as Claudius's son meets one of his friends (a student of Claudius) in battle.  The battle is duly won by the new King Alexis, but at great human cost. Instead of trying to take advantage of the fortunes of war, Alexis sends a peace expedition to the neighboring state as well as to all other European nations.  His ensuing popularity allows him to win public acclaim for his match with Bianca.
The British Library screening is presented by arrangement with the Danish Film Institute and the Wiener Konzerthaus.  It is made possible by the research and generous assistance of Anna Katharina Windisch and forms part of the international conference 'The Music of War, 1914-1918' (29-31 August), presented by the British Library to mark the centenary of the outbreak of the First World War.  The conference is supported by the Royal Musical Association, Music & Letters, and the Oxford Research Centre in the Humanities. 
For tickets, please follow this link to the BL Box Office.