06 February 2015

The British Library's Directory of UK Sound Collections is one of the first steps in our Save our Sounds programme launched on 12th January 2015 as one of the key strands of Living Knowledge, the British Library's new vision and purpose for its future.
The purpose of the directory project is to collect information about our recorded heritage, to create a directory of sound collections in the UK. By telling us what you have, we can help plan for their preservation, for future generations.
Our aim is to be comprehensive; to search out sounds that exist in libraries, archives, museums, galleries, schools and colleges, charities, societies, businesses and in your homes.  And we're not just interested in large collections: a single item might be just as important as a whole archive.
So far we have collected information about almost 200 collections amounting to roughly 250,000 items across a range of formats and subjects: oral history; wildlife, mechanical and environmental sounds; drama and literature; language and dialect; radio and popular, classical, jazz and world and traditional music.
A summary list of music collections includes:
Mozart GLASS Collection: former Greater London Audio Specialisation Scheme (GLASS Collection retained by Westminster Music Library
Some commercial music recordings included alongside collection of music scores and news cuttings relating to the life and career of Sir Thomas Beecham (1879-1961)
A large collection of communist period vinyl records from Romania, and smaller collections from Bulgaria, Ex-Yugoslavia and Hungary
Recordings made by many contributors of traditional song, music and drama; dialect speech; calendar customs; cultural traditions; children's games and songs (University of Sheffield Library)
Sound recordings made by ethnomusicologist Jean Jenkins in Africa, India and the Middle East
Recordings of songs by Plymouth artists (with paper transcripts) and photographs of Union Street Project, Plymouth
The Erich Wolfgang Korngold Archive: Interviews, archival performances, acetates, 78rpm discs, broadcast tapes, private recordings, vinyl and CDs covering the life and work of composer Erich Wolfgang Korngold (1897-1957)
organ  and morning service recordings from St Andrew's, Plymouth
gramophone records of Princess Elizabeth's visit to Plymouth, recorded by RGA Sound Services, 21 Cobourg St, Plymouth
2 troubadour and 10 trouvère songs sung by Francesco Carapezza; 13 troubadour songs in spoken performance by Gérard Gouiran,  from the University of Warwick
Music on LP and some wax cylinders, from Brent Museum and Archives
A comprehensive, primarily classical, recorded music collection from Exeter Library
Scottish Music Centre: Recordings of music by Scottish composers and performers (and associated spoken-word material), mostly dating from late 1960s to present. Over 12,000 items of which over 11,000 catalogued online (as at January 2015)
3,000 commercial recordings from the 78rpm shellac era, including some rarities and radio transcriptions (Radio Luxemburg, ENSA, BBC), as well as unusual/rare labels of non-jazz content
12,000 UK 78rpm records, 1920-1945, concentrating on British Dance Bands & personalities of the period
100 shellac discs of early jazz recordings
Evensong half hour, recorded at Hunstanton parish church and broadcast by the BBC on 19th August 1951
Cassettes of church organ accompanied by a choir boy
Private recordings made on open reel tape of classical music performances
Recordings of Scottish, English, Irish and other folk musicians, made mostly in Edinburgh from the late 1960s to mid-1970s
Recordings of the Broughton Tin Can Band and Winster Guisers
Private folk music recordings made on open reel tape
Music by Derbyshire musicians.
Although this is a good selection across the musical genres, we feel there are many, many more music collections out there.
The census is live now and will run until the end of March 2015.  You can read more about the project, and send us information about your collections here: www.bl.uk/projects/uk-sound-directory.
You can follow the British Library Sound Archive on Twitter via @soundarchive and tag with #SaveOurSounds
13 November 2014
The British Library's Music Open Day for Doctoral Students will take place on 30 January 2015.
These Open Days allow students to learn about our collections of printed and manuscript music and sound recordings (including classical, pop, world and traditional music), to find out how to access them, and to meet our curatorial staff as well as other researchers in their field. In addition to an understanding of the Library's collections, students gain a wider introduction to the information landscape in their field, and research opportunities opening up in the digital information environment.
This event is aimed at new PhD students, as well as Masters students who are planning to continue their research at doctoral level. Numbers are limited and, as these events are very popular, we do encourage early booking. Places cost £5.00 and this includes lunch.
Book directly using this link or see our website for details of all events taking place at the British Library.
The Institute of Musical Research will provide discretionary travel bursaries, up to £20, for students coming from outside London – further details will be provided nearer the time.
10 July 2014
July 10th marks the fiftieth anniversary of the release of The Beatles' third LP, A Hard Day's Night. The LP was conceived as a soundtrack to the film of the same name, directed by Richard Lester, which had its UK premiere on July 6th and featured the first seven songs from the album in full.
The success of both the film and the album cemented the band's status as a transatlantic, if not global, phenomenon. A Hard Day's Night was the first Beatles LP to consist entirely of self-penned songs and many consider it (and the title track in particular) to mark the beginning of the band's most productive and exciting period of creativity.
July 10th 1964 also saw the release of the title track as a seven-inch single, with Things We Said Today appearing as the B-side. The song A Hard Day's Night is famous both for its memorable opening chord and for its unusual title. The phrase 'A Hard Day's Night' was believed to have come from an exhausted Ringo Starr, following a long day of filming on March 19th 1964 whereas, in fact, John Lennon had previously used it in his book, John Lennon In His Own Write. Lennon is said to have regarded this as a coincidence, affectionately referring to Starr's utterance as a 'Ringoism'. The phrase became popular within the group and Lester adopted it as the title of his film in mid-April, thus sparking off a friendly competition between Lennon and Paul McCartney as to who could come up with the title song.
On this occasion it was Lennon who got there first. He wrote the song very quickly; scribbling the lyrics on the back of his son's birthday card (Julian Lennon had turned one the previous week). This birthday card has been on loan to the British Library for some time and is on display in the Sir John Ritblat Treasures Gallery at The British Library. The fact that the lyrics were written on the back of a birthday card is significant, for it suggests that the words came to Lennon so quickly that he wrote them down on whatever happened to be close to hand.
For those who study them, handwritten first drafts of song lyrics or poems have a special quality, in that they appear to record for posterity the instances of those initial creative sparks. Moreover, it could be argued that the more ephemeral the item on which the lines have been written, the closer the item seems to be to that now long-gone moment of inspiration. When we study the handwritten lyrics to A Hard Day's Night, it is easy to imagine Lennon scribbling them down so as not to forget them.
Visitors to the British Library will notice that Lennon made an important revision to this initial draft. On the morning of April 16th (the day the song was recorded), Maureen Cleave, Evening Standard journalist and friend of The Beatles, picked Lennon up in a taxi and took him to the Abbey Road studios. Cleave recalls suggesting that Lennon reconsider the line 'I find my tiredness is through'. Lennon, borrowing Cleave's pen, crossed out the line and wrote 'I find the things that you do' in its place.
As has been the case with so many Beatles songs, A Hard Day's Night has spawned an astonishing range of cover versions including, famously, Peter Sellers's version from 1965 in which the actor and comedian recites the lyrics while impersonating Lawrence Olivier's performance of William Shakespeare's Richard III.
A Hard Day's Night was the third Beatles single to go straight to Number One in the charts one week after release and by July 23rd had sold 800,000 before going on to become the group's fourth million-selling single in the UK. The album entered the album chart at Number One and sold 600,000 copies in Britain by the end of the year.
Andy Linehan & David Fitzpatrick
03 April 2014
Since October 2013 the British Library has been engaged in a six-month project investigating ways in which we can work with the fast-moving digital music supply chain, improve its relationship with the music industry and to help develop a Library-wide transition to acquisition of digital materials as part of its long-term Content Strategy. As part of this work a one-day symposium took place.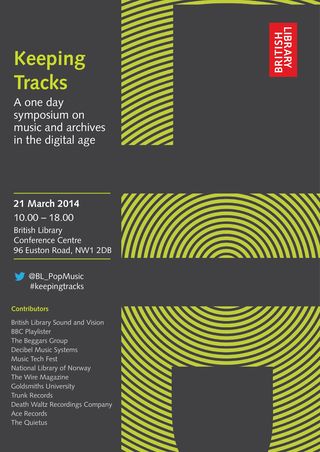 Keeping Tracks was devised as an opportunity for the British Library to talk about its collections and how we collect, preserve, conserve and give access to them, be they a 100-year-old wax cylinder or a newly minted digital file. It was also a great chance to gather different sectors of the industry – tech, labels, metadata, and archives – in one room to talk about an area that usually gets overlooked in traditional music industry conferences.
In the early spring sunshine of Friday 21 March delegates gathered from all corners of the globe and descended into the Conference Centre auditorium to be greeted by Curator of Popular Music, Andy Linehan. Andy set the scene and offered some historical context about where the British Library's archives of recorded material had come from and handed over to colleagues Adam Tovell and Alex Wilson to talk about where they are going.
AV scoping analyst Adam Tovell proceeded to discuss the study he has been engaged with for the last 12 months. Tovell and his team have been counting, quantifying and assessing the collections, analysing international standards and devising schedules to define best practice in the long-term audio-visual preservation of the Library's 1.5 million recordings – before it's too late.  The recording of his fascinating address can be found below
Adam Tovell - On shelves and clouds
Alex Wilson - Download into the BL
From the preservation of acetate and shellac, CDR and cassette to the collecting of digital sound and music Alex Wilson, Curator of Digital Music Recordings soon took to the lectern amidst a riot of noise and national anthems. This cacophonic audio clip was designed to illustrate the uphill challenge the British Library faces in 2014. Online sound and music is everywhere. It is the Library's job as guardians of the nation's audio memory to make sense of this. Wilson proceeded to show the first stages of a new collaboration that will improve the way we collect born-digital music and highlight other projects being investigated. The Q&A included some interesting questions surrounding Legal Deposit for recorded music and concerns of metadata ownership. Views from the floor regretted that this valuable material was without the benefits of statutory archiving and preservation that other material enjoyed.
Keeping Tracks then opened its doors to the working music industry during a perceptive Q&A with Lesley Bleakley of the Beggars Group and Rory Gibb of music magazine, The Quietus. With over twenty years of experience in the music industry and representing a record label that is regarded as a leading light in digital delivery and archiving, Lesley Bleakley was perfectly placed to offer a fascinating insight. Moreover, she touched on the burgeoning relationship between Beggars and British Library Sound and Vision itself; the last year for instance has witnessed a mutual sharing of advice and guidance and music culminating in the delivery of the entire Beggars digital back catalogue in early 2014.
Lesley Bleakley and Rory Gibb - Beggars Archive
Post-lunch the discussion became truly international in scope as we invited representatives from peer organisation the National Library of Norway to take the stage. Whilst Norway shares many of the same archiving principles with British Library Sound and Vision it is differentiated in one crucial respect. Norway's legalisation declares that all music recordings must be legally deposited at its National Library. Lars Gaustad and Trond Valberg discussed this and showed the auditorium their innovative new donation portal allowing users to deposit recordings online.
Trond Valberg and Lars Gaustad - Norway
Keeping Tracks then hosted a dynamic presentation from another peer institution. Creative Director at BBC Future Media, Sacha Sedriks shared his understanding of the guiding principles around music and metadata, the semantic web and the ecosystem that underlies their nascent BBC Playlister service. Through absorbing statistics and images Sedriks shone light on a pioneering new platform that only hints at how the truly immersive and interactive BBC Radio and Television offering of tomorrow will look like. 
Sacha Sedriks - BBC Playlister
Metadata underpins much of what we do here at British Library Sound and Vision and was a recurrent theme across the Keeping Tracks day. Hence it seemed only right to ask a leading music metadata supplier to the stand. Decibel Music Systems served up a talk in three parts: metadata from a market, data and technical perspective. Metadata is the glue that binds many systems together across the industry. As a result the Decibel presentation was followed by a lively and passionate Q&A which showed how important data is to making things (and people) click.
Decibel Music Systems - Dataphile
Whilst refreshments were guzzled, the auditorium was being tuned to a trans-Atlantic frequency. For the most ambitious strand of the Keeping Tracks we had invited UK based Music Tech Fest to share their keynote panel live via Skype from Microsoft Research Labs in Cambridge, MA, USA. The subject: developers, APIs and the music archive. Watched through the Skype-fuzz an energetic session ensued, moderated by Music Tech Fest head Andrew Dubber in the States and former Soundcloud man Dave Haynes here in the UK. Particular note should go to Microsoft researcher Jonathan Sterne who delivered an impassioned reflection on the nature of archiving and the internet which drew a round of applause in the London space.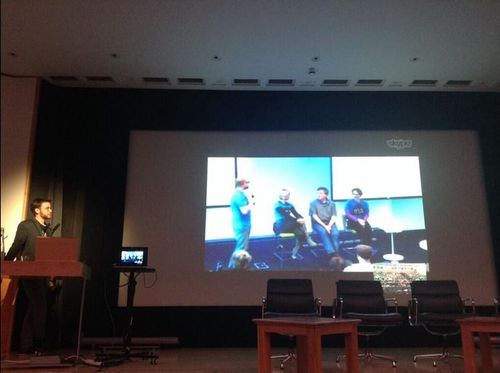 Music Tech Fest - Posterity Hacking
The end was nearly upon us. The final official session of Keeping Tracks was a panel chaired by Jennifer Lucy Allan of the WIRE magazine, stimulating discussion amongst a trio of label owners who specialise in lost music, records and reissues. Jonny Trunk (Trunk Records), Roger Armstrong (Ace Records) and Spencer Hickman (Death Waltz Recordings) proceeded to entertain the delegates with an informal, humorous, inspiring and sobering account in the wonderful art of releasing beautiful old music. Anecdotes, asides, controversies and reflections filled the hour and one suspects we could have talked well into the night.
Panel Discussion - Archives and music
Before the close of the day we invited respected author, journalist and Goldsmiths lecturer Mark Fisher to deliver his own personal take on what had gone before. Whilst it may have polarised some of the audience, Fisher's lucid account of the 2014 digital space, music, memory, innovation and consumption sounded a stark clarion call to ring us toward the close.
The British Library would like to thank all those who presented, spoke, attended and asked questions at this inaugural Keeping Tracks symposium. We have been delighted with the feedback so far and would welcome any further suggestions, recommendations and donations for the future. If nothing else Keeping Tracks felt like a genuinely unique event (up) lifting the lid on a usually ignored, diverse set of issues and investigations about music and archiving in the 21st century. Long may these discussions continue...
---
All full presentations streaming here

All presentation slides displayed here
A follow up interview by Digital Music Trends is here
09 November 2012
Barely a day passes when there is not another delivery of packages from record companies containing the latest releases to add to the BL collection. A constant stream of sturdy, anonymous brown boxes arrive at my desk, labelled only by the distribution company, with little external clue as to their contents. Even after many years of receiving such deliveries there remains a thrill of anticipation as to what the boxes might contain – Christmas Day every day, as a colleague has described it.
But yesterday this arrived: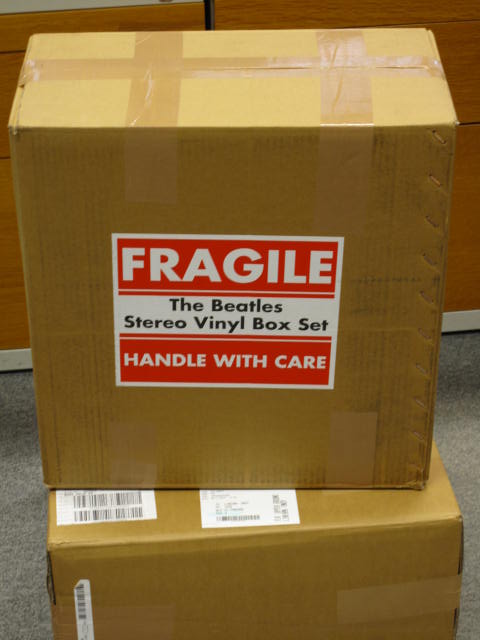 We are used to receiving boxed sets of records to add to our collections – in fact the revival in the fortunes of vinyl means we are seeing more and more such deluxe reissue packages – but custom-made stickers on the box proudly announcing the contents have not been done before as far as I can remember.
So the 'what's in the box?' anticipatory moment was denied but on opening we found a 16-LP set of Beatles albums on 180 gram audiophile-quality vinyl with a lavish 250-page book describing the albums and the remastering process.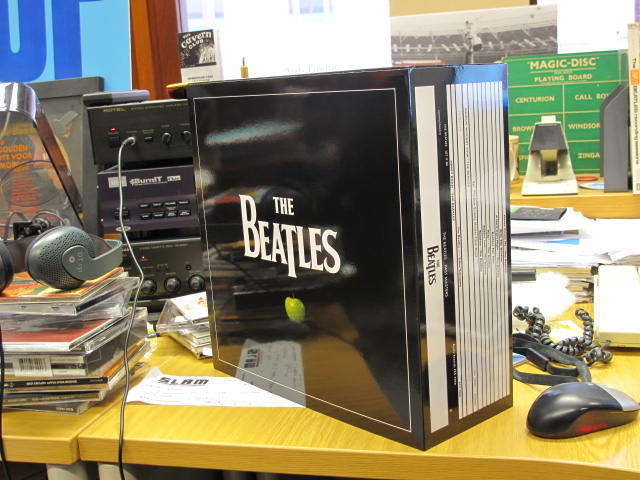 This is an extravagant set which many will covet and, given the likely price, few can obtain. Only 50,000 copies are to be available worldwide so we are lucky and appreciative that EMI have donated the set. Like many of our holdings it will probably become a collectors' item, so in a departure from normal practice we are likely to keep the delivery box with the one-off sticker in addition to the set for the benefit of future Beatles completists.
Oh, and the records sound pretty good too.
22 October 2012
Despite many stories of the decline of the traditional record industry there seems to have been a growth in the number of Indie labels and self-released recordings in the UK of late. It is gratifying to see this reflected in a marked increase in the number of donations from Independents in recent months, largely due to the efforts of my colleague Jamie Tugwell who is contacting labels on a regular basis and explaining about the BL's collection of sound recordings.
So this week I was pleased to meet Rachael from Stolen Recordings who came to the library in person with a wonderful collection of releases that we had not previously acquired.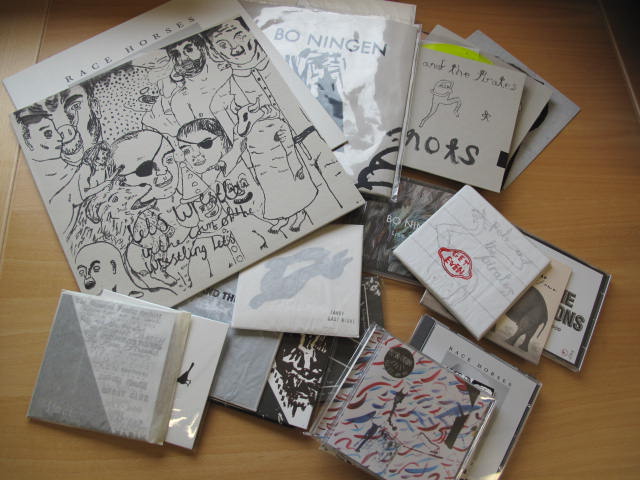 Stolen were voted Small Independent Label of the Year last year and are on a bit of a roll at the moment so to receive some of their rarer recordings in hand-made sleeves and a variety of formats was timely.
Another arrival this week was a package from Allsorted Records based in Norwich. Allsorted's Dudley had contacted me earlier in the year to ask about registering the label's recordings with the BL. I was happy to point out that there is no registration process – just send us your records and they will be processed and added to our collection.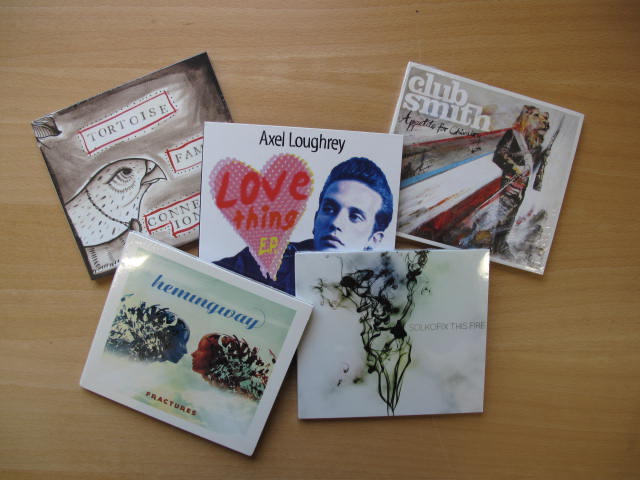 We don't have the benefit of compulsory legal deposit for sound recordings so have to rely on donations. There are long-standing arrangements with the major record companies and we receive almost daily deliveries from them, but it is more time-consuming to track down smaller independent labels and make arrangements with them so we are always trying to play catch-up.
One label that is very familiar with the BL's collection of recordings is Public Information, whose co-founder Alex Wilson is Video Manager in the BL's Sound and Vision department. Alex brought in the two most recent releases in their catalogue this week and we now have a complete run of their output.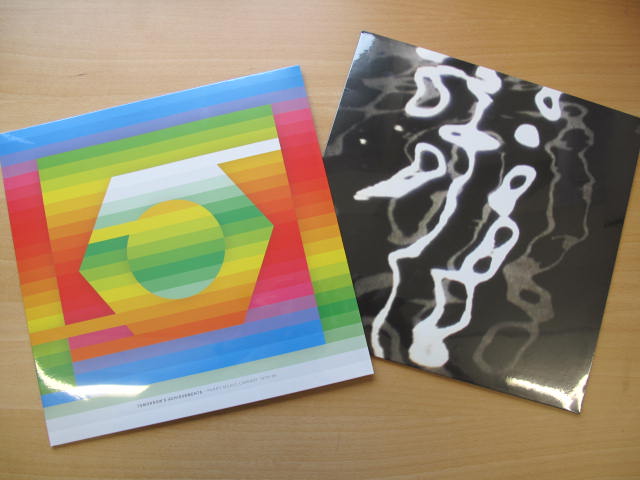 We hope to further increase the acquisition of recordings from Independent labels over the forthcoming months so if you are involved in a label you may well hear from Jamie or myself. Alternatively you can e-mail popmusic@bl.uk to tell us about your label and we will happily arrange to receive your recordings.
24 August 2012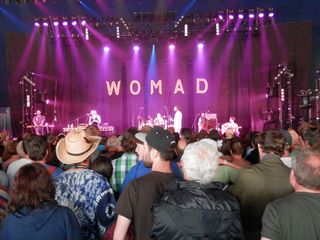 2012 saw the 30th anniversary of the UK World of Music, Arts and Dance (WOMAD) Festival. Just three years after its inaugural event in Shepton Mallet,  British Library staff started recording the event to create an archive that would be available for generations to come.
In the early years the BL team had to cart around heavy reel to reel recording machines and the tapes had to be copied one by one, stored on basement shelves and manually retrieved for every request. As technology advanced the team recorded on VHS and subsequently DAT tapes and nowadays it's all recorded digitally. Recordings are made and backed up on site with data entry compiled at the same time, making it very much easier to process back at the Library. The result is that this year's recordings are available for listening via computer terminals in the reading rooms at the St Pancras building in London less than one month after the event.
20 August 2012
Today sees the CD release of the music from the Closing Ceremony of  London 2012, a copy of which has already found its way into the BL's pop music collection (1CD0330501). The closing ceremony of the 2012 Olympics was always going to suffer from comparison with Danny Boyle's innovative, lavish and epic opening ceremony. The end ceremony promised a 'symphony of British Music' which would soundtrack 'the best-ever aftershow party' and prompted much speculation as to what would and wouldn't be included. 



Artistic Director Kim Gavin and Music Director David Arnold somehow selected thirty hits from the past fifty years of British Music and, given the choice on offer, it is unlikely that any other two people would agree on the same playlist. The final choice inevitably gave rise to a number of gripes about who was missing and what was not represented, but it is a nigh on impossible task to represent every facet of British popular music in such a presentation. One of the most daunting tasks that faces the pop music collections at the BL is keeping track of what is happening out there - and as the myriad forms of music, subcultures and genres of popular music keep expanding it is important that we represent all types of music that is created in Great Britain. Should Kim Gavin have wished to do so, he could have come to the BL, browsed our catalogue and listened to more than 100,000 different vinyl singles to audition his playlist. To then narrow down the task to 30 or so tracks (having also auditioned our digital collections to come bang up to date) would be the difficult part, which is where Gavin's experience in staging large-scale mainstream events such as Dancing On Ice Live and Take That arena concerts will have shaped his wishlist.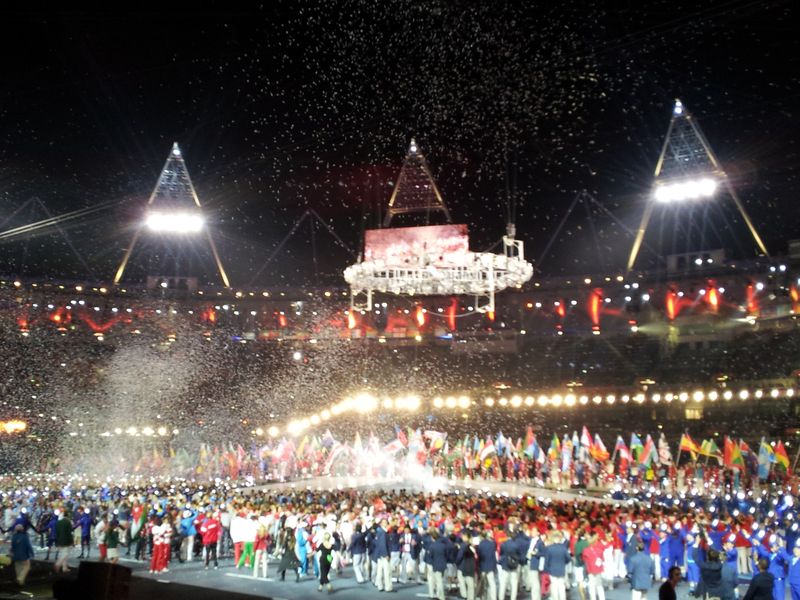 Where the relatively radical Opening Ceremony could include punk rock and a track by F*** Buttons, the closing ceremony was always going to be more similar to a wedding disco or an inoffensive edition of Top of The Pops. Allowance also has to be made for artists on the initial list - such as The Rolling Stones, Kate Bush, David Bowie, Adele -  who either declined to appear or were unavailable. Gavin had stated that he wanted to provide a big party for the ending and in trying to provide that for as wide an audience as possible the playlist had to be recognisably full of big hits and nothing more ambitious than that. It seemed to work.