06 February 2015

The British Library's Directory of UK Sound Collections is one of the first steps in our Save our Sounds programme launched on 12th January 2015 as one of the key strands of Living Knowledge, the British Library's new vision and purpose for its future.
The purpose of the directory project is to collect information about our recorded heritage, to create a directory of sound collections in the UK. By telling us what you have, we can help plan for their preservation, for future generations.
Our aim is to be comprehensive; to search out sounds that exist in libraries, archives, museums, galleries, schools and colleges, charities, societies, businesses and in your homes.  And we're not just interested in large collections: a single item might be just as important as a whole archive.
So far we have collected information about almost 200 collections amounting to roughly 250,000 items across a range of formats and subjects: oral history; wildlife, mechanical and environmental sounds; drama and literature; language and dialect; radio and popular, classical, jazz and world and traditional music.
A summary list of music collections includes:
Mozart GLASS Collection: former Greater London Audio Specialisation Scheme (GLASS Collection retained by Westminster Music Library
Some commercial music recordings included alongside collection of music scores and news cuttings relating to the life and career of Sir Thomas Beecham (1879-1961)
A large collection of communist period vinyl records from Romania, and smaller collections from Bulgaria, Ex-Yugoslavia and Hungary
Recordings made by many contributors of traditional song, music and drama; dialect speech; calendar customs; cultural traditions; children's games and songs (University of Sheffield Library)
Sound recordings made by ethnomusicologist Jean Jenkins in Africa, India and the Middle East
Recordings of songs by Plymouth artists (with paper transcripts) and photographs of Union Street Project, Plymouth
The Erich Wolfgang Korngold Archive: Interviews, archival performances, acetates, 78rpm discs, broadcast tapes, private recordings, vinyl and CDs covering the life and work of composer Erich Wolfgang Korngold (1897-1957)
organ  and morning service recordings from St Andrew's, Plymouth
gramophone records of Princess Elizabeth's visit to Plymouth, recorded by RGA Sound Services, 21 Cobourg St, Plymouth
2 troubadour and 10 trouvère songs sung by Francesco Carapezza; 13 troubadour songs in spoken performance by Gérard Gouiran,  from the University of Warwick
Music on LP and some wax cylinders, from Brent Museum and Archives
A comprehensive, primarily classical, recorded music collection from Exeter Library
Scottish Music Centre: Recordings of music by Scottish composers and performers (and associated spoken-word material), mostly dating from late 1960s to present. Over 12,000 items of which over 11,000 catalogued online (as at January 2015)
3,000 commercial recordings from the 78rpm shellac era, including some rarities and radio transcriptions (Radio Luxemburg, ENSA, BBC), as well as unusual/rare labels of non-jazz content
12,000 UK 78rpm records, 1920-1945, concentrating on British Dance Bands & personalities of the period
100 shellac discs of early jazz recordings
Evensong half hour, recorded at Hunstanton parish church and broadcast by the BBC on 19th August 1951
Cassettes of church organ accompanied by a choir boy
Private recordings made on open reel tape of classical music performances
Recordings of Scottish, English, Irish and other folk musicians, made mostly in Edinburgh from the late 1960s to mid-1970s
Recordings of the Broughton Tin Can Band and Winster Guisers
Private folk music recordings made on open reel tape
Music by Derbyshire musicians.
Although this is a good selection across the musical genres, we feel there are many, many more music collections out there.
The census is live now and will run until the end of March 2015.  You can read more about the project, and send us information about your collections here: www.bl.uk/projects/uk-sound-directory.
You can follow the British Library Sound Archive on Twitter via @soundarchive and tag with #SaveOurSounds
13 November 2014
The British Library's Music Open Day for Doctoral Students will take place on 30 January 2015.
These Open Days allow students to learn about our collections of printed and manuscript music and sound recordings (including classical, pop, world and traditional music), to find out how to access them, and to meet our curatorial staff as well as other researchers in their field. In addition to an understanding of the Library's collections, students gain a wider introduction to the information landscape in their field, and research opportunities opening up in the digital information environment.
This event is aimed at new PhD students, as well as Masters students who are planning to continue their research at doctoral level. Numbers are limited and, as these events are very popular, we do encourage early booking. Places cost £5.00 and this includes lunch.
Book directly using this link or see our website for details of all events taking place at the British Library.
The Institute of Musical Research will provide discretionary travel bursaries, up to £20, for students coming from outside London – further details will be provided nearer the time.
07 November 2014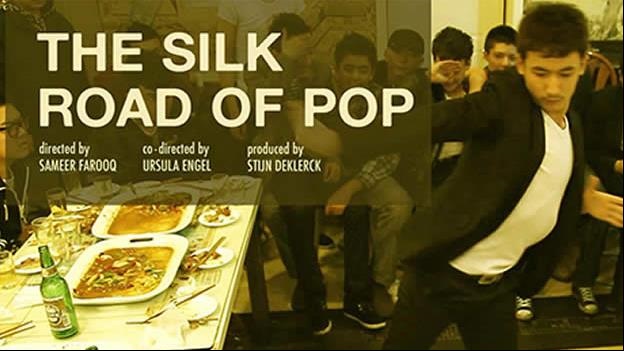 The British Library and International Dunhuang Project will be hosting a free evening of music and film on 28 November 2014. The London Uyghur Ensemble, a London-based group which plays traditional and popular music of the Central Asian Uyghurs, will open the evening with a live performance.
Following the performance, will be a screening of the award winning documentary The Silk Road of Pop, a portrait of the explosive pop music scene among the Uyghur community in China's Xinjiang Province. The Silk Road of Pop tells the story of Ay, a young Uyghur woman in China curious about the outside world who turns to music for answers and is drawn to musicians who mirror her struggles in their songs. The screening will be followed by a Q&A sessions with the film directors.
Friday 28 November 2014, 18:30 - 20:30
The British Library Conference Centre
96 Euston Road, London, NW1 2DB
08 September 2014
The British Library's relationship with WOMAD (World of Music Arts and Dance) is nearly as long as the festival's existence, recording performances for archival purposes since 1985. The first recording in the WOMAD Collection, C203/1, was of the Chinese sheng and flute players, the Guo Brothers, who had recently arrived in London to study at the Guildhall School of Music and were just beginning to create a name for themselves in this country. It was made on Ampex 456 'Grand Master' tape at half-track stereo and in the recordists' notes, strong winds were reported as interfering with the quality of the recording.
Since 1985 and each year, with the exception of three, a small team of staff from the British Library record as many of the performances as possible, including workshops and interviews. This summer, between 24 and 27 July, six members of staff attended the festival equipped with portable digital recorders and recorded ninety-one performances, covering 95% of the festival. These recordings have recently been catalogued and processed and are searchable on our catalogue. They can be listened to free of charge through our listening service on-site at the British Library in King's Cross in London and in Boston Spa, Yorkshire. 
The British Library holds a significant number of early UK appearances by artists who, since performing at WOMAD, have made great inroads on the international music scene; artists such as Baaba Maal, first recorded by the British Library at WOMAD in 1991, Thomas Mapfumo, first recorded in 1990 and Nusrat Fateh Ali Khan, first recorded in 1985, to cite only a few. In total we hold around 2,100 hours of audio (you would need close to 3 months of non-stop listening to listen to it all!) of performances at WOMAD, held on different physical formats such as open reel tape, DAT, CD-R and digital audio files; all are stored in our basements and backed up digitally for preservation and access.
The British Library holds five million recordings on over one million items dating back to the 1890s and possibly earlier. The sound collections have their origin in 1906, when the British Museum began collecting metal masters from the Gramophone Company. Recording performances at WOMAD is one example of the many ways in which the British Library actively develops its sound collections although the majority of material is acquired through donations, purchases or loans.
Steven Dryden, Sound and Vision Reference Specialist, was a member of the WOMAD team this year. In this paragraph he relays his highlight of the festival: experiencing the live sound of DakhaBrakha, made possible thanks to Dash Arts, the creative agency which brought the group to the United Kingdom.
My highlight of WOMAD 2014 has to be 'Ethno Chaos' founders DakhaBrakha - brooding, shamanic 'noisescapes' from Ukraine. The Siam Tent filled to capacity throughout the four piece set, the atmosphere building and building with each song. The sound is eclectic, in the truest sense of the word; there is a traditional folk element but also, dance, hip-hop and tribal rhythms. The songs often build to terrifyingly claustrophobic dins, but remain rhythmic and chant like - just as the 'Ethno Chaos' tag might suggest, there is a lot of beauty in this chaos. One couldn't help but reflect on everything that has happened in the Ukraine in the last year. Perhaps DakhaBrakha are capturing the zeitgeist of a generation of Ukrainians? The performance is swamped with pride, Ukrainian flags are featured on stage and amongst the audience. But there is something more here, the sound of the four piece is defiant and confident, totally uncompromising between the past and the future sounds of the Ukraine. This band sucks you in to their world of noise and forces you to contemplate, all while moving your feet.
Listen to an excerpt from DakhaBrakha's performance
Andrea Zarza Canova, Curator of World and Traditional Music, attended WOMAD festival for the first time.
Bernie Krause's talk at the Society of Sound Stage was an inspiring complement to the numerous musical performances I recorded at WOMAD: The Good Ones, Monsieur Doumani, Aar Maanta, Siyaya, Amjad Ali Khan, Mulatu Astatke, Kobo Town, Magnolia Sisters, amongst others. In his talk, the bio-acoustician and founder of Wild Sanctuary, an organization dedicated to recording and archiving natural soundscapes, invited the audience to reflect on the origins of music by suggesting structural relationships between what he identifies as the three layers of the soundscape - the geophony ('non-biological sound that occurs in the natural world'), biophony ('all of the sounds that animals create collectively in a natural wild environment') and the anthrophony ('all the human noise we create'). Using spectograms and audio recordings from his personal archive and recordings of the BayAka Pigmies made by Louis Sarno, his points were made audible.
Listen to an excerpt from Bernie Krause's talk
Andy Linehan, Curator of Pop Music, attended the first WOMAD festival in 1985.
As ever, it is difficult to pick out the highlights of WOMAD – there is so much to see, hear, taste and enjoy even though we are working - but Manu Dibango has long been a personal favourite on record so it was great to see him live and Richard Thompson's late-night set reminded me what a great guitarist and songwriter he is. Ibibio Sound Machine played a storming set on Saturday afternoon and Youssou N'Dour was as classy as ever that evening. Sunday brought my favourite band of the weekend – Les Ambassadeurs, the reformed band led by Salif Keita who revisited their 1970s blend of afrobeat, funk, jazz and soul in an all-too short 75 minutes of aural pleasure.  And in a contrast of style the final performance of the weekend was a blistering set by Public Service Broadcasting (probably the first band to have played both the British Library Entrance Hall and Womad) who enthralled a packed Siam tent and drew proceedings to a close. It didn't rain either.
Listen to an excerpt from Public Service Broadcasting's performance
Get in touch to listen to performances from WOMAD on-site at the British Library and listen online to sounds from World & Traditional Music and Pop Music online! See you next year for WOMAD 2015!
02 September 2014
The British Library has recently acquired field recordings made in two Syriac Orthodox monasteries in south-eastern Turkey by film-maker Nathaniel Daudrich and ethnographer George Richards. These recordings of Syriac Liturgical chant, searchable on our catalogue under collection number C1658 and available on Sounds, were made in 2011 and document one of the oldest existing forms of song, similar to the Western tradition of plainsong. In this guest blog post, we hear from the recordists themselves about the importance of these recordings and the process of making them.
Very few recordings of the liturgy of the Syriac Orthodox Church (a branch of Christianity established at Antioch, in modern Turkey, and which split from Rome and Constantinople in AD 451) have been made in situ in the remote monasteries of southern Turkey. These recordings may prove to be rarer still, in that they capture the essence of the Syriac language (a branch of the Semitic family of languages that also includes Arabic and Hebrew), the speakers of which were once in abundance across the Middle East, but who have now dwindled to a near-forgotten minority. The part of Turkey where these recordings were made is still called Tur Abdin - the Mountains of the Servants of God - but the two monasteries, Deyrulzafaran and Mor Gabriel, are among the very last islands of the Syriac people in Turkey.
In 2011, we travelled from Istanbul to Diyarbakir, a large Kurdish city in south-eastern Turkey. The Arab Spring was spreading through the countries to the south, and the conflict between the Turkish state and Kurdish separatists was rumbling on. From Diyarbakir, we drove at night-time with a Kurdish farmer to Deyrulzafaran, the Saffron Monastery, in the mountains behind Mardin. There, we were welcomed by a monk, wrapped in a black cloak, and taken by moonlight through the courtyards to a small dormitory room.
We were woken the next morning by the bell for prayer. The sun had cast a warm glow over the yellow stone of the monastery, from which it takes its name, and we were led sleepily by a young orphan boy to the chapel. Inside, the walls were whitewashed, with a few embroidered drapes, and sunlight pouring in through a window behind our heads. Clouds of incense tickled our noses. We took a pew among some old men, tanned and flat-capped. The orphan-boy joined another in an alcove on one side of the chapel, while a tall farmer and a priest, wearing black robes, a long black beard and a white-and-black skull-cap, stood in the alcove on other side.  
Then, the boys began to sing. They stopped, the two men replied with deeper voices, and then passed the song back to the boys, and so on, back and forth. As they sang on, into the chapel flowed a trickle of orphans, wiping sleep from their eyes, and farmers, brushing straw from their shoulders, and businessmen on their way to work, leaving briefcases at the chapel door. The boys and the younger men, or those with higher voices, joined the orphans; the older and bigger men joined the priest and the farmer. Soon, the alcoves were overflowing. As the service went on, the singers' voices grew stronger - then, at the very peak, as we stood, half-asleep, hungry, and squinting through the sunlight and the incense, the chapel seemed filled with song.
Listen to an excerpt from Deyrulzafaran
These recordings represent an early step in the development of choral music from monophonic chanting, a single voice making one note at a time, to polyphonic, where different voices sing different notes in harmony. They demonstrate the call-and-response technique, a device that grew out of the structure of human speech, and which spurred on the development of more complex choral music.
It is intriguing to encounter, in these recordings, so early a step in the development of choral music preserved through time, like a living fossil. This is almost certainly the effect of the religious context of this musical tradition: the sanctity of the liturgy has inhibited any change. Without this preservatory effect, Syriac Orthodox chant would have evolved centuries ago and what we hear on the recordings would have been lost in time, cast aside like a snake sloughing its old skin.                      
As significant as these recordings are in understanding the development of choral music, they are also an important reflection of the cultural and historical context in which they have been preserved. Traditions hold that the Syriac people - speakers of the Syriac language - are descended from the ancient Assyrian empire. Acknowledging the influence of early Jewish sacral music, the Hellenistic music, and, later, neighbouring Arabic song, Syriac Orthodox chant is descended, in spirit at least, from the song-poems of the ancient Assyrians.  
Listen to an excerpt from Mor Gabriel
These recordings thus contend to be one of the oldest forms of music in the world: and in them we hear, perhaps, the strains of an ancient bard, singing to the glory of the court of Puzur-Ashur, King of Assyria, two thousand years before Christ.
You can listen to the full recordings on Sounds and read more about the expedition undertaken by George Richards and Nathaniel Daudrich. Follow George Richards on Twitter to receive updates on the project.
31 July 2014
The British Library has recently acquired  a collection of field recordings made at the Skamba Skamba Kankliai Festival in Vilnius, Lithuania. The recordings were made by field recordist and composer Yiorgis Sakellariou with support from World & Traditional Music at the British Library and the generous guidance of Dr. Austė Nakienė at the Lithuanian Institute of Folklore and Literature in Vilnius. The following text, written by Yiorgis Sakellariou himself, details his experience at the festival and features audio excerpts from the collection:   
The Skamba Skamba Kankliai recording project is more so the documentation of an intense listening experience rather than the result of thorough ethnomusicological research. When I arrived in Vilnius I was mainly motivated by the curiosity to see how traditional Lithuanian music is presented and staged at a large-scale festival. My previous knowledge on the subject was fragmentary. I had recently lived in Lithuania for about a year and during that time I became interested in the country's folk music, however I never developed an organized method of collecting or documenting it. Nonetheless, it was easy to discover that there is a big variety of songs and dances and, furthermore, a long history of recording and archiving Lithuanian music.
Since 1973, Skamba Skamba Kankliai has been held annually in Vilnius, Lithuania and currrently it is organized by the Vilnius Ethnic Culture Centre. Every year the festival welcomes a large number of folk ensembles that present a wide and diverse range of traditional music. The festival also hosts international ensembles. In 2014, ensembles from Azerbaijan, Italy, Iran and Georgia assisted and performed folk music from their countries.
The concerts took place in several locations of the old town of Vilnius and many times they overlapped which made it impossible to record every single one. I tried to record music that was as diverse and representative as possible, documenting material on the basis of style, place of origin, instrumentation or age and gender of singers. Often the decision was purely practical (distance between stages, exhaustion, weather conditions etc.). The recordings attempt to capture not only the performed music but also the sonic atmosphere of the festival. The concerts took place in squares, parks, streets, alleys, theatres and churches and on several occasions the purely musical sounds are mixed with street and crowd noise or simply the recording location's ambiance.
This collection can only document a small sample of Lithuania's long musical tradition but hopefully the recordings will stimulate curiosity of listeners who are interested in world and traditional music. I do not consider the recorded material as a relic of a past that desperately tries to catch up with the present and secure a place in the future. These songs, which mostly originated in late 19th century's rural life, are filtered through the new ideas and experiences of the people that currently perform them and afterwards through me, an observer/recordist of the performances. The recordings themselves act as another filter, substituting the physical experience of actually being present at the performance. Yet, despite the multiple layers of filters, the core of the music remains intact. My impression, or perhaps even wish, is that its truthfulness can still deeply affect the listener of the 21st century. 
Here are a few highlights from the festival selected and commented by Yiorgis Sakellariou.
Sasutalas folk ensemble performs Kas tar teka par dvarelį 
The most significant form of Lithuanian singing is the polyphonic sutartinės (from the word sutarti meaning 'to be in agreement'). Each song includes short melodic patterns with few notes, which are sung independently following the polyphonic vocal music rules of heterophony, canon and counterpoint. On 1 June, the last day of the festival, Sasutalas folk ensemble performed a set of sutartinės at Adomas Mickevičius yard. A few children were playing games around the yard shortly before it started to rain.  
Toma Grašytė, Adelė Vaiginytė and Ieva Kisieliūtė perform Lioj saudailio, vokaro (sutartinė) 
This sutartinė was performed by three singers at the opening of Nakties muzika (Night Music), a concert that was set in the atmospheric Lėlė theatre late on the evening of 30 May. A mesmerized audience of around forty people was in attendance.
Liucija Vaicenavičiūtė perform Vaikščiojo motulė po dvarų
Earlier that day at the Lėlė theatre, Čiulba Čiulbutis (Little Bird Warbles), an event focusing on solos, duets and trios, took place. Liucija Vaicenavičiūtė is a member of the ensemble Vaicenavičių šeima (Vaicenavičius family). She sings a song about a mother who wakes her sweetest young daughter up and encourages her to go to the garden and look after their male guests.
Tatato folk ensemble performs Ar aušta rytas, ar diena?
Tatato is the ensemble of the studio of the Ethnomusicology Department of Lithuanian Music and Theatre Academy. The ensemble director, Daiva Vyčinienė, has been devoted to the spreading and teaching of Lithuanian folk music for the past twenty years. 
You can listen to more recordings from the Skamba Skamba Kankliai Recording Project in British Library Reading Rooms by searching for C1661 on our catalogue. The British Library also has several CD publications documenting Lithuanian songs and music from 1908-1941 which were kindly donated by the Lithuanian Institute of Folklore and Literature. In addition, Yiorgis Sakellariou has also deposited environmental field recordings made in Lithuania at the British Library which you can find on our catalogue under collection number WA 2014/019.

Listen online to more collections from World & Traditional music!
10 July 2014
July 10th marks the fiftieth anniversary of the release of The Beatles' third LP, A Hard Day's Night. The LP was conceived as a soundtrack to the film of the same name, directed by Richard Lester, which had its UK premiere on July 6th and featured the first seven songs from the album in full.
The success of both the film and the album cemented the band's status as a transatlantic, if not global, phenomenon. A Hard Day's Night was the first Beatles LP to consist entirely of self-penned songs and many consider it (and the title track in particular) to mark the beginning of the band's most productive and exciting period of creativity.
July 10th 1964 also saw the release of the title track as a seven-inch single, with Things We Said Today appearing as the B-side. The song A Hard Day's Night is famous both for its memorable opening chord and for its unusual title. The phrase 'A Hard Day's Night' was believed to have come from an exhausted Ringo Starr, following a long day of filming on March 19th 1964 whereas, in fact, John Lennon had previously used it in his book, John Lennon In His Own Write. Lennon is said to have regarded this as a coincidence, affectionately referring to Starr's utterance as a 'Ringoism'. The phrase became popular within the group and Lester adopted it as the title of his film in mid-April, thus sparking off a friendly competition between Lennon and Paul McCartney as to who could come up with the title song.
On this occasion it was Lennon who got there first. He wrote the song very quickly; scribbling the lyrics on the back of his son's birthday card (Julian Lennon had turned one the previous week). This birthday card has been on loan to the British Library for some time and is on display in the Sir John Ritblat Treasures Gallery at The British Library. The fact that the lyrics were written on the back of a birthday card is significant, for it suggests that the words came to Lennon so quickly that he wrote them down on whatever happened to be close to hand.
For those who study them, handwritten first drafts of song lyrics or poems have a special quality, in that they appear to record for posterity the instances of those initial creative sparks. Moreover, it could be argued that the more ephemeral the item on which the lines have been written, the closer the item seems to be to that now long-gone moment of inspiration. When we study the handwritten lyrics to A Hard Day's Night, it is easy to imagine Lennon scribbling them down so as not to forget them.
Visitors to the British Library will notice that Lennon made an important revision to this initial draft. On the morning of April 16th (the day the song was recorded), Maureen Cleave, Evening Standard journalist and friend of The Beatles, picked Lennon up in a taxi and took him to the Abbey Road studios. Cleave recalls suggesting that Lennon reconsider the line 'I find my tiredness is through'. Lennon, borrowing Cleave's pen, crossed out the line and wrote 'I find the things that you do' in its place.
As has been the case with so many Beatles songs, A Hard Day's Night has spawned an astonishing range of cover versions including, famously, Peter Sellers's version from 1965 in which the actor and comedian recites the lyrics while impersonating Lawrence Olivier's performance of William Shakespeare's Richard III.
A Hard Day's Night was the third Beatles single to go straight to Number One in the charts one week after release and by July 23rd had sold 800,000 before going on to become the group's fourth million-selling single in the UK. The album entered the album chart at Number One and sold 600,000 copies in Britain by the end of the year.
Andy Linehan & David Fitzpatrick
01 July 2014
The British Library has recently acquired  a collection of field recordings made in South Sudan which document Dinka song culture. Songs of the Dinka of South Sudan - Diɛt ke Jiëëŋ ne Cuëny Thudän - can now be accessed via our catalogue, by searching for C1580, and listened to online.  Dr. Angela Impey, one of the researchers on the project, has written the following text which contextualizes the research project and gives some general information on Dinka culture:
The songs in this collection were recorded for a project entitled Metre and Melody in Dinka Speech and Song, which was conducted between 2009 and 2012 by researchers from the University of Edinburgh and the School of Oriental and African Studies, University of London, in collaboration with Dinka researchers in South Sudan. The academic aims of the project were, first, to understand the interplay between Dinka song structures and the Dinka language (which distinguishes words not just by different consonants and vowels but also by means of vowel duration, pitch and voice quality), and, second, to learn more about the song tradition and the ways it has responded to the intense disruptions caused by protracted civil war.  
Funding for the project was provided by the 'Beyond Text' programme of the UK Arts and Humanities Research Council. Project participants included Bob Ladd, Angela Impey, Bert Remijsen, Elizabeth Achol Ajuet Deng, Peter Malek, Miriam Meyerhoff and Simon Yak Deng Yak.
ABOUT DINKA SONG
Almost everyone in Dinka society will accumulate a repertoire of personal songs during their lifetime, and most dialect groups follow a similar compositional process. Individuals who lack the ability to compose good songs will approach a talented composer in the community and commission a composition in exchange for a cow or an agreed sum of money. Occasionally a composer will be considered a talented lyricist only, in which case a second individual, who has an aptitude for good melody making, will be brought into the process. Upon completion, the song will either be taught directly to the 'owner', or if the owner is not a good memoriser, via a group of relatives or age-mates, who will gradually pass it on to the owner.
[In this ox song (C1580/59), Deng Jok Ajuoong, praises his ox, Mading, which he compares with an elephant. He sings about how he acquired his ox through hard work.]
Most musical structures in sub-Saharan Africa are based on highly repetitive, multi-part vocal and rhythmic interactions, and melodies are typically based on the hexatonic (six tones per octave) or equi-heptatonic scales (seven tones equally distributed across the octave). In contrast, Dinka tuning systems follow a standard pentatonic scale (five tones) and songs are composed in an extended series of linear, interconnected song-segments that follow a simple, regular or semi-regular pulse. Certain song types are accompanied by clapping, clapping sticks or a small double-sided drum (loor), and are performed either solo, in unison or in simple call-response format. The only melodic instrument played by the Dinka (apart from more recently introduced western instruments) is a 5-stringed lyre referred to as rababa. Marked aesthetic variations do occur across the dialect groups, which are likely to be the result of different social, economic, environmental and political circumstances.
[This song (C1580/6) is performed by a women's group during the war in South Sudan. It is an encouraging song about Dr. John Garang and Koryom, a battalion of the Sudan People's Liberation Army (SPLA). The women start the song by singing "The Arabs said we are afraid, how can we be afraid while John Garang is strong?"]
Apart from one book (available in British Library Reading Rooms) published on song lyrics by Francis Mading Deng in 1973, no formal research has been conducted on Dinka music. Yet songs play a fundamental role in the lives of all Dinka people, functioning as individual and social chronicles of relationships, experiences and historical events. In fact, the Dinka boast an usually complex taxonomy of songs – praise songs, war songs, songs of initiation, cathartic songs, religious songs, to name a few – each of which is defined by discernible melodic, rhythmic and performative features. Woven through all song types, however, is the poetic allusion to the interconnection between self, cattle and land or locality. As one musician explained: If you know our Dinka songs, you will know the Dinka people.