Posted by Katrina Dean
The AHRC research network 'Data landscapes: toward an art of environmental change' met recently at the University of Westminster. The workshop was on climate data and how this is handled from various angles: scientific, historical and artistic. In my presentation on a history of climate models I reviewed some past models of climate and visualisations of climate data. Examples include the work of Aristotle, Edmond Halley, Gilbert White, Alexander von Humboldt, Charles Lyell, James Croll and Thomas Griffith Taylor.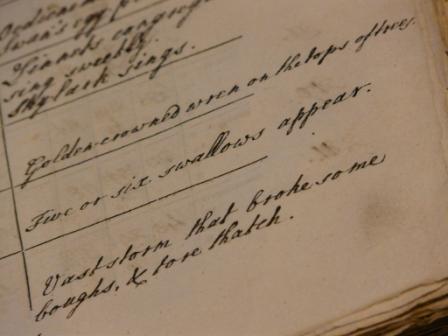 Above: An entry by Gilbert White in the 'the Naturalist's Journal', British Library Add Ms 31846
I drew attention to three kinds of relationships between climate models and history:
climate as a form of historical explanation

history and in particular archival research and research from 'proxy archives' (e.g. sediments, ice cores) as a methodology for uncovering knowledge about past climate

a recent scientific development whose history is unwritten.
The last one in particular concerns an Oral History of British Science. To document the theme of 'A Changing Planet' members of the project team are through interviews reconstructing the history of a family of disciplines in the earth and related sciences. We also want to document connections between individual scientists and different disciplines to show how research about the oceans, atmosphere, weather, ice sheets, earth's crust and past climate have all been brought together to establish knowledge about climate change. One key development is the climate model, but how did this come about?
One of the origins of climate models is in numerical weather prediction, which applied computing techniques to atmospheric models to produce short-term weather forecasts. These models were tested on past weather events to see if they could produce the weather actually experienced. The analogies with modelling past climate are clear.
To date, this is mainly an American (and Scandinavian) story in which numerical weather prediction was developed by the Weather Bureau and military weather services using early electronic, digital computers.
By interviewing atmospheric scientists, meteorologists, oceanographers and palaeoclimatologists it will be interesting to learn how these techniques were developed, especially in Britain and Europe. How did climate models come to address more than atmospheric phenomena to include for example ocean circulation and other forms of historical and proxy data? How have computer models become one of the dominant mediums for discovering and expressing knowledge about past climate and for making predictions about the future?
One interesting aspect of the Data Landscapes workshop is how models conceal the material, human and technological processes of collecting, compiling and analysing data before it is modelled. Interviews with those who collect this data will contribute to revealing these processes and addressing some of the issues concerning uncertainty in climate model predictions. Unless we know how we know something, it may sometimes be difficult to grasp the basis on which expert knowledge is established and the substance underlying competing claims.
Drawing on the British Library's collections to review past ideas about climate and attempts to collect data and visualise these ideas and data reminded me that we have plenty of past examples to draw on. Contemporary history presents us with the challenge of analysing our current predicaments with historical tools; and oral history is probably one of the most challenging and rewarding tools available. Thanks to the network convenor Tom Corby for organising the workshop and to Paul Merchant 'A Changing Planet' oral history interviewer for his background research on the history of palaeoclimatology, which will inform some important interviews.