Thomas Lean, interviewer for Made in Britain, writes:
We were very sad to learn of the recent death of Dennis Higton, one of the interviewees for Made in Britain, at the age of 90. By any measure, Dennis lived a remarkable life. He grew up in difficult circumstances and with limited prospects in the hungry years of the 1920s and 1930s depression, until a position as an engineering apprentice at the Royal Aircraft Establishment, Farnborough offered him his one big chance. It was an opportunity he made the most of, as Dennis recalled, "I can't tell you the resolve that I put upon myself not to cheat, not to slack, to become absurdly diligent because I wouldn't have another chance." His practical skills and hard work at night-school won him a position in the Aerodynamics Department when he completed his apprenticeship. As a practical engineer, without a university education, Dennis faced a daunting challenge joining a group that included some of the nation's finest theoretical aerodynamicists and mathematicians.
 Dennis Higton being The Boy at RAE
However, this very difference from those around him helped make Dennis an even more valuable member of the team. His start as an apprentice meant that he could bridge the divide, social and educational, between technical workshop staff and aeronautical scientists, and his ingenuity as a practical engineer would prove invaluable to more theoretically inclined colleagues.
In the 1940s and 1950s Farnborough was heavily involved in trying to understand the behaviour of aircraft flying at high speed. With wind tunnels unable to function accurately at speeds approaching the speed of sound, much of this work had to be based on data collected 'live' by instruments fitted to aircraft which were then recorded as the planes flew high speed test flights. Not only were the test flights dangerous, but the primitive nature of the instruments available and the tiny spaces on aircraft to fit the equipment in created great problems for accurately measuring flight data. Dennis devised a range of ingenious instrumentation installations for recording data in flight, including the instruments for the first official flight test programme of Britain's very first jet aircraft, the Gloster E.28/39 in 1942 and 1943. These instruments provided invaluable data for other aeronautical engineers of a more theoretical bent to base their calculations on.
Dennis Higton on the Gloster E.28-39
Working with John Charnley (C1379/30) Dennis was responsible for a range of other experimental installations on aircraft at Farnborough, including a test rig for controlling vertical take off aircraft, which predated the systems later used on the Harrier jump jet. In the early 1950s he transferred to Boscombe Down, where he was intimately connected with the flight testing of naval aircraft, building up a good working relationship with the Navy and flying as an observer on aircraft trials, in spite of the dangers involved. He spent several years in the 1960s leading technical liason efforts at the British Embassy in Washington, an important posting at this time of Cold War cooperation. Dennis returned to a series of senior posts in London, ending his career as Director General of Military Aircraft Projects, responsible for resolving all manner of problems in the manufacture of military aircraft, a situation far removed from that of an engineering apprentice of 1938.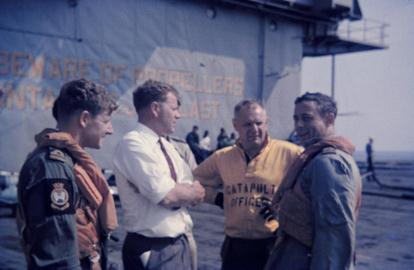 Dennis Higton (in white shirt) talking to test pilot and navigator of the Buccaneer under test on board the aircraft carrier USS Lexington.  Photo courtesy of David Eagles.