Novelty item shops are notorious for selling small shaking figures which presumably are meant as gifts or decorations – and this is particularly noticeable at Christmas. A company that specialises almost entirely in Christmas-themed novelty figures is Telco Creations of Hicksville, New York.
To say that they are devoted to kitsch is putting it mildly. I can't imagine ever buying one of their products except as a terrible joke (maybe that is the idea ?) but presumably their products sell, or they would be out of business. The private company is still around but seem to have stopped applying for new designs in about 1997. Their main designer is Seymour Cohen. They have 16 design patents (the American name for what in Britain would be called registered designs). Of these 11 are on Santa Claus, two on other aspects of Christmas, and three on other topics.
My favourite of these is probably US D372683, a cowboy Santa perched on a rocking horse, but Santa in a barrel blowing bubbles, US D385588, runs it close. Santa is regularly shown with a huge, dark beard. They can be found on Google Patents under those numbers.
Telco have also secured three utility patents.
From 1994 there is an Actuated toy device of Santa character sleeping in bed, where a presumably exhausted Santa from all that racing around chimneys is enabled to move by a mechanism hidden below the sheets covering the bed. The abstract says "The doll character chest portion is moved up and down vertically by a battery-powered gear unit through a first linkage mechanism provided in a housing attached below the bed, so as to simulate breathing action by the doll". Here is the main drawing.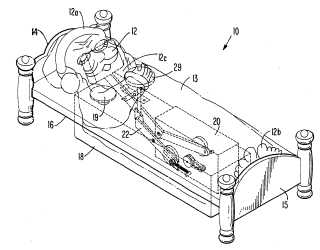 From 1998 there is an Animated mechanized figure which "can be dressed as a tiger Santa character". It looks rather like Tigger, and wears a Christmas hat. He can sing and speak as well as move, and the patent describes in great detail how he can move about. This was a technical advance on the patent described below, as the patent says "the known prior art apparently has not provided an animated mechanized figure having its body vertically moveable on a central vertical support while its arms and head are movable in synchronism with vocal speaking and singing sounds." That's right -- just the sort of thing which can be seen in shops every Winter.
I will, however, choose as my favourite Telco's earlier Animated sitting and standing Santa character from 1996 as it seems even more pointless to me. The only countries where it was patented were the USA and China, where it was presumably manufactured. The patent explains that a sensor picks up movement and causes the figure to stand up and sit down while speaking, or this can be operated manually. The head moves in the dreaded side to side motion. Levers cause it to rise or sit. An electric motor powers it. The patent's description begins with an extensive review of patented work in animated figures, and goes on to say "a need still exists in the market place for other animated toy figures which can exhibit clever realistic movements". Here are the main drawings.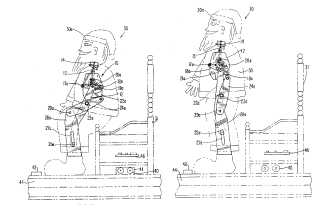 I don't feel qualified to comment on the intermeshed toothed gears and pivoted levers which cause the movement. Easier to comprehend is what the patent says about what the figure actually says.
"HO-HO-HO Merry Christmas To All Girls and Boys", for six seconds, explains the patent. Movement within two metres activates it. Each cycle takes 20 seconds. I do feel sorry for the staff of novelty shops having to endure the same merry messages from these and similar items. Mercifully, there is an off switch which will stop Santa in his tracks even if he is in the midst of one of the cycles.