The Tamagotchi®, the handheld virtual pet, has sold well over 70 million since Bandai put it on the market in 1996. Initially it was so popular that school children were mugged in the streets.
Although the original idea is not thought to have been patented, there are a number of patents by the company for refinements in the idea, such as Simulation device for fostering a virtual creature and Nurturing simulation apparatus for virtual creatures. The "pet" has to be looked after by clicking buttons or it will suffer. A clever idea, it was perhaps originally thought of as a substitute pet for Japanese children living in tiny flats. Here is a drawing from a relevant patent.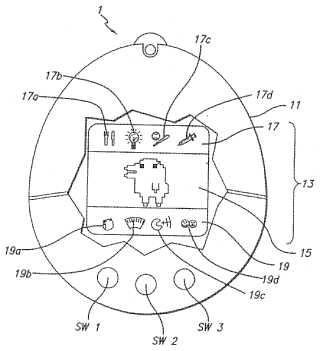 Apparently there were problems when children took them to school as otherwise they would "die" if not cared for. Many schools banned the product. Parents often thought that it took up too much of the time of their children. Later models had for example a pause feature to get over such concerns.
The concept has continued to evolve, with links to the Internet and to friends' Tamagotchis. They can be bought now for less than £9.
Many patents for the general idea can be found by using patent class G06N3/00L. This is for "computer systems based on biological models" where life is artificially simulated. This is a list of Bandai patent documents in that class.