I was watching TV when an advertisement came on about a bricklaying tool, the Bricky®.
Someone I recognised from one of the first "reality" programmes, Garden Force, was enthusing about it and saying something along the lines of "like all the best inventions it's so simple". I'm not sure I'd agree with that statement, though the invention is indeed simple.
Anyway, the Bricky® is by Noel Marshall from county Cork, Ireland. His patent application, since granted protection, is A bricklaying tool, and here is the main drawing.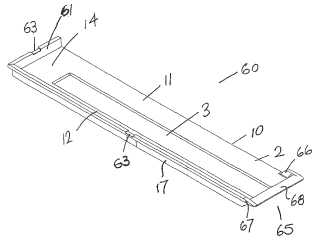 The patent application comments on the waste when novices try bricklaying. They slap on the mortar and then the bricks, and surplus mortar slips down the sides of the bricks. The tool has a slot, brick-sized, down the middle which receives the mortar. A spirit level built into the tool ensures that the line of bricks is horizontal. A handle at one end enables the tool to be laid down. It certainly seems like an  effective solution to the problem. The company claims it makes wall building "3 times faster, easy, clean and precise". 
The trade mark was registered many years ago but oddly the company website gives the word Bricky a ™ rather than the ® to which it is entitled. The difference is that the latter symbol is stronger protection, as in "common law" countries such as the UK and the USA you do not need to prove that your name is well known and that you are suffering from the competition before asking for a court case to begin. Admittedly, the website does state "Bricky is a trademark of Marshall Tools Ltd." but the word Bricky should always be given with the appropriate ® symbol.
Similarly, patents were granted in Europe (January 2010) and in the USA (March 2006) yet "patent pending" is given. Giving accurate information about the intellectual property relating to your invention is simply good policy. 
Here's a video where the inventor explains his product.