Yesterday I came across an article in the free Metro newspaper about taxi-driver Ibrar Ahmed from Bolton and his hands-free umbrella.
A photograph in the article shows the idea. A strap is used to fix the umbrella to a handbag to make his "Hands Free Brolly Bag". It took him two years to design, and is available for £14.99. The article says that Ahmed is "now hoping to get it patented". 
Oh dear.
If he didn't file a patent application before the disclosure of the idea then he won't get a patent, as only confidential disclosures are permitted before the filing date. Possibly Ahmed has filed for a patent -- I've checked and no filings in his name are recorded so far in the official patent journal. [Ed. -- I've just checked and find that on the 9 December 2010 he filed for a patent for "An umbrella holder"]
There's also the matter of whether or not it really is new. Perhaps Ahmed has checked the "prior art" in the patents. In his case the Manchester Patlib library is a good place to go to get expert help.
There are many patents for bags containing umbrellas such as Delila Ramos' of New York with her Wet umbrella carrying bag, illustrated below.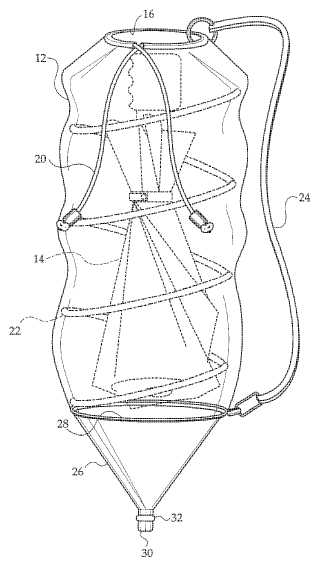 There are also patents for clips and straps on umbrella handles, such as the one by Tumi, Inc. of New Jersey, the Umbrella with elastomeric strap, with its main drawing shown here.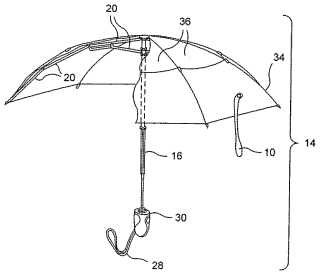 There are quite a few patent documents where their titles have the word "umbrella" and the summary provided by the applicants have the word "handbag" (though the concept could be described in different words). Here is a listing from the Espacenet database. Many are from China.
Among them, I liked Charles O'Connell of Boston's Convertible umbrella and handbag.