When asked about likely new fields of inventions in this century I often suggest clothes that for example adapt themselves to changing weather -- smart textiles.
There is an interesting story about a company that is innovating in this field -- Intelligent Textiles Limited. It is on the IP Advantage - Case studies on Intellectual Property part of the WIPO site, where many interesting accounts can be searched for by type of protection or by "focus" such as financing or commercialization.
The stories include links for further reading, but not to the patents themselves. Stanley Swallow and Asha Peta-Thompson were the inventors and Brunel University the applicant for Conductive pressure sensitive textile, which was published in 2001. Here is the main drawing.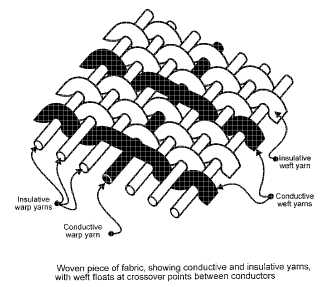 The fabric contains electrical conductors, "The conductors being normally biased apart at a crossover point of said fibres with an air gap between them", says the patent abstract, so that a contact can be made when they meet. The invention was developed after research into assisting patients with cerebral palsy to use computers. Previous research had involved fusing layers of clothing.
The inventors bought out Brunel's rights to set up their company and published in 2005 a modification, Electrical components and circuits constructed as textiles. The WIPO story explains that if a battery is used then the fabric "can, for example, incorporate heating elements to warm a glove; or sensors that respond to pressure transforming a piece of cloth into a computer keyboard".
The company remains small as they prefer to grow organically, and offers by venture capitalists have been refused. There is a website for Intelligent Textiles Limited but at present it is under construction.