The Daily Telegraph on the 5 February had an interesting article on the history of the now iconic logo shown below.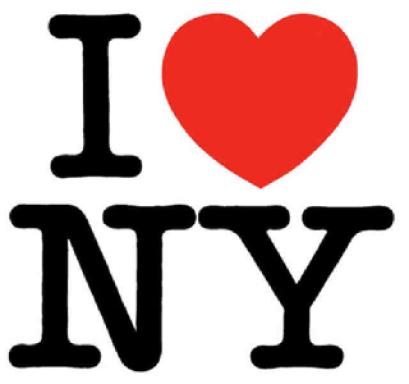 It was designed by Milton Glaser as far back as 1977. A torn envelope showing his original idea for the logo -- on one line, not as now on two lines -- is in the collection of New York's Museum of Modern Art. It earns $30 million annually for the New York State Department of Economic Development (funny, I thought the logo meant the city, not the state).
The article referred to copyright throughout, and never mentioned trade marks (trademarks in the USA), which is what the logo is. Slogans and the like can often qualify for trade mark protection but they are not long enough to be considered copyright. Besides, copyright is weaker protection. The logo shown in the article had an ® below it meaning registered trade mark rather than the © symbol for copyright protection.
The article quotes Glaser as saying "I did it for free. At the beginning, it wasn't even copyrighted". For ten years they wanted to encourage its use by not charging a royalty for its use.
True, the trade mark protection was not asked for until much later -- in 2000, in fact. Uniquely to my knowledge, the US system gives information of use of the trade mark before the application was made, as limited protection is available for unregistered trade marks in common law countries such as Britain and the USA. This states, for registration 2431705:
FIRST USE: 19770715. FIRST USE IN COMMERCE: 19840000
I'm not clear what the distinction is between first use and first use in commerce -- possibly 1984 marked when royalties were first requested. I agree that promoting usage was a good idea, but it was a dangerous strategy to delay registering the trade mark. Better would have been to register and to then offer to license the logo for free to anyone for a limited period, to prevent possible litigation with rival applicants.
The Community Trade Mark for the logo was only registered in 2010. The author of the article, Alastair Sooke, will be giving a talk called "I heart Milton Glaser" on Radio 4 on Thursday 10 February at 11 am.