Following the theme of our free Out of this world science fiction exhibition, what about invisibility cloaks, as in the Harry Potter books, or Star Trek.
The University of Pennsylvania has applied for a Cloaked sensor patent application, which "renders a sensor essentially undetectable in a predetermined spectrum without degrading the detection capability of the sensor."
Even more intriguing is one by Ray Alden of Raleigh, North Carolina. His Three dimensional cloaking process and apparatus was applied for in 2001 and was granted protection in the USA as US7206131 -- but with a very different title. The main drawing is shown below -- read through the patent documents to understand how the eye is meant to be fooled.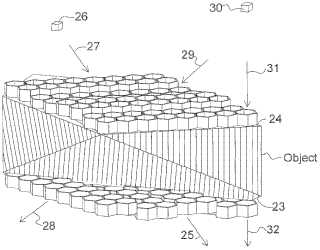 Then there's Lucent Technologies' Cloaking device detection system, to detect objects that are using stealth technology.
And speaking of stealth, there is an interesting page on the Urban Ghosts site about patented stealth aircraft.
Of course, we have to wait for patent specifications to be published (18 months from the date of application) to see what they have to tell us. In February 2011 the University of Birmingham showed how using crystals can make paperclips vanish, as reported in an article in the Guardian.  Maybe there will be a patent application, but in the meantime mentions of academic papers on the subject can be found in Google Scholar.