There have recently been newspaper advertisements headed "Get an all-over tan through your swimwear!" The copy goes on to say that their "revolutionary world patented Transol® fabric has millions of tiny apertures that allow up to 80% of the sun's tanning rays to pass through". However people can't see through it.
I was intrigued by the mention of the magic world "patented". I can never resist a mention of that word, and so looked up the name of the company, Kiniki, in a patent database.
In February 2011 Kiniki had their Tan through material world patent application published. This was through the PCT system, where you can apply for protection in numerous countries with a single application. Each country, or regional patent system, then decides, years later, if they will grant a patent. The applicant was Kiniki Holdings Limited, of Newcastle-under-Lyme, Staffordshire. The main drawings are shown below.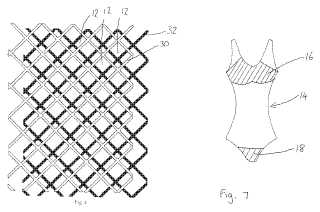 In this case it is still "pending", and has not been granted protection anywhere, unless there is a patent under another name. A list of patent specifications with a certain similarity has been provided on the Espacenet database, which comes from research by a patent examiner. If an invention isn't considered new it will be refused protection in many jurisdictions, or will be modified when allowed, but this is up to each patent office to decide. There is not a world patent giving rights to inventions.
The invention involves using polyester and elastane in a pattern to form an "open mesh". They suggest that a double layer can be provided at sensitive areas such as the bust and the crotch. Yes, I had wondered if sunburn could potentially be a major problem, as suntan lotion can't be applied, presumably.