Oscar Pistorius, the South African athlete who runs with carbon-fibre prosthetic legs, came last in his 400 metre semi-final at the Athletics World Championships in Korea, with a time of 46.19 seconds, which is still a very good time.
He was born with a congenital condition that left him with lower legs but no feet. When aged 11 months the lower legs were amputated. A serious athlete, he won three gold medals in the 2008 Paralympics.
His presence in competitions for able-bodied athletes, though, has been controversial, as his prosthetic legs are said by many to give him an unfair advantage over the other runners. In 2007 the IAAF amended its rules so as to ban "any technical device that incorporates springs, wheels or any other element that provides a user with an advantage over another athlete not using such a device". This was overturned by the Court of Arbitration for Sport in May 2008, which ruled that there was no evidence that he had an unfair advantage.
The blades are called Cheetahs or the Flex-Foot®, and are available from Icelandic company Össur. They were invented by Californian Van Phillips. A water-skiing accident in 1976 resulted in his left leg below the knee being amputated. Existing prosthetic legs did not fit well and did not respond as he wished, so he looked for a strong, flexible and light solution. Dale Abildskov, an aerospace composite materials engineer, worked with him to make a carbon fibre prototype. Giving it a "C" shape meant that the properties of carbon fibre could be used to simulate the spring action of a normal foot, allowing users to run and jump.
The video below by Össur shows the innovation in use. 
In 1992 Phillips applied for what became World patent application Attachment construction for prosthesis. Below is the main drawing.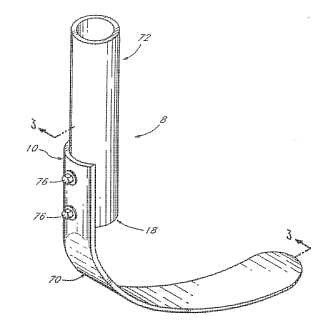 There are numerous patent specifications in Phillips' name for ideas relating to prostheses, as listed here for the American ones.