Today's Daily Telegraph has the obituary of Belfast-born Ernest Shannon, who led British Gas in finding a solution to the problem of monitoring gas pipelines for corrosion.
During the 1970s, according to Shannon himself, there were many explosions in American gas pipelines where fractures had occurred as a result of thin, corroded parts of the pipeline. The companies preferred to pay compensation rather than to look for methods of identifying possible problems.
New Scientist in an article in the 30 July 1981 issue, page 288, discusses the problem and the solution in more detail than I give here. Pipeline pigs to identify loss of shape were already known, but British Gas developed the concept to look for loss of thickness in the walls of the pipeline. The pig is wafted along by the gas and rings of magnets means it can assess magnetic field and hence the thickness of pipes. The data was digitised and stored on a tape recorder which was analysed when the pig was retreived later. Looking for stress cracks was more complex, and ultrasonic sensors were attached to the pigs to carry out this function.
It is not easy for the non-specialist such as myself to trace the relevant patents but here is a list of four in the sector by British Gas. The drawing below is from GB2260613 in that list, "Magnetic inspection machine."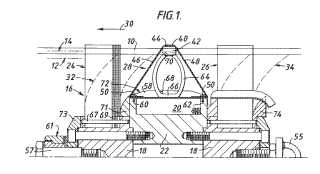 It cost British Gas £47 million developing the technology, according to the New Scientist article, but the company was able to license the technology very widely. The concept has of course been developed over the years.
There was also the problem of getting the pig into the pipeline in the first place, hence the interestingly named Pig launcher patent application (more mundanely titled "Guiding of a device" when the patent was granted).