Many see the QR (Quick Response) Codes on advertisements and so on but few realise that the concept was patented.
Nippon Denso and Toyoda Chuo Kenkyusho KK of Japan applied for patents in 1994 for an "Optically readable two-dimensional code and method and apparatus using the same", with the US patent published in 1998. It was originally thought of as a method of easily tracking vehicles in a car factory. Its use nowadays is typically someone using an advanced mobile or cell phone's camera to "read" the code which then links to a website. Below is the main drawing.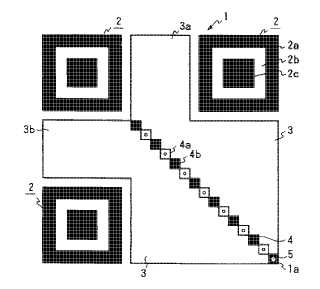 The blocks at three corners are for positioning so that the right area is read. Three squares presumably are more stable than placing squares at opposite corners, while four would take up too much space (I am guessing here). The rest of the area is taken up in practice with a mosaic of tiny pixels forming a unique image.
At present an app has to be loaded to use it, but as the concept has become so popular in recent years that it is likely that new phones will incorporate the software as standard.
That American patent at present has 144 citations, where US patent examiners cited the patent as relevant to later granted patents.
There is a useful Wikipedia article on QR codes.