Last Saturday's Daily Telegraph had an article announcing that "Britain's first folding plug" was going on sale that day, Folding 'Mu' plug launches in Britain.
We are used to electrical devices getting smaller, slimmer and of course more mobile. One thing that hasn't changed is the familiar electrical plug -- it's still bulky, causing size problems (and scratches) when it's bundled with a device carried in a small pouch or in a pocket. The answer was to make a new kind of plug that folded up, as explained in the article and in more detail in the patent, or less technically, shown in the video below. 
Four inventors are credited, led by Min-Kyu Choi, a Korean designer who is a graduate of the Royal College of Art. Choi is quoted in the article as saying that he was "frustrated by the dimensions of the traditional plug, and felt that the existing unit, which dates back to 1947, was out of touch and incongrous with modern design."
International protection was requested and there is already a granted British patent, Electrical plug, with its main drawing shown below.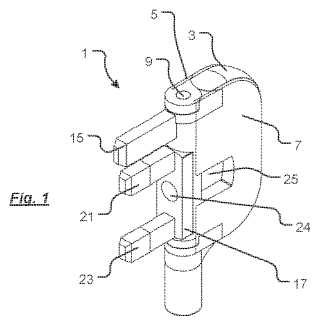 Mu is a UK registered trade mark, no. 2592224. It's good to see it properly used with the ® symbol on the Made in Mind website for the company formed to exploit the invention. The price ? £25.