Terrafugia has published patent specifications for a "roadable aircraft". It flew for the first time on the 23 March. The idea of an airplane that can then take to the roads has long been a dream.
Based in Massachusetts, and using MIT trained engineers, the company published in 2007 their PCT "World" application for a Roadable aircraft with folding wings and integrated bumpers and lighting. The main drawing is shown below.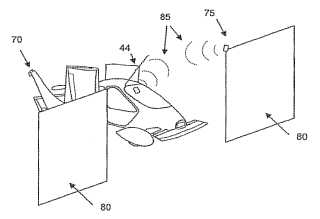 The initial pages discuss the problems of an aircraft that can also be used as a road vehicle. How do you protect the propellers from damage from debris thrown up from the road, for example. The vehicle uses a "pusher" propeller, at the back, rather than the usual "puller" at the front to help with this problem. The drawings shows the vehicle with folded wings about to enter a garage after sending a signal to open the doors.
The USPTO published a patent based on this application, US 7938358. There were 84 patents cited against it as prior art, which included what the inventors thought to be the earliest forerunner, the wonderfully intriguing Combination vehicle. Felix Longobardi was an Italian living in Chicago when, in 1918, he applied for his patent for a vehicle that could go underwater as well.
In 2012 the company published improvements in its PCT application Roadable aircraft and related systems.
The company is clearly excited. A video of the vehicle in action is given below. 
The cost will be $279,000, so sadly not that affordable, but 95 people so far have made a deposit. The company hopes to sell 500 annually. Apparently the CEO has dreamt of the idea since he watched the 1960s TV cartoon The Jetsons, where George Jetson commuted in a flying car.