It's down to the final two companies to test their goal-line innovations to see if a goal has been scored: England's Hawk-Eye, and Denmark's GoalRef® (although the technology is German).
There have been frequent complaints about phantom goals that weren't, and equally about those that were scored and were disallowed. Critics have said that if so many other sports can use technology to measure scores, football should be able to do the same.
It is up to the International Football Association Board (IFAB) to permit changes to the rules of the game. Each UK country has one vote on it, and FIFA, the Féderation internationale de Football Association, has four votes. Six yes votes are required to permit changes.
FIFA itself is supervising the tests of goal-line technology. In July 2011 nine systems were tested, with the requirements including that the result be communicated within one second by a visual signal and vibration. The FIFA website contains the goal-line technology (GLT) specifications.
Two of these systems survived to the second phase: Hawk-Eye, which will be tested at the England friendly against Belgium at Wembley on the 2 June, while GoalRef® will be trialled in Denmark's football league. GoalRef ApS, a Danish company, has an attractive Community trade mark, shown below.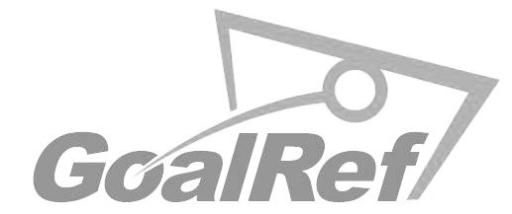 The two systems work in completely different ways.
GoalRef® uses a microchip embedded in the ball. When it crosses the goal line, it interrupts a magnetic field and signals a goal. The technology was developed by Germany's Fraunhofer Institute, with its patent applications still pending. These include US application Oval ball, especially rugby ball or football, illustrated below.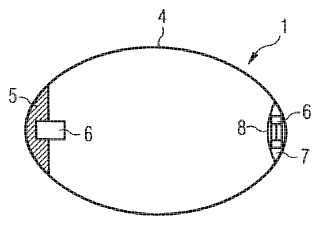 I was under the impression that footballs were round rather than oval, but it is clearly for the technology.
The Hawk-Eye system is based on the World application (later abandoned) Video processor systems for ball tracking in ball games, published in 2001. Multiple cameras track the ball from different angles and send data to a computer which processed where it is. The main drawing shown is based on cricket, a sport which (with lawn tennis) often uses it.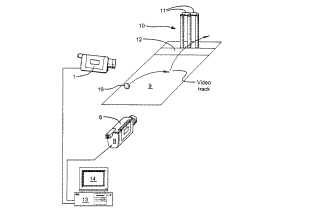 One of the unsuccessful triallists was Germany's Cairos Technologies AG, who also use magnetism to identify if the ball has crossed the goal-line. They have many World patent applications relevant to measuring data when playing football.
There is also Goalminder, a system using high speed cameras in the goal posts and the cross bars to provide visual evidence within 5 seconds (this is too slow for the criteria). This was thought of by two disgruntled Bolton Wanderers fans, David Parden and Harry Barnes, when a disallowed goal sent Bolton down at the end of the season. Parden is named as one of the three inventors in World patent application Support apparatus for a goalpost surveillance system.
Here is a list of many patent documents for measuring data when playing football.
An IFAB meeting on the 2 July will decide on whether or not to adopt one of the two systems.