In the 25 November episode Mark Shepherd asked for £50,000 in return for 15% equity. 
A former disc jockey, he was aware of the discomfort suffered by dancers, particularly those in high heels. Hence his website suggests "Turn your killer heels into comfort heels".
The invention is a new type of insole, which he calls Itsoles®. Hook and eye fasteners secure two overlapping pads (one especially for the heel, and enabling use in different shoe sizes) to the upper. The patent application's first page says that 70% of the high heels wearer's weight is borne by the balls of the feet, which is a lot of pressure. The application has the title Footwear cushioning apparatus. Here is the main drawing.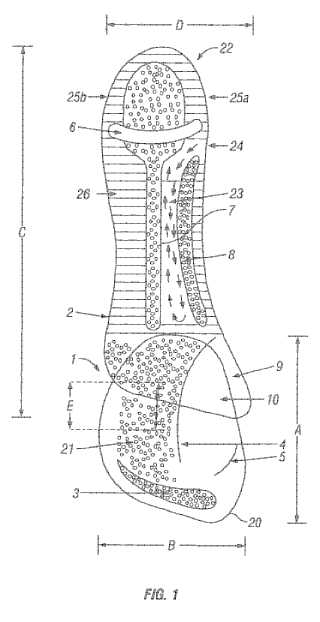 No offers were made, as it was thought that existing products were satisfactory and that major competitors might compete. I have found in my one to one meetings with clients that any suggestion that a well-placed company might launch a rival product to the client's is often met with incredulity on the grounds that "they wouldn't, I'd have a patent". 
Maybe, but besides designing round the patent, some companies are willing compete and then be challenged, so that they can then challenge the patent's validity. Which is one reason why there are a lot of lawyers.