The British Library last night hosted Real Business magazine's Wonga Future 50, where they were unveiled in an event chaired by Matthew Rock, the magazine's editor. The aim was to "discover the bold, disruptive new generation of entrepreneurial businesses that are triggering change in their market; or creating a new one."
It was preceded by a graceful tribute to Mark Sheahan, who we are delighted to have as the British Library's Inventor in Residence, who has carried out over 500 one-to-one meetings with inventors, and who was one of the judges selecting the fifty. Mark did admit that some of the people he met were "off the planet" and also talked about  sharks who "ripped off" inventors. He was also said it was considered bad to be called an inventor -- I always advise people to call themselves designers, as that term is regarded as more acceptable. I am sure Mark knows how grateful all the inventors he helped are.
The fifty companies were indeed often in disruptive innovation, and green themes, energy and digital media were strongly represented. We heard short presentations from seven companies. These were:
WhipCar , Car sharing where instead of maintaining a fleet of its own vehicles, actual owners rent out their cars for brief periods.
Pavegen. The only one, to be frank, I'd heard of before from this list of seven. Energy is generated by people walking on pavements. I've posted on them before. Here's the drawing from their Energy harvesting patent application.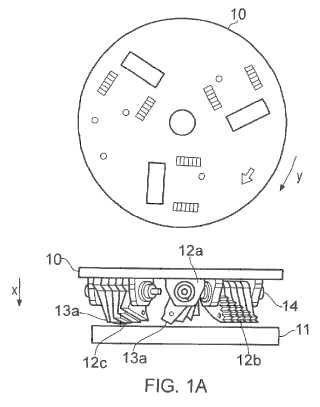 Pod Point, a networked electric vehicle recharging system.
Endomagnetics, a University College, London spin-out who have pioneered using magnetism rather than radioactivity in identifying where lymph nodes are in cancer treatment. Here is a drawing from their Magnetic probe apparatus patent application.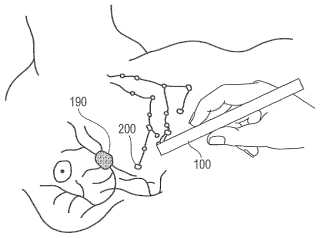 Playmob, a combination of social gaming and charitable giving, where players pay for virtual objects and the money goes to charity.
Parkatmyhouse, an example of "collaborative consumption", they said, where house owners rent out their parking spaces on an occasional basis. Apparently many owners of expensive cars are more interested in protecting the cars from damage than in making savings on parking fees.
Shutl. My favourite, where numerous tiny "point to point" delivery companies, which deliver direct to one customer, as opposed to a lorry moving around all day, are aggregated in a service provided for stores that sign up and customers have very specific delivery times.
It is interesting that four of these seven have systems that rely on communicating through the Internet.
The Future 50 companies are listed on the Real Business website and a special issue of the magazine in January will feature them and will announce the "people's champion", the favourite as voted for on the website.
It was a fun event and in the reception following I spoke among others to a former client about his (confidential !) ideas and to Stijn Paumen of Snappli (a company which compresses data used on mobile phones to save users money) where we talked about my Dutch origins (he is from Arnhem, my ancestor was from Rotterdam).
I know that these stories can also be found on the Web, but for me there's no substitute for hearing the stories and meeting the people.