In the 3 December episode, last of the series, Mark Tilley had invented the Boatbox®, a vehicle roofbox that converted into a boat by removing it and turning it over. He was asking for £100,000 in return for 16% of equity. His company is called Boatbox.
He said that he had filed a patent application and that lawyers were doing the searches looking for prior art and they believed it to be the first product of its kind in the world.
I'm not sure if "product" meant a commercially available product or if it meant that nothing similar existed. A five minute search by me in the free Espacenet database found over half a dozen roofboxes that could convert into a boat, though they were somewhat different in their design. They all seemed to involve parts that had to be fitted together, or unfolded, instead of simply inverting the roofbox.
An example is Folding boat that converts to a car top carrier and storage container, with its main drawing shown below.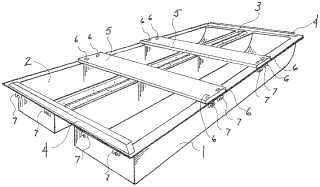 Tilley spoke of the price being £595 with the actual costs being £250. By investing in new machinery, £120 of that cost would be removed, leaving a better margin.
Theo Paphitis, a keen boater, was very tempted to make an offer but felt that the equity offered wasn't good enough, and decided not to invest.