Tara Roskell's Ideas Uploaded blog has an interesting interview with inventor Lucy Mitchell about her magnetic snap lock for dog leashes or leads.
Now based in Wiltshire, Mitchell lived for 20 years in Florida where she was a pilot. She has always been interested in how things work and in improving products – she is quoted as saying "I remember as a child being annoyed at things that didn't work properly." She has not had a formal engineering training.
She thought of her new lock when at a pet trade show in Germany in 2010. She already had had a World patent application published, the Retractable pet leash with self powered electric light, illustrated here.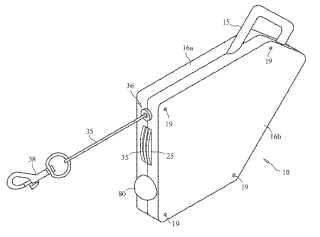 While talking to a vendor, Mitchell was playing with a leash. The lock suddenly snapped and tore her fingernail. It was the small knob on the snap bolt which had done it. Mitchell realised that standard locks became progressively more difficult to open, but are easy to snap shut. She thought it ought to be the other way round. Magnets, she thought, were the answer.
She filed for another World patent application, Hook with magnetic closure, illustrated below.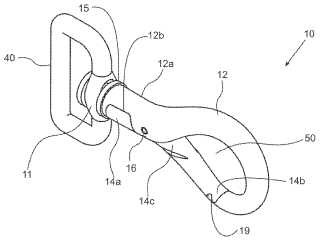 The interview says that 80% of the buyers of dog leashes are female. This may explain why her US trade mark, called MagneClip in the interview, is actually MagneClip No More Broken Nails®. Mitchell comments that [many ?] men "have an opinion that women must be dumb and don't know what they are talking about", and she had to intervene in the mistaken designs of her Taiwanese manufacturer.
She has tried raising funds on crowdfunding site Indiegogo as MagneClip magnetic snaphook, where extra details are given. Between them, the two sites give a lot of detail about the development of her invention.