09 August 2013
Inspiring Science 2013
An Experiment with Ideas
This is a story of what happens when science, art, comedy, philosophy and puppets collide!
Watch the video showing highlights from Inspiring Science, our first science season, held at the British Library in March this year.
With the strap-line – Experiment with Ideas – Inspiring Science gave people a range of opportunities to explore thought-provoking scientific ideas and engage with challenging topics in an accessible and enjoyable way. The season showcased the scientific aspects of what we do across the British Library, highlighting both the cross-cutting nature of science, and its interplay with the arts, humanities and social sciences. Science is part of the cultural experience at the Library, as well as an integral part of the information resources and services that we provide.

Thousands of people took part in an inspiring series of events, learning lectures and workshops, or visited the Encounters science-art exhibition, entered the Access to Understanding writing competition, or viewed content online. Events such as Ideas in the Bath saw scientists debating the role of serendipity in research and in Addictive Personality explored the biological and social drivers of addiction. In a lighter vein, Your Creative Brain was an on-stage extravaganza involving neuroscientists (from University College London), musicians, artists, philosophers, historians and puppeteers, exploring the conditions for creativity.

With Go, Go, Gadget, we helped aspiring inventors in a speed-mentoring workshop in the Library's Business and IP Centre, and the Inspiring Science Learning Lectures for A-level students saw us collaborating with the Francis Crick Institute. Sir Nigel Shadbolt led a lively TalkScience discussion on the role of open data in fostering innovation, scientific and social advancement.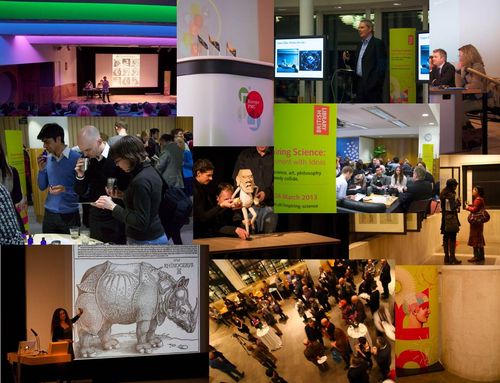 Science, smells, puppets and prizes – something for everyone at Inspiring Science 2013
Full Frontal Nerdity, the season finale, saw Festival of the Spoken Nerd taking on the British Library and rummaging through the collections, unearthing bizarre facts, quizzing resident experts, investigating the chemistry of books and developing performances based on our patents collection and ecology sound archive. A series of 'labs' provided an opportunity for the audience to have hands-on experiences of science at the Library and even to taste 'Musty Book' cocktails.
Inspiring Science 2013 was a great opportunity for people to connect with science at the Library, providing inspiration and enjoyment. In 2014, we will be doing it all again, with an even more ambitious season to tie in with Beautiful Science, an exhibition which will explore the power and beauty of data visualisation in science. Watch this space…

Allan Sudlow