24 June 2014
UK DataCite on the road
Our data citation workshops have gone on the road. This blog post summarises the recent event at the University of Glasgow.
On Friday 13 June, we held an Introduction to DataCite workshop at the University of Glasgow. As well introducing what DataCite is and what it does, we demonstrated the various ways you can look at what you put a DOI on (see this previous blog post), considering issues about the versioning of data, and the 'granularity' – whether you apply a DOI to a collection of data, individual data files or some other slice of the data. Slides from the day are available on our website.
We had two really enlightening talks from users of the service Gabriela Lopez-Gonzalez and Graham Blythe, both from the University of Leeds.
Gabriela is a researcher at Leeds, and runs the site forestplots.net. The site is part of international work to share longitudinal inventory data from permanent forest plots. Gabriela spoke passionately about how important data citation is for her and her community, and how having a persistent identifier such as a DOI for that data will help to acknowledge, not just the researchers who collected the data, but the research assistants, data managers and curators. These people play a vital role in the quality of the data, and in making sure the data are available for further research, but they do not traditionally get recognition in subsequent research papers. And most of them spend an equal amount of time camping out in the rainforest, enduring mosquitos, snakes and spiders as those who are recognised on research papers!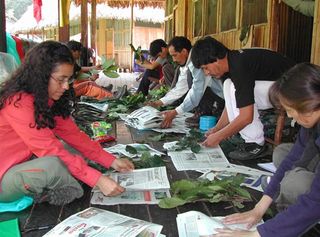 Making good quality research data avialable for reuse involves many people. Image credit Gabriela Gonzalez-Lopez
Graham is part of the research data management team at Leeds. Gabriela provided them with a great test case early on in their planning. He talked about the process Leeds has been through in deciding how to use DOIs for their data. He was wonderfully honest in talking about where, like many institutions we're talking to, not all the possibilities have been decided on – or even uncovered yet.
Some of the issues around using DOIs seem difficult at first, for instance what data should get a DOI and when. It can be hard to make those decisions when you're aware of how diverse an institution's research and data is – no one wants to set policies that will exclude important data. But while it's good to have general rules on assigning your DOIs, it is important to be flexible as best practice evolves.
We hope to run further data citation workshops around the country, not just to provide details on working with DataCite, but also to bring institutions dealing with these issues together – keep an eye on our webpages and Twitter feed for details.