30 June 2015
What's the catch?
On 23rd June the British Library hosted its 29th TalkScience event entitled 'Fishing and marine protection: What's the catch?' For anyone who missed the event you can now watch the whole thing on YouTube. We have also summarised the highlights below. 
TalkScience is an informal discussion series focussing on topical issues in science. In the past we have covered issues such as climate change, GM foods and Open Data. During the event 'Fishing and marine protection: What's the catch?' we sought to explore:
What are the impacts of fishing on the marine environment?

How do policies such as marine protected areas and fishing quotas affect sea-life and fishermen?

Must conservation and consumption always be at odds?

How will global environmental change affect our answers to these questions?
Guiding the discussion was marine biologist, author and broadcaster Dr. Helen Scales. Our panel of experts approached the topic from a range of backgrounds. Professor Callum Roberts is a marine conservation biologist at the University of York with expertise in marine reserves. Barrie Deas is chief executive of the National Federation of Fishermen's Organisations, and was representing UK fishermen. Dr. Alasdair Harris is executive director of the social enterprise Blue Ventures, which aims to create sustainable tropical fisheries through local management.
Professor Roberts began by talking about the impacts of fishing on the ocean system and what we can learn from historical data. Mr. Deas then discussed some of the successes in waters around the UK and what marine protection strategies the fishing industry would favour. Dr. Harris finished by expanding the discussion to developing countries and the problems faced there.
Audience questions ranged from 'Why is progress in marine policy so slow?' to 'As a consumer, what is the most important thing to think about when buying fish?'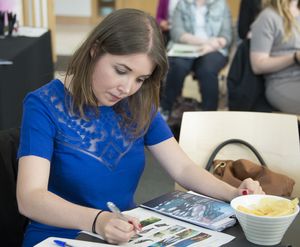 We would like to extend a big thank you to everyone who turned up to help make the evening a success. If you would like more information about future TalkScience events, keep an eye on our TalkScience webpage, our Twitter feed @ScienceBL or the hashtag #BLTalkScience.