21 December 2010
Programmes
Last week, some good news was revealed for the Haymarket Media Group – namely that LOCOG has awarded it the contract for the printing and production of the official programmes for the Olympic and Paralympic Games. LOCOG says that some 2.5 million programmes will be on sale, and that they will include contributions from 'top sports writers from all over the world'. Chris Townsend -LOCOG's Commercial Director – sounds the right note when he suggests that "official programmes are a feature of many sporting events – and the Olympic and Paralympic Games are no different. In generations to come they will be valued"
 They will certainly be valued by researchers. Ephemera become increasingly useful as the years go by because programmes, posters, flyers – whatever - capture their moment so evocatively, and tell us a lot – both directly and indirectly - about the great occasion. Collectors know, too, that it's necessary to grab your copies while you can. Ephemeral publications, by definition, are not around for ever: if you're not on the ball when they appear, you may miss out completely.
 The British Museum Library (the BL's hallowed predecessor) did not set out to systematically collect events programmes. Nevertheless, by various serendipitous (and in some cases deliberate) means it managed to acquire some fascinating collections of such materials. We have, for example, the Evanion collection which shines a (colourful) light on Victorian popular entertainment; we have a number of theatre and concert programmes, and also – from a sports perspective, an interesting collection of British football programmes, dating back as far as the 1890s. Details of these are given on the Newspaper Library's web pages http://bit.ly/e3eb2v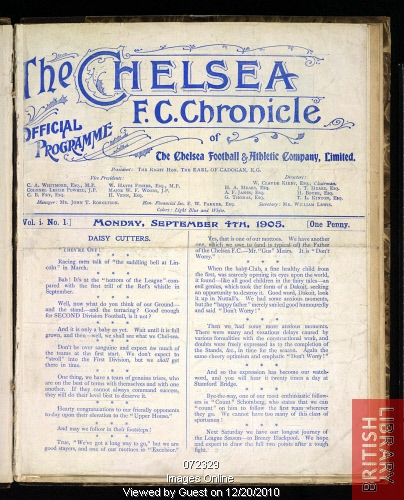 The exigencies of popular forms of publishing today have meant that curators and librarians have had to re-define, and keep a sharp eye on – what's happening in the world of ephemera. The big news is about electronic forms of this material: websites, tweets, social networking communications, electronic fanzines and so on have all entered the lists as important research resources which must be acquired while they are – sometimes fleetingly - available.
 News of these Olympic programmes is therefore important to us, and we'll be making sure that we acquire copies of these, as well as other Olympics-related ephemera.