12 January 2012
Sport, sport, sport
Now that 2012 is finally upon us we can all abandon ourselves to the contemplation of sport – at least that's the plan!  And not just Olympic & Paralympic sport, but sport more generally, given that the British Library has a wonderful collection of sports research resources which illuminate leisure pursuits in the United Kingdom (and elsewhere) right from their very beginnings.
 With this in mind, I and my colleague Philippa Marks (from the Arts and Humanities section of the Library) have been pushing ahead with plans for a one-day conference in May this year which will, as we are saying in our marketing literature " unlock the secrets of the British Library's sport collections"
 We have recruited British Library curators from right across the Scholarship & Collections directorate to talk about resources which might interest sport (and indeed other) researchers. There will be a chance for participants to find out about oral histories of sport, sporting ephemera, serial and monograph publications (old and new) and see some wonderful images culled from a variety of British and foreign texts. The rationale behind the conference is to share with the audience the excitement that the curators feel when discovering a fascinating resource that has been lurking in the collections (perhaps unread) for many years. Here's one visual gem: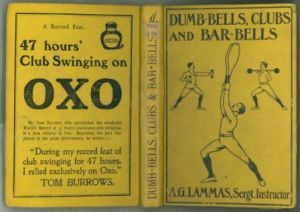 The Library's resources, vast and varied as they are, reveal new discoveries every day.  Some subjects are well mined by research, but sport – comparatively speaking – is not, although research in this area has certainly burgeoned over the last 50 years. So we hope the conference will be instrumental in stimulating new ideas,  particularly for those who want to look at sport from unusual angles and who relish the idea of ferreting around in the collections.
 To add to our intellectual gravitas we have attracted 4 wonderful academic speakers who will be giving the audience a glimpse into their own research and the resources they use. Hopefully this will be a learning experience for all concerned. The curators, in particular, love to know what use is being made of the collections, and also what materials people are keen to see being collected.
 Details about the conference will be available soon, on this website and elsewhere, so please watch this space.