21 May 2013
Propaganda and Politics in the Modern Age
Ian Cooke, Lead Curator in International Studies and Politics at the British Library and co-curator of the Propaganda exhibition, reflects on the first few days of the exhibition and public responses to it, especially those relating to propaganda in the modern age.
These past four days since Propaganda: Power and Persuasion has opened have been very interesting, finally finding out reactions to our exhibition. I've been talking to lots of people, and it's been good seeing the reviews and discussions online and in the press. Particularly great has been following comments on our #BLPropaganda Twitter feed. Thanks to everyone who has contributed so far, even if it does feel odd to send tweets from an exhibition that asks whether we're all propagandists now.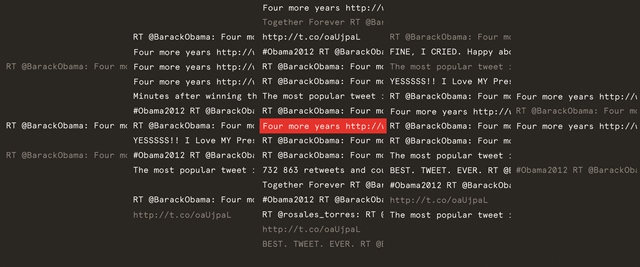 Above: Chorus © Field
One thing that people have been particularly interested in so far is how propaganda operates today, and whether we recognise it as such. The fantastic Twitter wall 'Chorus' has been getting lots of attention. Through the exhibition, you see how propaganda moves with the available and popular cultures: from monumental architecture, through print and posters, to cinema, radio and television.
There's also the suggestion, from Lord Northcliffe during the First World War, that propaganda that looks like propaganda is 'third rate'. So, we were interested in asking whether propaganda techniques have changed to take advantage of new media and social media. And, if it has, can you recognise it? Eliane Glaser examines the opportunities that new media offers for those wishing to influence us in 'The west's hidden propaganda machine'.

That's one question about propaganda in the 21st century. There's also the question of how reporting in mass-media is changing, with the emphasis on 24 hour news. Also, there's interest in how states themselves are changing in the way that they communicate, and in some cases mediate communications, with their own citizens but also internationally. Recent stories relating to North Korea have focussed on some of the more obvious propaganda images and broadcasts.
So, have things changed less than we think? Here at the British Library this Friday 24 May, we'll be looking at Propaganda and Politics in the Modern Age. In partnership with the New Statesman, we're holding a debate featuring Charles Crawford, Isabel Hilton, and Nick Cohen. It will be chaired by Sophie Elmhirst, features editor at the New Statesman. Expect discussion on state-media relations, communications and dissent in China, and the challenges of diplomacy in the 21st century.