Celebrating the Coronation and views of 'English Magic'
Ian Cooke, Lead Curator in International Studies and Politics at the British Library and co-curator of the Propaganda: Power and Persuasion exhibition, examines different views and expresions of British Identity.
In our exhibition Propaganda: Power and Persuasion, we look at different ways in which British identity has been presented, both to domestic and to international audiences. From images of Empire used in stunning Empire Marketing Board posters, through the Festival of Britain to last year's diamond jubilee and the Olympic Games, the nature of Britain and British people has been described in different ways. In some cases, you can see similarities such as a focus on technical and cultural innovation, but what can differ is the people used to represent Britain. We've just posted to YouTube our interviews with Tessa Jowell, Alastair Campbell and Iain Dale, on bidding for the 2012 Olympic Games, and their impact on perceptions of Britain. 
Earlier this week, the 60th anniversary of the Coronation of Queen Elizabeth II was commemorated at a service at Westminster Abbey. The readings and addresses were given by those representing the highest levels of state – the Prime Minister, Archbishop of Canterbury and Secretary General of the Commonwealth. The service also included however 11 "representatives of the United Kingdom". These archetypes of Britishness included a nurse, a teacher, a judge, a 'lollipop lady', children, Chelsea Pensioners, and a Guide leader.
Although some of the choices seem a little old fashioned, the range of young and old, the use of health and education alongside representatives of law and military, were not that far removed from the vision of Britain presented at the London Olympic Games. The bid film, shown in our exhibition, presents images of school children, construction workers, air stewards, police officers and city workers (in bowler hats). The inclusion, among several celebrities, of the then London Mayor and the actress Helen Mirren provides a sense of symmetry with the coronation celebrations.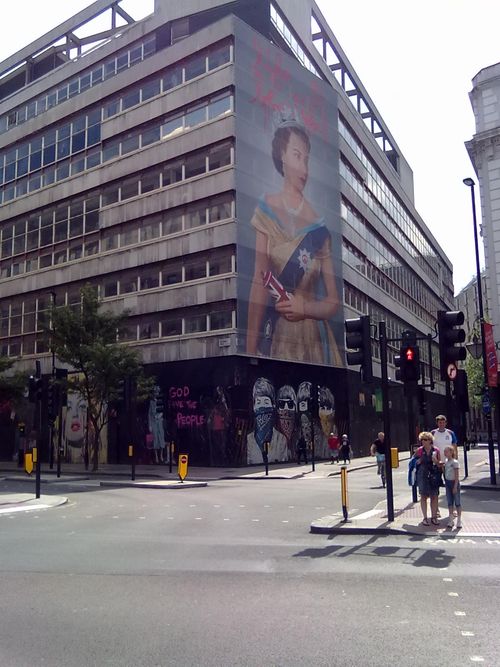 British identity as viewed from the US: street art outside the Mr Brainwash Show, The Old Sorting Office, London. August 2012. Image courtesy of Ian Cooke.
Last week, at our Picturing Propaganda study day, Linda Kaye of the British Universities Film and Video Council showed a clip from Jeremy Deller's stunning English Magic. Deller, and English Magic, is representing Britain at the 2013 Venice Biennale. The British pavilion is sponsored by the British Council, and the film references work such as an inflatable Stonehenge, birds of prey, and Range Rovers being crushed. The last segment has footage from the London Lord Mayor's Show, featuring a military parade, ambulance workers, tax advisers, London Freemasons, the Institute of Directors, and a carnival float sponsored by Thomson Reuters. All of this is accompanied by an arrangement of David Bowie's The Man who Sold the World, played by the Melodian Steel Orchestra. Music plays a powerful role in the whole film, which also includes arrangements of Ralph Vaughan Williams' Symphony no. 5, and A Guy Called Gerald's Voodoo Ray.  Interviewed in the Summer 2013 issue of Art Quarterly, Deller explains the choice of title, 'because it's about deceit and concealment and disappearance', seeing related themes in tax avoidance, and justifying war in Iraq. 
Finally, a rather different, but oddly traditional view of London is presented on the Southbank with the Festival of Neighbourhood. The events are wonderfully diverse, and aimed at a variety of ages and tastes. The setting draws on various nostalgic themes, such as allotments, sandcastles, greenhouses, street parties and 'Beanotown'. Nobody going past Waterloo Bridge at the moment can miss the monumental "sweepers", seemingly made out of privet hedge.
So, what do these different views say about our view of Britain? To an extent, these examples all show a confidence and pride in British culture, although there may not be complete agreement on what that is. There's a sense of recognising and valuing diversity, whether that's in age or cultural backgrounds. There's also a sense of pleasure or nostalgia in tradition, but also a willingness to play with and adapt those traditions. Attitudes to other aspects, such as the traditional sources of wealth or power in Britain seem more ambivalent and unsettled. The title of this year's show at the British Pavilion of the Venice Biennale, 'English Magic', provokes the question of whose identity is represented as "British"?