Ian Cooke, co-curator of Propaganda: Power and Persuasion writes about the new competition we have launched with ARTS THREAD.
Working with ARTS THREAD, we've launched a competition to design a piece of propaganda related to the theme of good health. Whether it's to convince people to stop smoking, drink less, eat more healthily, exercise more, or something else, we're interested in how you'd get your message across.
The competition is open to any design student or graduate or anyone working professionally for less than three years in the design industry. More information, and how to apply, is available on the ARTS THREAD website. The deadline is midnight (GMT) on 31 July 2013.
Public health campaigning can be seen as the point where propaganda comes into our homes, and attempts to influence our attitudes about the activities that are most personal and intimate to us: from the food we prepare, to our social habits and sexual behaviour. In our exhibition, Propaganda: Power and Persuasion, we look at the use of propaganda methods and techniques across a range of public health campaigns, covering healthy eating and exercise; contagious diseases; smoking and drinking; sexual health; and maternal and infant care.
The media used includes leaflets and posters (the waiting room can be an ideal opportunity for propaganda), television and film adverts, instructional manuals, and more ephemeral objects such as match-box covers or a school diary.  As with other subjects, campaigns can make use of a range of media. The Green Cross Code road safety campaign used adverts on television, magazines and on buses, leaflets and posters alongside talks in schools. As well as creating the Green Cross Code man superhero character, the campaign also made use of celebrities such as Kevin Keegan, Alvin Stardust and Joe Bugner.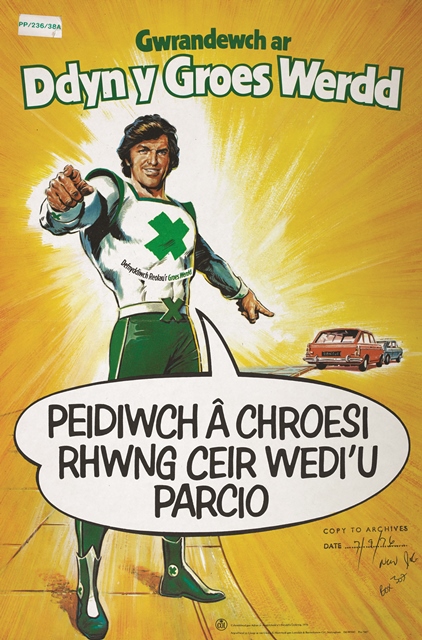 Above: The Green Cross Code
The Green Cross Code, and the earlier Kerb Drill, needed to consider language very carefully. Their intended audience was young children, so the language used needed to be easy to understand – many children, for instance, didn't understand the difference between kerb and pavement – and also memorable. Repetition also proved to be very important, to ensure that children remembered what they were supposed to do.
For campaigns aimed at adults, memorable language and reassuring images could also prove useful, as could the use of humour. All of these can be seen in the current Change4Life campaign to encourage healthy eating and exercise. Other methods could be employed too, such as use of fear, demonisation or shocking images. Use of strong images or messages could be tolerated, so long as there was general acceptance that the campaign was of public interest. Anti smoking campaigns, showing a clogged artery or fat dripping from cigarettes, provide some of the most visceral material in the exhibition. Another campaign presents the 'first natural born smoker' as a demonic character, whose appearance seems inspired by Murnau's Nosferatu.
Above: Beware of the Tapeworm

When we were putting the exhibition together we spoke to a lot of people, and some challenged us on the 'Health' section, arguing that this was 'just information'. Indeed, some forms of health campaigning do focus on providing quite detailed information about risks and ways of mitigating them. However, we also found many examples, which we included in the exhibition, where either the information element was almost absent or where the presentation was anything other than straightforward. The use of methods, such as shocking, humour, and demonisation, reminded us of examples of propaganda we had seen in other situations where it is less contentious to identify propaganda. Which does leave the question: if it's not propaganda, how would you describe it?
Good luck in the competition.