02 July 2013
Napoleon riding backwards on a donkey
Jennifer Howes, the British Library's Curator of Prints, Drawings and Photographs, writes about some of the many different versions of Napoleon.
The picture on this medallion shows Napoleon with a rope tied around his neck, seated backwards on a donkey. Satan is holding the end of the rope, and is leading the donkey forward. The inscription on the medallion reads, 'INSEPARABLE FRIENDS TO ELBA'.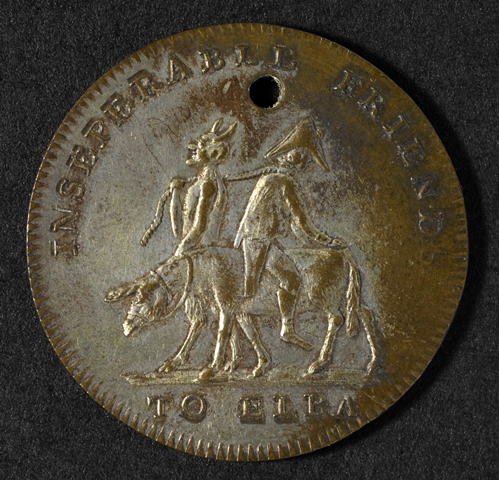 Above: 'Inseparable Friends to Elba' Medallion. BL reference: F4577. Photograph by Peter Warner

This little medallion was made in Britain to commemorate the exile of Napoleon to the island of Elba in April 1814. Medallions like these were popularly sold in the UK, and many of them, including this one, were punched with a hole at the top, so the medallion could be worn as a piece of jewellery.
The picture on the medallion relates to a popular caricature that was printed in London in May 1814. The caricature shows Napoleon weeping, seated backwards on a donkey. In his right hand he holds a broken sword, and in his left, the donkey's tail. A line of text is wafting out of the donkey's bottom. It says, 'The greatest events in human life is turn'd to a puff'.  A copy of this caricature is in the Library of Congress, Washington.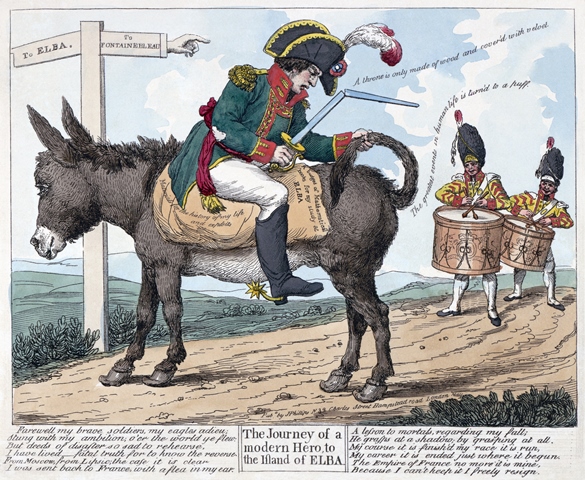 Above: 'The Journey of a Modern Hero to the Island of Elba'. Printed by J Phillips, London, May 1814. Held at the Library of Congress.
The medallion and the caricature clearly reflect the virulent dislike that the British felt towards Napoleon during that period. It is impossible to calculate the total number of British casualties during the Napoleonic Wars, but no doubt, many people had young male friends and relatives who either died or were crippled during the numerous battles Napoleon prompted.
In the British Library's 'Propaganda' exhibition, there is a massive portrait of Napoleon surrounded by emblems of power. It was painted in 1813, immediately before his protracted downfall began. The portrait shows self-glorification to the extreme, while the medallion is a raw, angry expression of collective 'schadenfreude'. It is amazing that these two objects relate to the same person.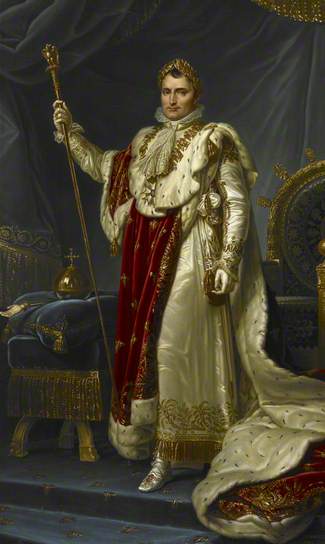 Above: Portrait of Napoleon Bonaparte painted in 1813 by Jean Baptiste Borely. BL Reference: F32. 


'Propaganda: Power and Persuasion' runs until 17 September 2013.