27 August 2013
Football Association 1863 Minute Book
Gill Ridgley, Lead Curator for Sociology, Cultural Studies and Sport writes about the background to the FA 1863 Minute Book which is now on display at the British Library.
The British Library and the Football Association joined forces on Wednesday 21 August to celebrate the 150th anniversary of the setting down of the laws of football.
Amid much excitement, the FA Minute Book, which contains the first laws of the game, was ceremoniously placed in an exhibition cabinet in the Library's Treasures Gallery alongside a small selection of football books in the British Library's own collections. Present were numerous eager media representatives, FA officials, and most notably, Greg Dyke, the Chairman of the FA, and Roy Hodgson, the England football manager.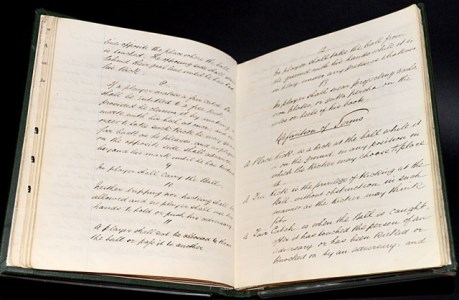 Above: Football Association 1863 Minute Book – contains the 13 original laws of football. Photo by British Library Image Services. Copyright © The British Library
The minute book, which is on loan to the British Library for the next four months, contains the deliberations of eight men who gathered on 26 October 1863 in the Freemasons Tavern in Holborn. Their aim was to draw up a series of laws regulating a game which was played throughout the country, but which was bedevilled by different interpretations of how matches should be played. By providing a proper legal framework, the game was able to spread much more widely, and British men working or living abroad were quick to foster it in their adoptive countries. Football under FA rules was rapidly taken up in South America and Italy, exported there by engineers, scientists and expatriates.
There are only 13 laws in the minute book itself, a far cry from the many rules now in place, and these were carefully written down by Ebenezer Morley (the first secretary of the FA) in a neat and legible hand. One of the rules sets down the dimensions of the pitch; another describes the goal (two upright posts with no crossbar) and another – most importantly - declares that 'no player shall carry the ball'. This particular prohibition finally helped to distinguish the game from rugby football, and both games were thereby able to develop, and flourish, independently.
The small display is actually the first football-related exhibition held by the Library and contains a tiny selection of early soccer publications chosen by Gill Ridgley and Jude England of the Social Sciences team. Among them are fanzines, early football calendars, manuals and referees' guides to the laws. There are also sound clips recalling the exploits of the great Stanley Matthews. Surrounded by these smaller treasures, the FA Minute Book holds centre stage,  co-existing very comfortably with iconic items like Magna Carta.