02 August 2013
How does our history inspire you?
In this guest post Jenni Orme, Records Specialist for Diverse Histories at The National Archives, introduces their 'Files on film' competition which hopes to use archive material to inspire budding film makers.
Like many other heritage organisations, The National Archives is always looking for new ways of engaging with as many audiences as possible to make them aware of the collections we hold. As part of this goal, we have launched a short film competition, Files on film, supported by the Friends of The National Archives, highlighting some of the diversity that is contained within our records. We wanted to bring what are often 'hidden histories' in national collections like ours, in to the spotlight.

Image taken from www.nationalarchives.gov.uk/filesonfilm.
The competition was inspired by similar ideas in other sectors, particularly charities, which have used film competitions in the past to enhance particular campaigns or launch new initiatives. We're hoping to engage with a creative, technology-savvy audience to see what they could do when inspired by The National Archives' records and encourage similar creative use of our collections in the future.
As you might imagine, narrowing down a selection of documents from our collection of over 11 million was not an easy task! We could have had a hundred documents very easily, but didn't want to overwhelm people, so finally settled on ten items, mainly extracts from files. In the pieces we chose, we aimed to reflect some of the underrepresented histories in our collection. Some are well known areas of history on which the documents provide a slightly different slant, for example the plans to evacuate disabled children during the Second World War and how to provide them with safe accommodation and shelters. Others are areas that are perhaps less well known within our collections, such as the treatment of lesbians in the Women's Royal Air Force (WRAF) in the mid-twentieth century.
Another is a 'document' in the loosest sense of the word. A true mystery lies in the jewellery box and contents left behind by Mary Smith, "a lunatic". No more is known about her, other than her personal effects were never collected after being submitted as exhibits at the Court of Chancery in 1811. After the court case was settled, her possessions became part of the Chancery holdings which eventually passed to The National Archives.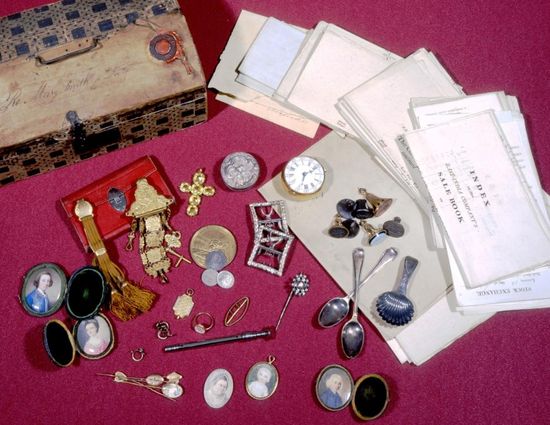 "Mary Smith of Middx, a lunatic": Jewellery box containing various articles of jewellery. The articles were deposited by Thomas Long of Christ Hospital, London." 1811. The National Archives (TNA): C 114/190.
Other women appear in the selection in the form of the suffragette protest on the night of the 1911 census. Two contrasting householder forms are included, one showing the personal protest of a female head of household, "No vote, no census", the other showing the opinion of the husband of a suffragette, who as the head of household objects to the "silly subterfuge" of his wife having crossed her name off the family list.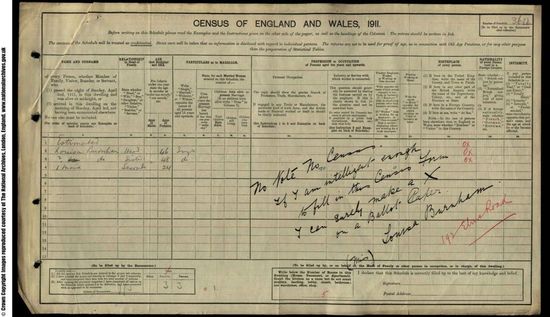 1911 Census householder schedule for Louisa Burnham. Registration Sub-District: Clapham Civil Parish, Township or Place: Wandsworth Borough (part), 1911.  TNA: RG 14/2277/362.
All 10 documents are available to download from the Files on film website, along with brief contexts to accompany each one. You can also read more about some of them on our blog.
We're asking budding filmmakers to be inspired by any part of the documents and submit a 3 minute film. Entries close on 24 September, 2013 and the winner will be chosen by a panel of judges including Oliver Morley, Chief Executive and Keeper of The National Archives and BAFTA award-winning filmmaker David Katznelson whose credits include Downton Abbey and Games of Thrones.
The winning entry will be shown on The National Archives' website and will receive a cash prize of £450, while one runner-up will receive £200.
For inspiration, and to prove that anyone can do it (!), some of the staff at The National Archives have put together a short film of our own to introduce the competition.
Full details of how to enter, terms and conditions and the digitised documents are available on the competition page, and check #filesonfilm on twitter for updates.
We hope you'll feel inspired to get involved. As they (almost) say in the 'business', Lights, Camera, Archives! (Sorry.)