23 August 2013
Propaganda: Speakers' Corner at the British Library 2- 5 September 2013
Ian Cooke, co-curator of 'Propaganda: Power and Persuasion' writes about our new series of lunchtime debates with the Speakers' Corner Trust. Join speakers Dr Evan Harris, Ruth Fox, Anthony Barnett and Dr Agnès Callamard to discuss issues of propaganda, news, truth, censorship and public interest.
We've been asking for your reactions by Twitter #blpropaganda to our Propaganda exhibition and have been getting some very interesting comments and examples, relating to the UK and around the world. The best thing about our events and public tours for Propaganda has been the chance to talk to people who have been coming to the exhibition, and find out more about your reactions and opinions on propaganda.
Starting on Monday 2 September, and running for four days, we're inviting you to come to the British Library to take part in a series of lunchtime public debates that respond to themes raised in our exhibiton. I've been really excited about these events, which we've been planning in partnership with Speakers' Corner Trust. This is a subject that lends itself very well to public debate, and the enthusiasm and thoughtfulness of people that I've spoken to has been one of the things that I've enjoyed most about curating this exhibition.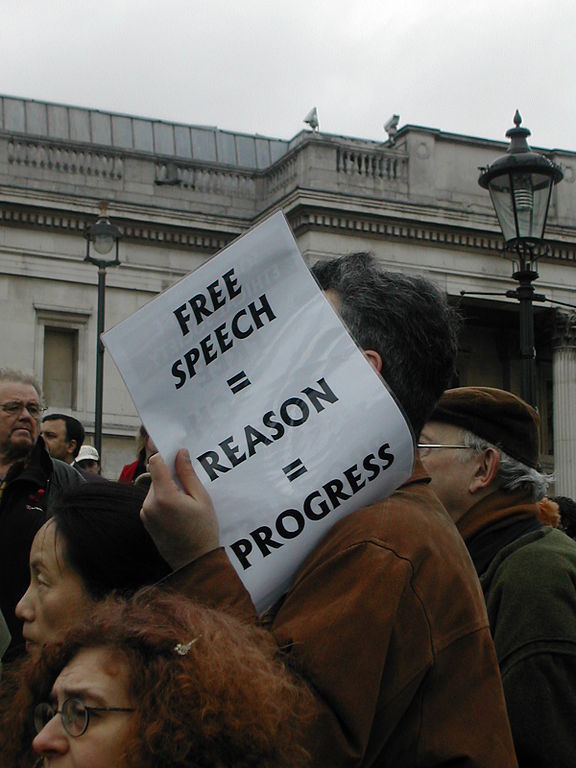 Above: Free Speech Reason Progress by Simon Gibbs from London, United Kingdom  

Each debate is free to attend, and we'll be looking to you to contribute your arguments, opinions and thoughts on each theme. We'll be meeting at 1pm each day, in the Poets Circle on our Piazza – or inside the Library if the weather is not so good.
We've got a fantastic line up of speakers to provide an introduction to each of our events, more details as follows:
Monday 2 September: Dr Evan Harris, Associate Director, Hacked Off Campaign
Is the News Propaganda?
What we read in our daily paper is shaped by the interests of the proprietor, the preoccupations of the editor, the resources of the news desk and competition with its rivals to win audiences and advertisers. How likely is it that we will find the truth?
Tuesday 3 September: Ruth Fox, Director of the Hansard Society
Thank Goodness for Propaganda! 
Can propaganda ever serve a public interest? If so, where should the line be drawn and by whom?
Wednesday 4 September: Anthony Barnett, Founder of openDemocracy
New Media – New Propaganda?
Does the internet spell an end to propaganda, allowing more democratic communication and quicker responses to events – or does it simply provide new means for the state, and others, to manipulate information and opinion?
Thursday 5 September: Agnès Callamard, Executive Director of Article 19
Your Propaganda - My Free Speech
How should we deal with the propaganda of hate? How do we challenge it? Does propaganda have a role to play in democracy's defence? Can censorship ever be justified and if so in what circumstances?
I hope to see you at the British Library for a great series of debates. If you're after some inspiration to get involved, have a look at our videos from the exhibition.