11 September 2013
Speakers Corner at the British Library
Ian Cooke, co-curator of 'Propaganda: Power and Persuasion' provides a summary of public debates held at the Library in partnership with Speakers Corner Trust.
Over four days 2- 5 September, the British Library held four public debates related to the theme of our exhibition Propaganda: Power and Persuasion. We worked with Speakers Corner Trust to plan the programme of debates, and were extremely lucky to have four inspirational speakers to introduce and lead our debates. 
Dr Evan Harris, Associate Director of the Hacked Off campaign for a free and accountable press, introduced our first debate 'Is the News Propaganda?'. On subsequent days, Ruth Fox, Director of the Hansard Society, asked us to re-examine our views about propaganda, and consider more-positive aspects. Anthony Barnett, founder of openDemocracy, led a lively discussion on our attitudes to media new and old, and how we respond to a sense of "information overload". Finally, Agnès Callamard, Executive Director of Article19, gave a strong defence of freedom of speech as the best means of combatting the "propaganda of hate".  
Each speaker gave a short introduction to the topic, and then the direction and theme of the debate, as well as the content, came from the audience present. This worked better on some days than others, but on every day I was struck by the richness and seriousness of the discussion that came from the audience. I learnt a lot, and the four days have made me look at these subjects in a different light. I'm very grateful to everyone who attended on these days. For the rest of this post, I'll try to summarise some of the main points that came out in the debates. However, this is of course a personal view, and I'm sure that, for those of you who came along, you'd probably have different things to say.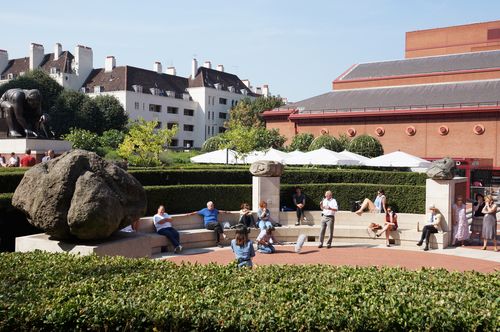 Introducing the last of our debates, Peter Bradley, the Director of Speakers Corner Trust, reminded us that 'rights are like muscles, you need to exercise them or they grow weak'. A strong theme through all four days was the importance of freedom of speech and expression, and the value in ensuring this is extended and nurtured for all. Access to the means of communication, including through new media and social media, empowers and provides the means for groups to organise and gain support. More than this though, it can also provide a means of redress, to correct distortions and challenge prejudice. As Ruth Fox demonstrated, the use of powerful symbols, for example on banners and badges, could generate feelings of solidarity.
There are, of course, challenges. People talked about the inequality of access to spaces for debate, resulting from structural issues around ownership of the national and international news organisations and social media platforms, or around access to new technologies. Online information sources can sometimes give the impression of creating a "deluge" of news. Difficulties in sorting that which we find trustworthy from the untrustworthy can lead us to the conclusion that all sources are unreliable, and promote a sense of cynicism where we feel powerless and alienated. In the case of social-media, the capacity to harass and abuse, often anonymously or under cover of a pseudonym, appears unchecked. Much of the discussion over the four days sought ways in which we could overcome such difficulties.
We discussed regulation in the case of news reporting. In other circumstances, there was support for education as a way of challenging cynicism, coping with perceived "information overload", and understanding how to exercise our right to free expression without restricting this for others. One person noted that those who used new media more frequently became more confident in recognising authenticity in online communications. Understanding the process by which news becomes news can help us make decisions about what sources we trust. The teaching of history is one way in which a critical analysis of sources can be introduced. 
The programme was devised to accompany our exhibition on propaganda, so there was much discussion about what the word meant to people. Talking about news reporting, propaganda could be thought of as intentional, editorial, bias. Also, and perhaps more damagingly, it could be a failure to analyse things presented as fact or to critically question sources. A lack of accountability or poor systems of redress could also contribute to propaganda. Here, we were thinking about propaganda as being the narrowing of argument and heightening of inequalities in access to debate. However, the presence of bias in debate and commentary could also be a healthy sign – one that shows that freedom of expression is protected. The crucial element here would be an accompanying plurality of voices.
Ruth Fox reminded us that persuasive speech could also be used to mutually beneficial ends. Health campaigning by state bodies can result in savings for services, and more productive populations, but also result in genuine benefits in wellbeing for individuals. As with other, more readily-recognised forms of propaganda, the appeal is often made to emotions, using powerful images and symbols.    
An important issue in the way that we respond to these powerful messages is trust. This was a theme raised by many of our speakers and in subsequent discussions. At some points there seemed to be a reluctance to place trust in many of the sources of information that we receive, with both social media and more traditional media faring poorly. The point was made that we tend to place more trust in sources and people that are local. Also, that we are more likely to trust sources that we agree with – which can be a useful tool for propagandists. This leads back to the importance of education and access to debate. The more we understand about how the messages that we find influential are produced, the better-equipped we are to analyse and assess them. Access to the arenas of debate, and making use of that access, makes the sources of information more accountable and more reflective of the range of interests and opinions within a society.