12 September 2013
Thank Goodness for Propaganda!
The following article was prepared by Ruth Fox, Director of the Hansard Society, to open the discussion on our second of four public debates to accompany our exhibition Propaganda: Power and Persuasion. The debate was held on Tuesday 3 September. It has also been published on the website of Speakers Corner Trust, our partner for the debate programme.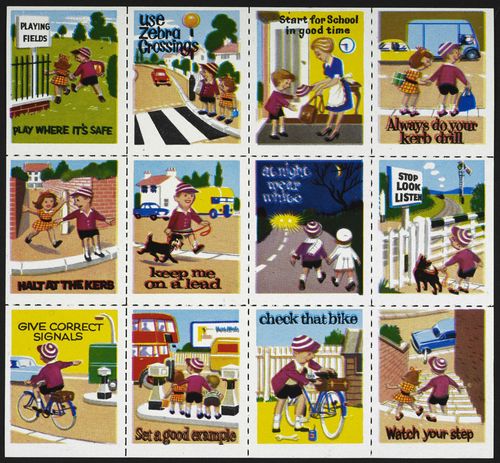 Stamps produced by the Tufty Club. The Tufty Club was set up in 1961 by the Royal Society for the Prevention of Accidents to encourage better road safety amongst children Copyright Statement
What do Joseph Goebbels and Tufty the Squirrel have in common? Not much at first glance. Goebbels advanced the Nazi cause for over a decade, and Tufty taught millions of school children a 'quasi-military kerb drill' to safely cross the road. But in fact they embody the two poles of the propaganda spectrum – sinister and sympathetic, malignant and benign. And each, in their own way, influenced millions of people to change their attitudes and behaviour.
Propaganda is a word loaded with negative connotations – brainwashing, deception, lies, half-truths and hoodwinking – and is often associated with times of war. But strip the term of a particular context provided by time and place and propaganda – good and bad – is all around us. The Goebbels-Tufty comparison may be facetious, but the extraordinary extent of the difference serves to underline an important point: we have to think about the intent and if we think only of the sinister and not the sympathetic we fail to truly understand why and how hearts and minds are won. For stripped to its core, propaganda is no more and no less than the dissemination of ideas designed to convince the public to think and act in a certain way and for a particular purpose. And influencing beliefs and behaviours need not always be a bad thing.

llustration from the Medical Officer journal to promote better public health. At the time, flies were held responsible for contaminating food and spreading diseases such as tuberculosis.

Propaganda by those in authority can be motivated by genuine concern for the public interest such as the health and safety of citizens. For every war that has been shaped by propaganda, so too a disease has been tackled by a mass public information campaign designed to eradicate health threats posed by killers such as tuberculosis and polio. The first national public health campaign urged mothers to 'kill the fly and save the child' here in Britain in 1910. In the 1960s every parent knew that 'coughs and sneezes spread diseases', and by the late 1980s fewer citizens were likely to be ignorant about AIDS following the government's 1987 tombstone campaign.
Today, across the globe governments promote the '5 A Day' campaign to encourage citizens to eat five daily portions of fruit and vegetables following a recommendation by the World Health Organisation. For some this is the nanny state in action. Of course the government wants to encourage people to eat more nutritious food but they also want to change behaviour in order to conserve resources and reduce the cost to the public purse posed by health problems like diabetes and obesity. Is that a bad thing?
Propaganda is also used to create a sense of identity and belonging and not always by the state. Historically, governments have utilised images and items – the national anthem, coins, flags, stamps, buildings or monuments – to promote a sense of national identity and patriotism. But so too have anti-establishment campaigns: the wearing of suffragette colours, or anti-apartheid and CND badges was a clear statement of a person's views and an encouragement to others to join them in common cause. These iconic images portray meaning and belonging in the same way as the Swastika or the Hammer and Sickle, or an Oak Tree or Red Rose. Some are malevolent some are not; but all, in their own way, are instruments of manipulation targeted at hearts and minds.
Patriotic symbolism need not be jingoistic or even solely targeted at domestic citizens. The London 2012 Olympic opening ceremony on the theme 'Isles of Wonder' was described as a 'love letter to Britain'. The organisers may not have intended it to be propaganda, but in showcasing the cultural, economic and social achievements and prestige of Britain it was explicitly designed to influence people's emotional response at home and abroad, bathing the country in a positive light even before the sport had begun. It was soft propaganda for 'Brand Britain'.
One of the most effective propagandists of recent years has been Her Majesty the Queen. Following her 'annus horribilis' in 1992 and the death of Diana in 1997 the Royal Family embarked on a concerted effort to change public attitudes towards them. The propaganda toolbox was cracked open in a carefully choreographed effort to win back public support. The power of symbols and ceremony and a nod to modernity and accessibility through the embrace of social media were all harnessed in the effort, buttressed by the propagandists' clever use of humour culminating in the iconic James Bond moment during the Olympic opening ceremony. As the country marked the Diamond Jubilee, royal popularity hit a fifteen year high and the Queen herself has personal ratings that politicians can only dream of. But is this twenty-year public relations effort necessarily a bad thing? Only if you're a republican perhaps.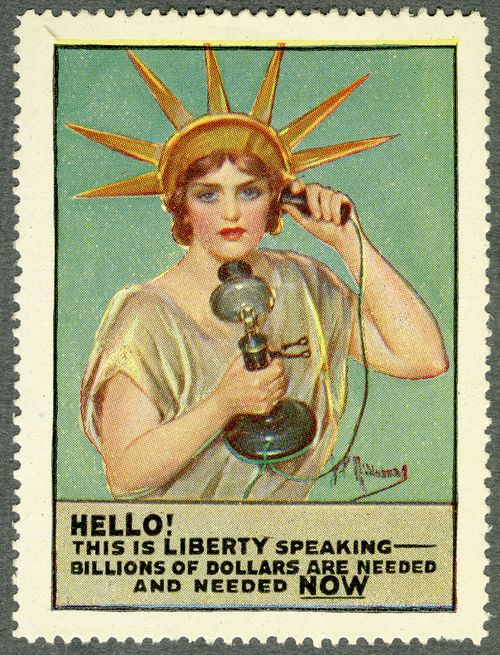 Liberty provided a symbol that would be understood anywhere in the United States. The theme of "freedom imperilled" deflected from discussion of the rationale for joining the war. National War Savings Committee. Paper bags with war savings messages. c.1916. Copyright Statement
Even in wartime, some forms of propaganda can be a good thing. If the country has to go to war, better to win than lose; but to do so recruits, money and supplies are needed. So it's in the national interest for the Parliamentary Recruitment Committee to promote a 'Your country needs YOU' campaign, encourage the population to 'lend a hand' through war savings, and remind everyone that 'careless talk costs lives'. And, particularly as an island nation facing the disruption of international transport links, it's vital that food and energy supplies – so essential to morale – are maintained. So propaganda efforts to promote rationing and the conservation of coal supplies are all beneficial for the national cause. In World War Two, as food imports fell by a third, an additional six million acres of land was cultivated largely as a result of the Dig for Victory campaign which informed the public how to grow vegetables in their gardens and on public land. Without this public information propaganda to change citizens' behaviour the country might have been starved to surrender.
So there are times when we can say 'thank goodness' for propaganda.  Ultimately it is the intention of propaganda that should determine our view of its merits. The society in which we now live, with a watchful media and powerful social media platforms, means British citizens are less likely than in years past to have the wool pulled over their eyes and the government to escape challenge. That's not to say it can't happen; merely that it's more difficult than before for malevolent propaganda to prevail, at least in peacetime. And as social media democratises access to powerful channels of communication we could all be propagandists in the future.