Holly Gilbert, Social Sciences, writes:
This one-day event, held on Monday 7 October, was the second time we have collaborated with colleagues from the International Association of Visual Urbanists and Goldsmiths, University of London to create a space for discussion about the use of visual methods in researching the urban environment. The event was part of the annual Urban Photo Fest and was fully booked. It was a really stimulating and thought-provoking day.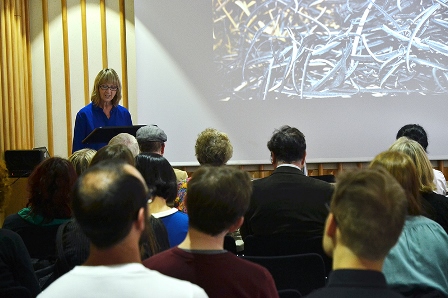 Above: Professor Caroline Knowles. Photograph © Felipe Palma and reproduced here with kind permission.
We were taken from flip flop factories in China to the Olympic Park in Stratford via Brighton as photographed by its traffic wardens, the sewer systems of London and the view from the top of the unfinished shard. We looked at the ephemeral objects found in city streets, we followed the journey that a couple took across Switzerland in 1935, we encountered water as an intervention in the spaces of Berlin and we listened to the sounds of the landscape and literature of East London.
The presentations and discussions considered different ways of using visual methods to do urban research, questions about the ethics of selecting what makes it into the frame, the effective force of images and the mischievous, playful nature of visual research. Ian Cooke, Curator of Politics and the Propaganda exhibition at the British Library, introduced us to some of the photographic and moving image collections held here at the Library.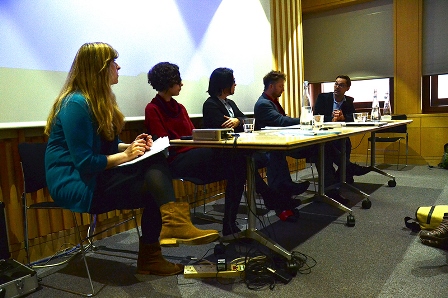 Above: One of the panels in discussion. Photograph © Felipe Palma and reproduced here with kind permission.
A series of films was screened during the day, many of which can be viewed online via the links below, which gave art practitioners and researchers from across the social sciences the opportunity to share their work in a different format. The films explored cities across the world including Lima, Gateshead, Dubai, Berlin and various parts of London.
Keynote Speaker
Professor Caroline Knowles,Goldsmiths, University of London
Plastic City: Insights from the Flip-Flop Trail
Papers
Anthony Palmer, Goldsmiths, University of London
Landmark - staging the urban landscape in London's East End
David Killeen, Independent Artist
To You I Follow
Paul Halliday, Goldsmiths, University of London
The Appearance of Things
Bradley L Garrett, University of Oxford
Encountering the city through urban interventions
Diego Ferrari, Kingston University and Central Saint Martins
Photography as mapping space
Micheál O'Connell, University of Sussex
Contra-Invention: the photography of Britain's Traffic Wardens
Maria Papadomanolaki, London College of Communication, University of the Arts London
Tracing Paths: exploring landscape and listening from and beyond the books
Panel Chairs
David Kendall, Goldsmiths, University of London
Toby Austin Locke, The British Library
Rachel Jones, Goldsmiths, University of London
Film Screenings
Urban Habitat II (2013) – Video: Lluís A. Oliver; Photos: Diego Ferrari; Music: Junior Jero
Cold Angel (2013) – Bradley L. Garrett
Sounds of Wapping, London River Thames (2013) – Tine Blom and Portia Winters
Missing You (2013) - Micheál O'Connell/Mocksim
Lugares que fui and Wilder's Car (2012) –  Rebecca Locke
Big Bus Tour (2008) –   David Kendall, Marina Loeb, Keyvan Gharaee Nezhad
Wild The Need to Leave the Cage of Love (2009) – Annalisa Sonzogni
Dépaysement 4, 1 & 2 (2013) – Melanie Clifford
A Microcosm City: subtitled (2013) – Maria Papadomanolaki
Landscape of Disappearances: Reflections 1(2013) – Rachel Sarah Jones
Ayquina (2012) – Felipe Palma