02 October 2013
The realities behind the social 'myths'
The final event in our long-running and successful series of social science debates 'Myths and Realities' (in partnership with the Academy of Social Sciences) takes place on the evening of 15th October. It will be a bit of a celebration of the series (with a drink included in the ticket price) as well as a chance to address the broad question of why we (members of the general public as well as our politicians!) often believe the various social 'myths', rhetoric and narratives that we do, despite evidence to the contrary which is often available for public access.
For example, government figures suggest that benefit fraud costs the nation around £1.6 billion last year whilst tax fraud costs around £14 billion. So why then is the cost of benefit fraud to the nation seen as far higher in the public imagination? This is just one example of the kind of gap between widely held views about society and the evidence about social and economic reality that this series has explored. Other examples include the social reality of immigration, addiction, work-life 'balance', crime and punishment, educational standards (not as good as my day!) and health and food (is the modern diet really as bad as all that?) and social class (are we really all middle-class now?). We've had some great speakers from the academic realm and from policy and practice across the series, and many of our podcasts are on the British Library's website as well as on SoundCloud.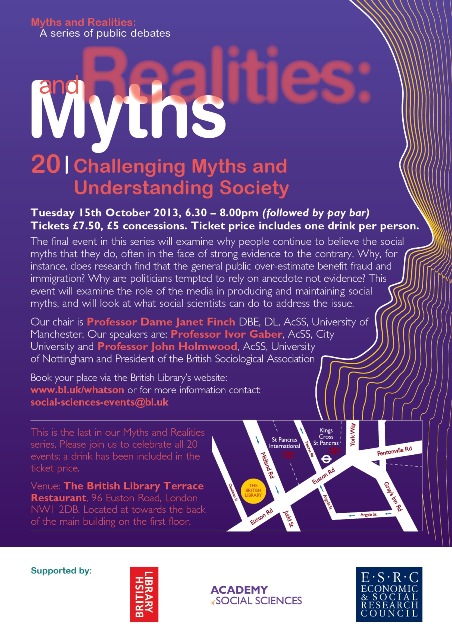 Our final event will build and draw on the questions and points raised across the series to examine the role of the press in producing and maintaining some of these social 'myths'. We will look at how we, as members of the public, access evidence about the society we live in (and whether we are interested in doing so?), the responsibility and role of our politicians in revealing social 'truths'  and what social scientists could be doing to bring about greater clarity for all.
The event will be chaired by Professor Dame Janet Finch who was awarded her CBE for services to Social Science in 1999, she is Emeritus Professor of Sociology at the Morgan Centre at the University of Manchester and was Vice Chancellor of Keele University.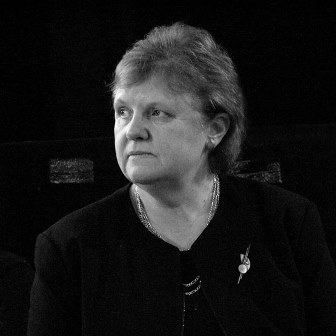 Above: Professor Dame Janet Finch. By Mholland [Public domain], via Wikimedia Commons.
Our speakers will be:
Professor Ivor Gaber, Professor of Journalism at City University. As well as having worked as a senior editor for major news organisations such as the BBC and Channel Four, he has published widely on political communications and has also worked as a media consultant for various organisations and governments.
Professor John Holmwood, Professor of Sociology and Social Policy at the University of Nottingham. He is the President of the British Sociological Association and co-founder of the Campaign for the Public University. His current research addresses issues of pragmatism and public sociology.
Please join us for an evening of discussion and debate, as well as a glass of wine to celebrate the end of the series! Tickets are available via the British Library events pages and box office.
p.s. In 2014 we will be launching a new series of social science events for the public. Watch this space...