Every month, my colleague puts together a summary of all of the engagement, research and outward facing activities that our team organises or is part of. It's a resource that we use internally, but as the year draws to a close, it is a great thing to look back on to see all the different activities we've been involved in across the year (sort of like looking back over a diary, but with far fewer 'cringe' moments). These summaries remind me of all the productive (as well as fun) times we've had working with the public and social scientists in the last year. Here are a few of the highlights:
The year kicked off with the 2013 CMI Management Book of the Year which was announced at the end of January. Richard Newton won the top prize for his book 'The Management Book: How to manage your team to deliver outstanding results'. The full story can be read here.
In February, we held two social sciences doctoral open days, which were repeated again this December. As well as presentations from our curators and experts, they included some very useful talks from external colleagues, including those at the UK Data Service and the Centre for Longitudinal Research at the IoE.
We were in a celebratory mood in March as we launched Sisterhood and After, a learning website about the second wave feminist movement which resulted from a major research project with the University of Sussex and the Women's Library. Find out more here.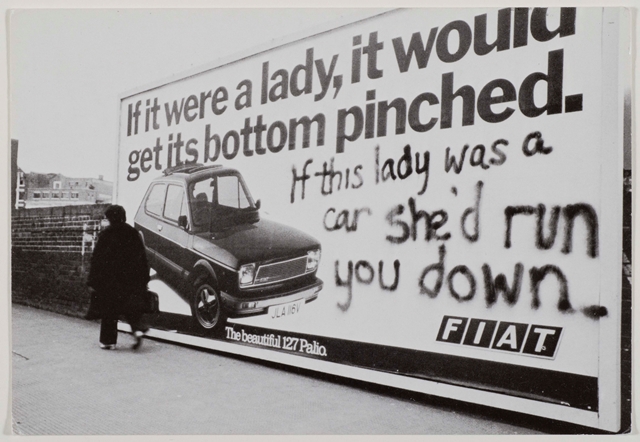 Above: If this lady was a car...Image courtesy of © Jill Posener
If this lady was a car... Image courtesy of © Jill Posener - See more at: http://britishlibrary.typepad.co.uk/socialscience/2013/03/index.html#sthash.girLWObT.dpuf
If this lady was a car... Image courtesy of © Jill Posener - See more at: http://britishlibrary.typepad.co.uk/socialscience/2013/03/index.html#sthash.girLWObT.dpuf
As a prelude to our summer exhibition, Noam Chomsky came to the Library to talk about the roles of the state and the mass media, 25 years on from his essential work Manufacturing Consent. View the event here.
Spring saw the third annual British Library and British Sociological Association Equality Lecture which took place in April. This year the speaker was Professor Danielle Allen, Institute of Advanced Study, Princeton, who spoke on the subject of 'The Art of Association: The formation of egalitarian social capital'. Her lecture can be viewed here.
Our team members were active during the conference season, attending the British Sociological Association's and British Association for American Studies annual conferences. By May digitisation work for the Picturing Canada project was complete. 2,000 Canadian Copyright images were digitised to be uploaded to Wikimedia Commons and Digitised Manuscripts at the British Library. The project was funded by the Eccles Centre for American Studies.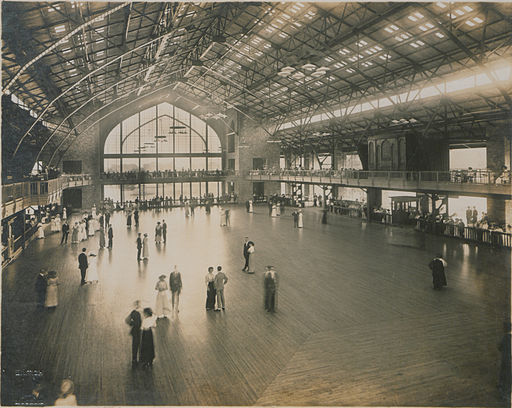 Above: Dancing pavilion at Bo-Lo, Bois Blanc Island, Detroit River. By Valentine and Sons United Publishing Company, [Public Domain] via Wikimedia Commons
After many months of research and preparation, we launched our Propaganda: Power and Persuasion exhibition in May. The curators for the exhibition were our very own Jude England and Ian Cooke, who had a busy first month with significant media interest and many associated events, some of which are on the British Library YouTube channel.
May was also a busy month for our participation in the ODIN project, including a visit from a colleague from the Australian National Data Service. If you are a researcher, and haven't already done so, distinguish yourself with a persistent digital identifier here.
June was filled with events for Propaganda, including those with The New Statesman (Propaganda and Politics in the Modern Age), a 'Late' event at the Library which featured Public Service Broadcasting and Hot Chip and 'Justifying the War' with Martin Bell. We also held our nineteenth event in the 'Myths and Realities' series, 'Social Media: New Democracy or Mass Deception?' with Professors Helen Margetts and David Gauntlett – the podcast for which is available here.
Things didn't really quieten down in the summer as members of the department were involved in organising the 'Summer Scholar' series of lunchtime talks and continued to offer presentations about our collections to universities and schools including at Senate House, the IoE and secondary schools in Enfield, North London.
In August the FA Minute Rule Book of 1863 was exhibited in the Treasures Gallery and was launched with Greg Dyke and Roy Hodgson in attendance. Gillian Ridgley, our Lead Curator for Sociology, Culture and Sport has written a blog here.
During early September we organised a series of lunchtime debates with the Speakers' Corner Trust including contributions from Evan Harris (Hacked Off), Ruth Fox (Hansard Society), Anthony Barnett (OpenDemocracy), and Agnes Callamard (Article19) – see our blog for more details.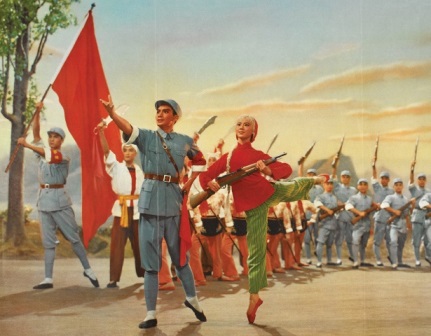 Above: White Haired Girl [Public Domain]
Above: White Haired Girl

Colleagues Jonnie Robinson, Holly Gilbert and Rob Perks were interviewed by Fi Glover about The Listening Project on BBC Radio Four.
In October we were joined by two new PhD students, who are undertaking work on as diverse subjects as geopolitics in the polar regions and South African political ephemera. We celebrated Black History Month with an evening event on '1963: A Turning Point for the Civil Rights Movement' and held a sell-out event 'In Conversation with the Women's Liberation Movement'. A review of the event is here. We also said farewell to our Myths and Realities series with a final event on Challenging Myths and Understanding Society – the presentations can be viewed on the British Library's YouTube channel.
In November, The Eccles Centre held its yearly Congress to Campus programme for school students. Speakers included two former members of Congress and five British academics. Colleagues attended conferences and events at the Business Archives Council, Spot On 2013 and the National Archives, and were involved in many memorial events for J.F.Kennedy, including David Miliband's lecture 'America, Britain and Europe: Lessons from JFK'.
This month sees the first anniversary of the launch of our Social Welfare Portal which is a free online resource which supplies research reports, government documents and summaries which relate to social policy and social welfare.
To finish off, a few words from Jude England, Head of Social Sciences at the British Library:
'This has been a busy, exciting and fulfilling year for everyone in the department. The Propaganda exhibition inevitably stands out for me personally, but it was also sad to say goodbye to our Myths & Realities series after 20 episodes. We are very grateful to all the speakers and chairs who made the series such a success. There's much to look forward to in 2014, not least our new series which will look at some of the major concepts and ideas that underpin society and will launch on 25th July. Watch this space.'
We wish all of you a very merry Christmas and a happy new year!