10 December 2013
The personal and political: memories and commemoration of Nelson Mandela on the web
Ian Cooke, Lead Curator for International Studies and Politics at the British Library, writes:
It is a cliché but nevertheless true that news is now reported and commented on immediately and globally. The news of Nelson Mandela's passing on the evening of Thursday 5 December was quickly followed by statements, comments and reflection from political leaders, church leaders, campaigners, trade unionists and many others. At the British Library, we have been collecting together some of the reaction, comment and reporting on UK websites, to form part of an archive of the UK web. One of the strengths of an archive like this is that it's possible to see the development of reaction to an event over time. This blog post will focus on the tributes, commemoration and comment that surfaced in the first 24 hours following the announcement.
The news of the passing of political leaders is in some ways untypical of other events that gain international attention, in that awareness of ill health allows for a period of reflection and preparation. This could be seen in some of the more analytical pieces that appeared, such as Chatham House's briefings on Mandela's impact on regional and international affairs. However, much more common in the responses within the first 24 hours was the sense of very personal expressions of grief. The messages that were posted online during the 5th and 6th December showed how much Nelson Mandela inspired love as much as respect.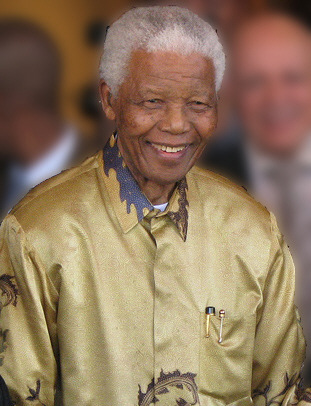 Above: Nelson Mandela. South Africa The Good News / www.sagoodnews.co.za [CC-BY-2.0], via Wikimedia Commons
Also striking was how personally people responded. President Obama's statement was typical of many in describing the role that Mandela and the anti-apartheid movement more generally played in his own political awareness and political activism. In the UK, statements from Church and Trades Unions alike also recalled earlier periods of solidarity and support for Mandela personally and the anti-apartheid movement more generally. This could be seen in statements made by the Evangelical Alliance and the Public and Commercial Services union. Here and elsewhere was the sense that, in responding to the news, memories of national politics were mixed in with tributes to Mandela himself. For the UK, this particularly meant the anti-apartheid movement and debates, particularly those during the 1980s on support for the ANC, sporting boycotts and economic sanctions. As the day drew on and news reports began to carry accusations of short memories, so the comments in response to some blog posts began to repeat the debates of 30 years previously.
Much more recent events also seemed to influence the tone of some of the comment and analysis of Nelson Mandela's life and legacy. Perhaps wishing to avoid accusations of hagiography, some blogs carried critical as well as more positive posts.         
As this week progresses, we will, alongside other legal deposit libraries, be collecting more online comment and recording of activity across the UK. Changes to regulations on non-print legal deposit mean that we are now able to respond much more quickly in collecting web pages and web sites, although access to the resulting collections are restricted to computers in legal deposit libraries. We hope that our collection will stand as a record of UK public and political opinion on the life and achievements of Nelson Mandela, as well as reflecting the emotional impact of the news of his passing.