Jennie Grimshaw, Lead Curator for Social Policy and Official Publications at the British Library, writes about one of the unique online resources available at the British Library for the study of the legislative process in the eighteenth century. Find out more about our e-resources here.
The Leeds Intelligencer, 10 November 1772, notes that "On Friday 30th ult died Robert Harper, Esq. of Lincoln's Inn, Counsellor at law, who is deservedly supposed to have been one of the most able conveyancers in England for more than half this present century. He was deeply versed in the laws of his own country, and well acquainted with the history of the modern and ancient nations."
Robert Harper (1699?-1772) was the eldest son of Samuel Harper of Farnley, Yorkshire. He was admitted to Lincoln's Inn in 1717, after which his legal career spanned fifty years. He practised as a conveyancer, specialising in legal matters concerning transfer of real property. As a natural outgrowth of his work as a conveyancer, he also developed an extensive practise in drafting Private Bills. Between 1732 and 1762 altogether 1,238 private acts received Royal Assent, of which 458 or 37% were drawn by Harper. His speciality was private estate acts of which he drew 350, or 56% of the total in this group. Up to 1754 he drew the same percentage of all inclosure acts, but when the inclosure movement gathered pace, Harper continued to draw only the same number of bills (between two and six each session), so his overall percentage for inclosure acts drops to 31%. He appears to have taken an interest in bills other than his own, and noted the time and place of committee proceedings upon them. In the absence of an officially printed list, he compiled his own list of standing orders. For estate bills, he drew up his own 'Memorandums' of procedure with marginal comments and corrections (Lambert, 1971).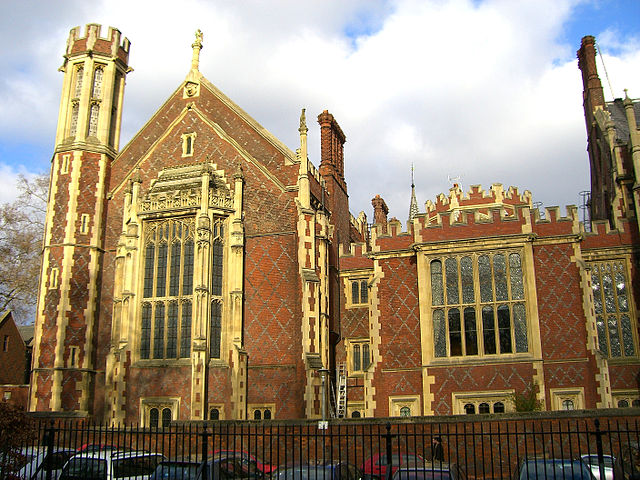 Above: Lincoln's Inn, London. Image via Wikimedia Commons [Public Domain]

Robert Harper did not act exclusively as agent for all the bills with which he as associated. In 1762 and 1766, John Rosier and George White, both clerks in the House and agents, were responsible for printing bills with which Harper was concerned and which he had probably drafted (Lambert, p. 49). The probability is that he often worked with, or employed, collaborators within Parliament. He was also a favourite client of Samuel Richardson, printer to the House, who left him a mourning ring in his will. From 1705 both the Lords and the Commons required printed copies of private bills to be delivered to them. An attorney responsible for drafting, promoting and managing up to 20 bills per session, and who could select his printer, was thus a valued customer and source of income.
The estate bills and other papers in the Harper collection shed light on eighteenth century family life and disputes, which are not so very different from cases coming before the courts today. They include papers relating to the case of John Addison (see the below image) 'a lunatic without lucid intervals' who contracted debts and was fleeced by two unscrupulous lawyers. Care of his estates was eventually granted to his younger brother George, who brought bills before the House of Lords in successive sessions for the sale of the estates for the payment of John's debts. John and George's sisters and their husbands then entered the scene and opposed the sale on the grounds that the bills made no provision for payment of monies owed to them, amounting to £661 and 14 shillings, plus interest and legal costs. They argued that the bill only made provision for payment of debts contracted after their bother's lunacy, which would deprive them of their fair share of their late parents' estate. Any monies remaining after the settlement of the debts would be given to George to administer on his brother's behalf, and the sisters feared it would be mismanaged, leaving John destitute. Sheila Lambert reports that the bill was abruptly rejected at third reading, and no more was heard of the case (Lambert, p. 115-116).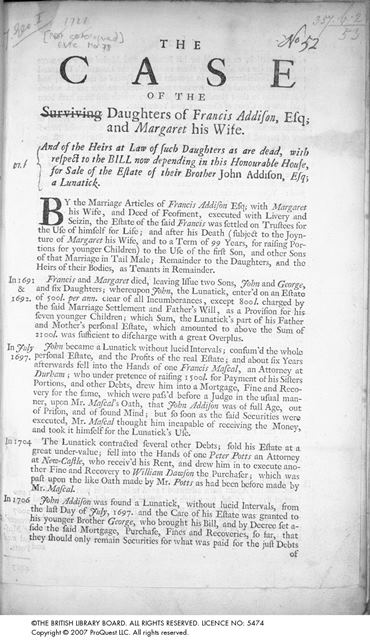 Above: 'The Case of the Daughters of Francis Addison Esq; and Margaret, his wife'  © The British Library Board.
At the end of his life Robert Harper began the enormous task of indexing his collection of Parliamentary and other papers – private bills in various states, drafts of judges' petitions and various related manuscript and printed items.  On his death his library passed to his son, Samuel, an employee of the British Museum, who offered it at auction in 1802, shortly before he died. His former colleague Joseph Planta, then principal Librarian, obtained a copy of the fifty-seven page catalogue, went to the sale and purchased material on behalf of the Museum.  The Museum thus acquired parts of the collection; other parts have been lost or have made their way into other libraries. Unfortunately the Museum did not acquire the manuscript indexes to it; these are in the volume of Harper MSS at Lincoln's Inn.
The Museum removed many bills from the main Harper volumes and used them to help form its own set of private bills or acts bound up, until 1727, under the title "Private Acts" and from then until 1814 under that of "Private Bills". With the aid of the indexes Sheila Lambert was able to reconstruct the content of Harper's original collection and ascertained that almost the whole of the Museum's set of Private Acts/Bills up to 1767 belonged to it. Without Harper's collection, the Library's holdings of eighteenth century Parliamentary papers would be much poorer.
Harper's papers are a unique resource for the study of the legislative process in the eighteenth century.  Additionally they contain valuable information on many of the private acts with which Harper was involved and so offer material for the study of local and family history.  No other copies of many of the bills in this collection are known. They are now available online in full text as part of the House of Commons Parliamentary Papers, 1688 - offered by Proquest and available onsite at the British Library.
Find out more about our e-resources here.
References:
Lambert, Sheila. Bills and Acts: legislative procedure in eighteenth century England. Cambridge University Press, 1971.
Rydz, D.L. The parliamentary agents: a history. Royal Historical Society, 1979.
Jervis, David, Cheffins, Richard H.A. and Cunningham, Arthur. Parliamentary papers in the British Library. In Workings of Westminster edited by Dermot Englefield. Dartmouth Publishing, 1991, p. 163-180