11 February 2014
Sport in the archive – remembering London 2012
Andrew Rackley, a collaborative doctoral student at the British Library and University of Central Lancashire writes:
I have a confession to make: I am a bit of a Luddite. I don't really get technology. I graduated as a historian, a medieval one at that, before qualifying as an archivist. My mother was a librarian and my father a paper maker, so books are kind of 'my thing'. Of course I maintain a web-presence, I have a Twitter account, although it's a little on the quiet side; I subscribe to Facebook, have done for a decade, not that it helps me understand quite why I do so; and I even have a smart-phone, which I'm fairly sure operates a considerable number of IQ points higher than myself. So how did I find myself at the British Library working towards a PhD entitled 'Archiving the Games: collecting, storing and disseminating the London 2012 knowledge legacy', a project that is principally interested in digital archives? The answer is quite simple really: I like sport.
As I write, I find it hard to disassociate myself from the excitement surrounding the opening of the 2014 Olympic Winter Games in Sochi, Russia. Not everyone will share in my enthusiasm, the Winter Olympics sometimes feels like it's considered the less glamorous cousin of the Summer Olympics – winter is to Eddie the Eagle as summer is to Usain Bolt – no disrespect to Eddie or the Winter Games of course; maybe it is just that the UK hasn't had quite as much success on the snow and ice as it has the track and field. On Sunday, Great Britain secured a first medal on snow, matching the haul from Vancouver in 2010, where Team GB took home one solitary medal (albeit gold). In fact, over the twenty-one Winter Olympics to date Britain has claimed a total of twenty-three medals compared to the sixty-five obtained on home soil in 2012 alone. Beyond this, Britain has never hosted the Winter Olympics, whereas no other city has played host to the three summer Games that London has.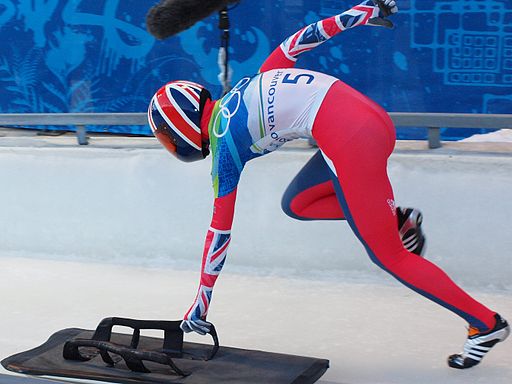 Above: Great Britain's Amy Williams won gold for the Skeleton at the Vancouver Olympic Winter Games in 2010. By jonwick04 [CC-BY-2.0], via Wikimedia Commons
Which brings me neatly back to London, where I now find myself, still hardly able to believe that eighteen months have disappeared since waving goodbye to the Olympics. During this time, there has been a lot of talk about legacy, often about how it has not yet delivered one (see also Donavan, 2012), but little attention has been paid to the documentary residue of the Games; that body of material, both analogue and digital, that resides in our museums, libraries and archives as testament to the nation's heritage. This is where my interest lies. This is London 2012's knowledge legacy.
There are many issues surrounding the archiving of an occasion such as the Olympic Games, not least of which is the scale of the event. London 2012 Olympic and Paralympic Games were just under six weeks in the execution, but over a decade in the planning, during which time a multitude of records in a great variety of formats were created. Alongside many physical records held at The National Archives, a vast amount of digital material is also available including the British Library's Web Archive, which includes Winning Endeavours, a page devoted to digitizing images from London's Olympic history, and the People's Record – a website dedicated to documenting the efforts of community groups around the UK as they entered into the Olympic spirit and joined in with the Cultural Olympiad. In addition, the British Library's Sport & Society website takes a look at the Olympics through the lens of the social sciences, suggesting many different uses to which records of sport can be put, many of which are not always obvious.
The Olympic flame may now be burning bright in Sochi, but the legacy left to London doesn't reside solely in the stadiums, housing or participation the media constantly reminds us of. There are many stories waiting in memory institutions, in the knowledge legacy, that serve to demonstrate how important sport can be to bring people together and unite communities. The scope of the records generated by the Olympics may have presented challenges for collection and storage, but the sheer variety of content available to disseminate to researchers is what makes these records a fantastic resource.
Now, if you'll excuse me, I believe the Curling is about to start, and I do like a bit of sport.
Further information and references

For extensive collections on sport, from Eddie the Eagle to Usain Bolt to curling, please search the British Library's catalogue here: Explore the British Library.
Donovan, T. (9 August 2012) London 2012: Olympics Job Legacy 'falls short'. BBC News.
For a Google Search on Olympics Legacy articles, click here.
---
About the author: Andrew Rackley is a collaborative doctoral student at the British Library and the University of Central Lancashire. His research principally focuses on how a national institution, such as the British Library, documents a Mega-Event like the Olympics, and his interests include sport and the relationship between memory and archives. Follow him on Twitter @andy_rack.