15 May 2014
Culture and football in harmony
The Football World Cup starts next month, and the British Library is celebrating the event on 23rd May with a conference about football and culture. Our collections include fascinating titles about sport in general and football in particular. Barry Taylor curator for Hispanic Studies describes one of them and shows how football and culture are closer than one might think.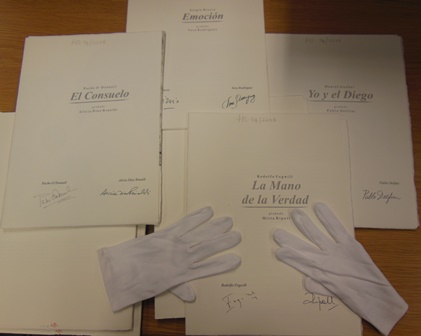 El libro homenaje a Diego A. Maradona. San Martín Pcia Bs As : SAFE, Sociedad Argentina de Fomento Editorial, 2001 British Library shelfmark: HS.74/2205
England fans may well remember Diego Maradona as the man whose hand ball won Argentina victory over England in the quarter final of the 1986 World Cup and paved the way to Argentine triumph over West Germany.
In his native country he is of course a god (to put it mildly) and this item from the BL collections points up some cultural differences between the two footballing nations who faced each other on 22 June 1986 at the Estadio Azteca in Mexico City.
'Cultural' itself is a word with quite different connotations in English and Spanish.  In vernacular English, culture lives in art galleries and concert rooms.  In Spanish, it's a much broader term, commonly used in the sense in which only anthropologists use it in English.  It's the whole way of life, as much in the streets and on the terraces as in the academy.
This lavish production also demonstrates the integration of the Argentine intellectual into the life of the nation.  In Latin America, poets are seen as the 'unacknowledged legislators of the world', speaking for the nation in times good and bad.  It's eloquent that the prefaces of this volume are by Rosa María Ravera ( President of the National Academy of Fine Arts) and Daniel Arcucci (Maradona's biographer and editor of the prestigious daily newspaper La Nación)
El libro homenaje a Diego A. Maradona contains texts by ten well known Argentine authors, illustrated by original prints by ten well known Argentine artists.  The artists are: Alicia Scavino, Alicia Díaz Rinaldi, Mirta Ripoll, Leonardo Gotleyb, Lucrecia Orloff, Carlos Scannapieco, Ricardo Tau, Pablo Delfini, Alberto Arjona, and Vera Rodriguez.   The authors are: Roberto Fontanarrosa, Pacho O'Donell, Federico Andahazi, Dalmiro Sáenz, Martín Caparrós, Elvio Gandolfo, Rodolfo Fogwill, Leopoldo Brizuela, Sergio Bizzio, and Daniel Guebel.  Authors and artists have signed each copy. It is an edition of 505 copies.
Measuring 42 x 33 cm, printed on hand-made paper, physically it consists of a  booklet (24 pages); another booklet with facsimiles of the texts (20 pages); 13 unbound quires; a postcard; and a pair of gloves..  This last element a fitting monument to the Hand of God.
 A Cultural History of the World Cup, a one day conference at the British Library, will be held on Friday 23 May 2014, 09.30- 17.00. Tickets £30 (full price), £15 (concessions)