06 May 2014
Happy Birthday Channel Tunnel
In this post Philip Eagle, Content and Collection Specialist for Business and Intellectual Property, provides more information about the Library's Item of the week.
On the 6th May 1994, twenty years ago this week, the Channel Tunnel was officially opened by HM the Queen and President François Mitterrand. The current Item of the Week on the British Library's website is a Deputation to the Prime Minister by promoters of an earlier Channel Tunnel scheme, published in 1913 and held in the Business & IP Centre's Trade Literature Collection.
The work describes a scheme quite close to today's Channel Tunnel, with two bored single-track tunnels from Dover to Sangatte. Trains would be electrically hauled and cross passages would be used for workers and to improve ventilation.
Much of the 136-page brochure, however, is taken up by arguments against the fear that a Channel Tunnel might provide an avenue for France or some other hostile nation to invade Britain, which had shut down the most serious previous attempt to start construction of a Tunnel in 1882. It is argued that changes in both the political situation and military technology since would make a Channel Tunnel less of a hazard to Britain in the event of a European war, and more helpful as a way of evading any naval blockade to trade.
Arguments for the Channel Tunnel are familiar - increased trade, tourism, and the avoidance of seasickness. The most prominent supporter of a Tunnel scheme listed in the brochure is the late William Ewart Gladstone, whose speech of 1890 supporting a tunnel is quoted. The brochure ends by predicting through trains from London to points as far away as Lisbon, Nice, Palermo, Constantinople and Siberia, and the possibility of a tunnel under the Bering Strait to link Russia with North America for a London-New York express.
The illustration shows a drawing of an even earlier scheme by Hector Horeau in 1851, which would have involved a submerged iron tube resting on the sea bed. The huge moored towers seen in the picture would have been retained after the completion of the tube, to hold it in place and provide ventilation.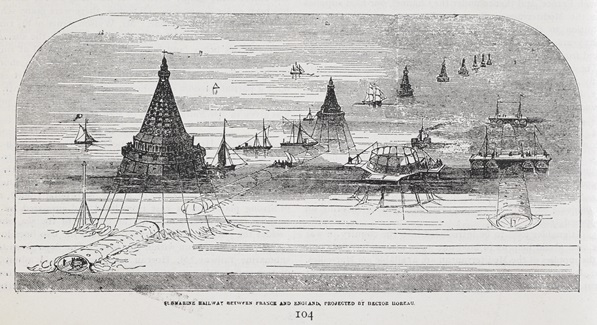 Elsewhere in the Trade Literature collection, we have a number of items covering the modern tunnel, including annual reports from Eurotunnel and Wimpey, and celebratory items in staff magazines from the contractors Tarmac and Costain. For people who want to see what St Pancras and Kings Cross were like before the Channel Tunnel Rail Link, we have a brochure published by the City and South London Railway tube company for their 1907 extension from Angel to Euston via Kings Cross (now part of the Northern Line), which has fascinating pictures of the station and the streets around.