11 June 2014
Football Heroes
With the World Cup starting this week, we post this piece from Germanic studies curator Susan Reed who writes about one particularly relevant donation:
We receive many donations in the British Library, but one of the more unusual ones to pass through my hands arrived just in time for the 2006 Football World Cup. Football Heroes was described as 'The complete album with over 700 Soccer Worldcup [sic] trading cards', which I have to admit made my heart sink for a moment: did we really want a football sticker album?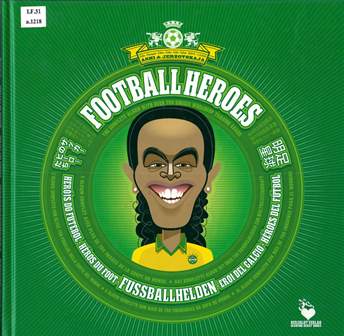 Ashi & Jerzovskaja [ed.]  Soccer heroes : the complete album with over 700 soccer World Cup trading cards = Fussball Helden : das komplette Album mit über 700 Sammelbildern zur Weltmeisterschaft (Zürich, 2006). LF.31.a.1218
But Football Heroes was in fact a clever and brilliantly executed homage to the albums many of us remember from childhood. It was the brainchild of Swiss graphic designer Jerzovskaja who explains: 'I could never afford the expensive collector pictures as a child … So I started to draw soccer pictures myself' (p. 11). This sowed the seed of what would become Football Heroes, for which Jerzovskaja brought together 50 artists to draw the teams competing in the 2006 World Cup and some famous national teams from the past.
Each team is shown  in basic sticker album style –  mugshots of each member arranged in a specific order – but the artists were free to choose their style and medium, and the pictures show a wide range of approaches. Some refer obviously to the team's nationality, such as cartoonist Beach's depiction of the 1934 Italian squad as ancient Romans, while some hint less directly at national culture: Christian Montenegro portrays the 2006 Iranian team in a stylised and modern form which nonetheless subtly recalls classical Persian art. Others go against expectations: the Argentinian duo 'Stupid Love' subvert their country's macho stereotype by depicting the 2006 team in pastel colours and a kind of 'Hello Kitty' style, surrounded by cupcakes and cute smiley animals.
One  of the most striking – and daring – depictions is again by Beach, and shows the 1958 Brazil team in series of images which together make a pastiche of Leonardo da Vinci's 'Last Supper' with Pelé in the role of Saviour. The book ends with a series of imaginary players drawn by Jerzovskaja with wonderful (and almost believable) names like 'Ringo Thickplank', 'Electro Zamboni' and 'Brickwall van der Tor'.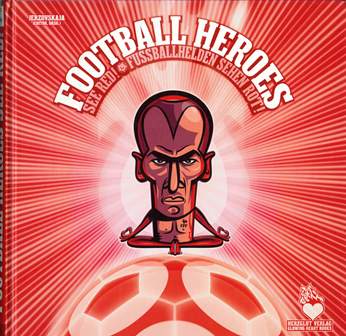 Jerzovskaja [ed.]   Football heroes  see red! The complete sticker album for the European Football Championship = Fussballhelden sehen rot! Das komplette sammelbilder-album zur fussball-Europameisterschaft; (Zürich, 2008). LD.31.b.1498
Two years later we received another album, Football Heroes See Red!, marking the 2008 European Championship and featuring 38 artists from 12 European countries. As well as the team 'sticker' pictures, this album includes a number of full page images, including 23 of the French player Zinédine Zidane. According to Jerzovskaja, Zidane 'embodies [the] notion of duality in the game,' which he wanted to explore in this album, 'the moment where passion spills over into something darker' (p.7).
But not everything is dark here. For example, the 2008 England team members are humorously portrayed (by Beach again) as missing pets. In a reference to his long absence following injury at the 2006 World Cup, Michael Owen becomes a heavily bandaged rabbit on a poster inscribed 'Lucky. Black + white marking. Slight limp'.
Jerzovskaja has gone on to produce other Football Heroes albums, including one devoted to the team he has followed since his teens, FC Winterthur. As well as expressing his passion for football, they are also proof of his commitment to promoting the work of graphic and comic artists from around the world.