23 July 2015
PhD placements available!
Are you:
-an ESRC-funded PhD student?
-interested in social science research and policy?
-interested in learning more about the British Library's collections?
-interested in working alongside expert curators?
-keen to learn about public engagement with research?
Then we may have a funded, three month ESRC placement for you!
Working at the Library is an amazing way to find out about the scope of the collections we have here and to be exposed to unique and unusual research materials that cannot be found elsewhere. The British Library has hosted a number of ESRC placements in the past, including projects on diverse topics such as sports archives, ageing and the body, migration, health studies and the use of the web in social science research. Previous placements have produced a range of useful outputs such as topical bibliographies, reports, webpages and events for the public and academic audiences.
There are 5 placements currently open to ESRC-funded PhD students. They are each funded for a three month period. These are outlined below. For more information and how to apply, please see full details on the RCUK website. The deadline for applications is 16:00 BST 28 August 2015.
We are also offering up to three placements for MRC or NERC-funded students and one placement for AHRC-funded students. For more details see the RCUK website.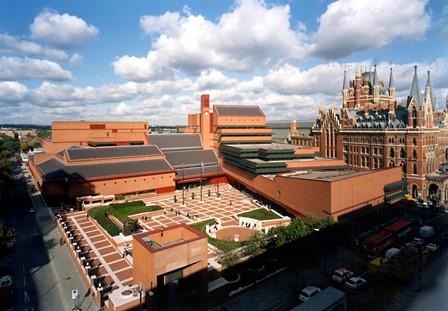 Above: The British Library, aerial view. Public Domain image.
Outline of projects for ESRC-funded placements
Mapping the 20th Century
Contribute to a major exhibition launching in November 2016 that will explore key aspects of national and international government policy, boundaries and identities through the 20th Century. You will focus on developing part of the exhibition narrative that discusses the role of maps in geopolitical contexts e.g. boundary mapping used to establish new national borders; the role of mapping in communicating the work and supporting the existence of supranational bodies such as the UN, EEC etc. (One placement available, open to ESRC students).
Social Science Now!
Develop the concept for a public event that makes social science research and policy accessible, exciting and relevant. The intern will work with an experienced team to research, plan and deliver an event as part of the BL's public programme. You will work closely with high-profile speakers to develop format and content, liaise with BL teams to engage in targeted promotion and post-event evaluation and other outputs (e.g. podcasts, videos). Time-permitting, you will also undertake research into a specific aspect of use of policy information in our collections relating to social science (One placement available, open to ESRC students).
UK General Election 2015 – the Web Legacy
The British Library is part of a consortium that has formed a collection of 7500 archived websites relating to the 2015 UK General Election. This is a unique resource for political and social research. You will be involved in improving discoverability and presentation of the collection using cutting edge web archiving tools; negotiating permissions from rights holders to make archived sites openly available worldwide as well as quality checking of gathered sites. You will have the opportunity to carry out research using the collection (e.g. analysing the role of the Internet in political communication) and to disseminate your findings through BL blogs and other routes (One placement, open to ESRC students).
American Foreign Policy - a User's Guide to the BL
The Eccles Centre for American Studies at the British Library houses one of the world's foremost collections of American books, manuscripts, journals, newspapers and sound recordings. You will develop a resource that will enable researchers to get the most out of the collections related to American foreign policy. The resource could take the form of bibliographies, case studies, learning resources or a web exhibition. You will also be involved in engagement and publicity work to promote use of this resource. (One placement available, open to ESRC students).
Asia, Africa and International Development
International partnerships are fundamental to the British Library's activities, including those in Asia and Africa. As well as hosting vast collections from these areas ourselves, it is our aspiration to support cultural institutions across Asia and Africa whose own collections are at risk from war or civil emergency. More broadly, the Library's international projects and partnerships seek to generate social and economic impact. This internship would involve drawing on the intern's knowledge and research of current best practise in international development to produce a report to the BL with recommendations about how it could more actively and more usefully engage in this area. (One placement, open to ESRC students).