26 January 2016
PhD students: apply now for the British Library's PhD placement programme!
Are you a PhD student currently studying at a UK Higher Education institute? Are you looking for an opportunity to gain valuable careers experience, apply existing research skills, and develop new ones?
Yes? Then please take a look at the 17 projects being advertised as part of the British Library's PhD placement scheme.
The below projects will be of particular interest to PhD students in social science research and policy.
(1) Exploring Food activism through the archives: the relationship between animal rights campaigns and food activism in the UK, 1950-2015
Working with the Contemporary Politics and Public Life team, this PhD placement holder will focus on the newly acquired archive of prolific animal rights campaigner, Richard.D.Ryder, with the intention of mapping the relationship between animal activists and food activist in the UK.
By cataloguing the collection and scoping out wider connections to other British Library holdings, the successful PhD student will help to inform future collection development, particularly as it relates to political and public life from the 1950s onwards, and the intersections between social movements, civil society and parliamentary politics.
(2) Exploring British Library collections through twentieth and early twenty-first century anti-poverty activism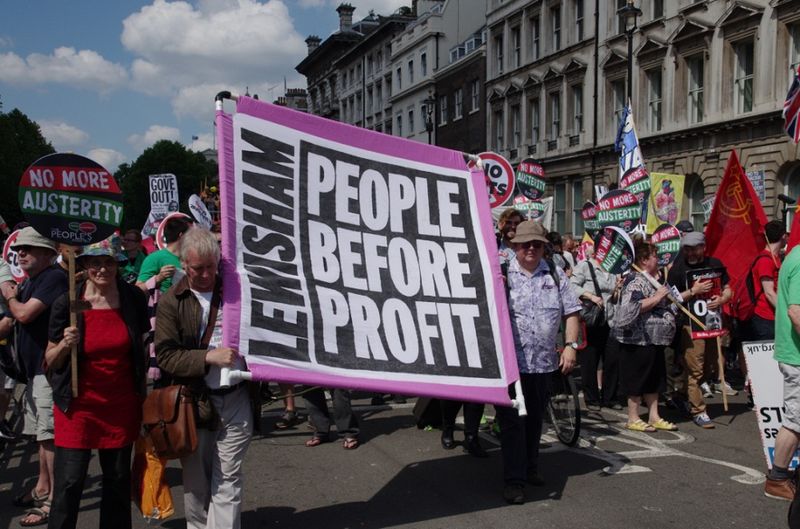 Image: People's Assembly March Against Austerity. Photo credit: RonF; The Weekly Bull, Flickr. Reproduced under the Creative Copyright Licence
The theme, anti-poverty activism, presents an exciting opportunity to explore the British Library's holdings. The successful PhD candidate will engage in new research which spans across the Library's collections; drawing on anything from personal archives, sound material and items of ephemera to images, newspapers and government documentation.
At the heart of this project lie questions about cross-disciplinary research methods; about both overarching and discrete connections between the different collections, and about the value the British Library's holdings as a whole.
By identifying, and generating discussion about potential collaborative opportunities, the placement student will both contribute to the work of the Research Development team, and enhance their own understanding of cross-disciplinary approaches in relation to their own research career.
(3) Research on the British Library's 'zine collection to improve user access
'Zines offer a fascinating insight into popular culture outside of mainstream publishing; however, by their very nature, they can defy standard cataloguing conventions.
This placement calls for a PhD student who already has knowledge about a particular area of UK popular culture, and who is interested in focusing on a particular genre, subculture or time period in order to produce detailed descriptions of a subset of the collection.
Work on this project will help improve the existing catalogue records, and make the 'zines more accessible to all those who wish to use them.
The placement offers the PhD student the opportunity to gain a deeper understanding about collections and custodianship, storage and conservation, and associated ethical and legal issues.  
Further information
The application deadline for all of the PhD placements is Friday 19 February 2016. Further information, including eligibility criteria and details on the application process, can be found here:
http://www.bl.uk/aboutus/highered/phd-placement-scheme
All applications must be supported by the applicant's PhD supervisor and their department's Graduate Tutor (or equivalent).
Please forward any questions to: [email protected]
Jane Shepard, Research Support Intern