02 February 2015
2014 saw British Library curators working across diverse themes, including: sport, law, language, gender, ageing and democracy. Through conferences, exhibitions, workshops and collection development, we worked with a range of audiences, uncovering new insights to our collections and learning more about contemporary research. Here are some highlights:
The annual Chartered Management Institute/British Library Management Book of the Year awards ceremony was held in the British Library conference centre on the 3rd February 2014.  Details of the category winners can be found on the CMI website along with videos which summarise each of the books.  The videos were produced by students from Ravensbourne College of Design and Communication.  The overall winner for 2014 was The Ten Principals behind Great Customer Experience by Matt Wilkinson.  We look forward to participating in the 2015 awards ceremony, which takes place on the 9th of February this year.
As part of the public events series linked to the Beautiful Science: Picturing Data, Inspiring Insight   exhibition, we held a public discussion 'Beyond Nature versus Nurture'.  This event brought together social scientists and scientists to discuss how the nature versus nurture debate has been revolutionised by the study of Epigenetics and to debate the moral, ethical and social consequences of the growing understanding of how nurture affects nature. The speakers were Professors George Davey-Smith and Nikolas Rose.  The evening was chaired by Professor Jane Elliott. The discussion is available as a podcast and can also be watched on the library's Youtube channel.
To mark Le Grand Départ of the Tour de France 2014 from Yorkshire, members of the team, with colleagues from across the library, curated and installed a display of collection items at the library's Boston Spa site near Wetherby. The display included accounts of the early days of cycling as a mass pastime and sport, including an 1897 description of a 'bicycle gymkhana', more recent journalistic accounts of the legendary cycling extravaganza, typographical prints responding creatively to the 2011 Tour de France – including Mark Cavendish's Green Jersey win – and the original manuscript of Tim Moore's best-selling French Revolutions, his 2001 account of cycling the entire 3,630km route of the 2000 Tour de France.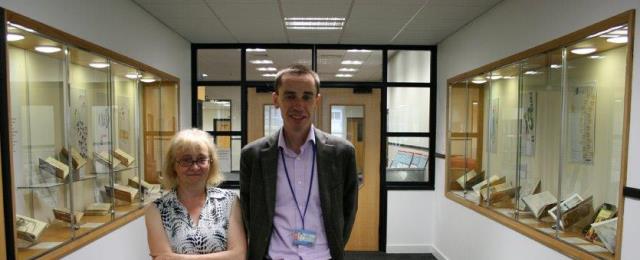 Gill Ridgley and Robert Davies following the installation of Le Grand Tour exhibition at Boston Spa
In addition to the exhibition there was a 'peloton' of blogs written by staff including 'Pedal Power' which explored how patents held by the library shed light on the technical development of the bicycle over the last two hundred years and 'Escorting Stoller's Depart' which reports on the Tour de British Library when members of staff cycled from St Pancras to Boston Spa to mark the start of the Tour de France.
In April we held a one day conference Portraying Ageing: Cultural Assumptions and Practical Implications in partnership with the The School of Language, Linguistics and Film – Queen Mary, University of London and the Centre for Policy on Ageing.  The conference brought together experts from different backgrounds to share and discuss, from a variety of theoretical and practical viewpoints, how age and ageing are not only biological events but also cultural and social constructions and how insights from research can be translated into policy and practice.  They keynote address was given by Professor Lynne Segal, Anniversary Professor of Psychology & Gender Studies at Birkbeck, Guardian Columnist and author of 'Out of Time: The Pleasures and the Perils of Ageing'. The conference was filmed and the videos can be accessed via a page on the Social Welfare Portal.  An overview of the day is also available via the 'Age is in the eye of the beholder' blog post.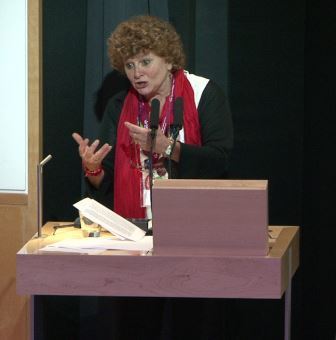 Professor Lynne Segal delivering the keynote address at the Portraying Ageing Conference.
We were delighted to hold the Fourth Annual Equality lecture in association with the British Sociological Association.  This year our speaker was Dr Tom Shakespeare, a senior lecturer in medical sociology at the University of East Anglia and disability rights advocate. Tom's research interests centre on disability studies and bioethics and his publications include: The Sexual Politics of Disability (1996), Genetic Politics (2002) and Disability Rights and Wrongs (2006). He has worked at the World Health Organization in Geneva where he helped write and edit the World Report on Disability (WHO 2011) and has been involved in the disability movement for 25 years.
The theme of Tom's talk was 'Enabling Equality: from disabling barriers to equal participation' and explored what it takes to achieve equality for disabled people, in the era of the UN Convention on the Rights of Persons with Disabilities and 'welfare reform'.  The lecture is available on our podcast page and as a video on the British Sociological Association's vimeo channel.
Members of the team assisted colleagues from across the library in the planning and delivery of the Languages and the First World War International Conference which was held in association with the University of Antwerp and timed to coincide with the opening of the library exhibition Enduring War: Grief, Grit and Humour.  The conference aimed to study how the languages of combatant nations influenced each other; the use of trench slang to both include and exclude individuals; censorship and propaganda; the development of interpreting as a profession; personal communication and silence during and after the war and how the First World War still influences how we all speak today.  The speakers represented a range of academic disciplines and were drawn from across Europe, North America and Australia.  The programme and related blogs can be found on the dedicated conference tumblr page. Some of the twitter feed from the conference is available via Storyfi.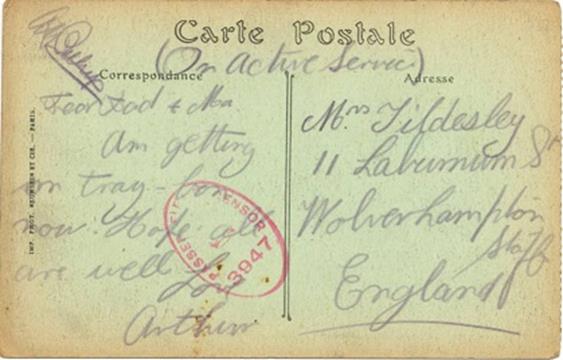 Postcard home: Arthur Tildesley writes to his Mother and Father that he is 'tray bon'.
In June we hosted the inaugural English Grammar Day, which was inspired by renewed political interest in the role of grammar in English teaching and assessment and debates about the cultural and educational significance of knowledge about grammar. EGD 2014 was a sell out event and a forum for reflections on the state of, and attitudes towards, English grammar – in school and beyond – with public contributions encouraged in the form of a lively 'Any Questions' style Panel session. The event brought together academic linguists, teachers, PGCE students, teacher trainers and non-specialists and we look forward to hosting EGD 2015 on June 29 and making this an annual event.
The year also saw British Online Archives made available via remote access for British Library readers.  This is an online platform which brings together digitised images, and descriptions, of collections held in archives and libraries from across Britain.   Collections include the BBC Handbooks and Listener Research, Parliamentary Labour Party records, missionary and colonial papers (recording some of the earliest contacts between Europeans and the populations of Africa, the Americas, and the Pacific), and the archive of the Communist Party of Great Britain.  More information on some of the material available via the service can be found in an earlier Social Sciences blog post.
Holders of British Library Reader Pass can now access these collections from outside our Reading Rooms, using our Remote e-Resources service at https://eresources.remote.bl.uk:2443/login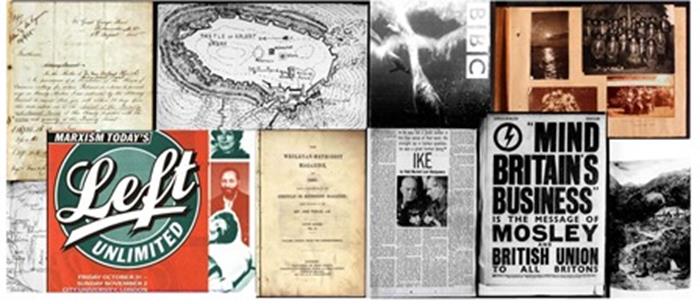 Images taken from British Archives Online.
In partnership with the Institute of Advanced Legal Studies and the Socio-Legal Studies Association we held the third national socio-legal training day.  The theme this year was Law, Gender and Sexuality.  The day aimed to draw attention to archives and content which newcomers to the investigation of intersections between law, gender and sexuality may not be aware of and to consider the methodological and practical issues involved in analysing sources. Information about the programme and details of speakers can be found here and overviews of the day can be found here and here.
We also launched our new series of public discussions 'Enduring Ideas' in partnership with the Academy of Social Sciences.  The series aims to explore some of the key concepts which underpin society.  In the first event, Professor Matthew Flinders, University of Sheffield and author of Defending Politics, discussed 'Enduring Ideas: The Problem with Democracy'.
During the evening Professor Flinders asked and addressed many questions: does the apparent shift from healthy scepticism to corrosive cynicism have more to do with our unrealistic expectations of politics than a failure of democratic politics?  Do the problems with democracy – if they exist – tell us more about a failure on the part of the public to understand politics rather than a failure of politicians to understand us?  Is the problem with democracy is not that it is in short supply but that we have too much of it? He went on to suggest new ways of thinking about politics to ensure not the death but the life of democracy.  A podcast of the talk is available here.
Naturally, this post only provides a snapshot of some of the activities we were involved in, in 2014.  We've enjoyed working with colleagues from across academia; libraries; archives; third sector organisations; professional bodies such as the Academy of Social Sciences, British Sociological Association and the Sociological Research Association, enormously.  It has also been a great way to meet so many members of the public.  We're already looking forward to a new Enduring Ideas discussion, Talk Science, the Annual Equality Lecture and more in 2015.  Keep an eye on What's On for events.
29 October 2014
Robert Davies, Engagement Support for Social Sciences gives an update on some forthcoming events and conferences to be held at the library.
Our 'autumn/winter season' starts on the evening of the 26th November with the first in our new series of public discussions 'Enduring Ideas' which aims to explore some of the key concepts which underpin society.
Professor Matthew Flinders, University of Sheffield and author of Defending Politics, will discuss 'Enduring Ideas: The Problem with Democracy'.  During the evening Professor Flinders will ask and address many questions: does the apparent shift from healthy scepticism to corrosive cynicism have more to do with our unrealistic expectations of politics than a failure of democratic politics; do the problems with democracy – if they exist – tell us more about a failure on the part of the public to understand politics rather than a failure of politicians to understand us; or maybe the problem with democracy is not that it is in short supply but that we have too much of it? He will go on to suggest new ways of thinking about politics to ensure not the death but the life of democracy.
As always we hope our audience will feel free to support, question or challenge the speaker during the question and answer session.  Tickets are selling quickly, so why not reserve a place now via our 'What's on' pages.
Why not keep your diary open for the evening of the 17th February 2015, when Dr Ha-Joon Chang, University of Cambridge and author of '23 Things They Don't Tell You About Capitalism' and 'Economics: The User's Guide', will explore the theme 'Enduring Ideas: The Problem with Capitalism'?  The evening will be chaired by Dame Kate Barker DBE, former Monetary Policy Committee member at the Bank of England.  Tickets will be on sale soon.
As with our Myths and Realities series of public debates, which ran between 2009 and 2013, the new series in organized in partnership with the Academy of Social Sciences.
In the interim we are delighted to be able to host the British Sociological Association's Ageing, Body and Society Study Group 6th Annual Conference on Friday 28th November.  The theme of this year's conference is 'Researching Bodies'.  The keynote address will be given by Professor Les Back, Goldsmiths, University of London.  For further information and details of how to book please visit the BSA website. 
Just over a week later we also delighted to host the Social Research Association's Annual Conference 2014.  The title of this year's conference is 'Changing Social Research: Evolution or Revolution?'  Details of all the plenary sessions and parallel sessions can be found on the SRA booking page.
Naturally we are already planning for events to take place during spring and summer 2015, so why not keep up-to-date by using our dedicated British Library Social Sciences events page.  Here you will also find details of previous events and links to associated podcasts and videos.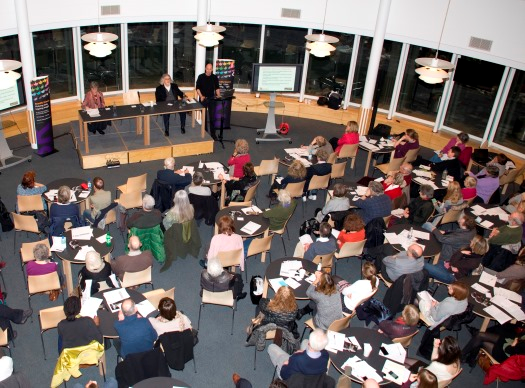 Photograph from our 'Epigenetics: beyond nature versus nurture' debate.  Copyright British Library Board.
03 July 2014
Sue Ashpitel, Business and Intellectual Property Collections Manager writes:
As some of the British Library's intrepid cyclists set off from St Pancras to Boston Spa to celebrate Le Grand Départ of the Tour de France 2014 from Leeds, we thought we should encourage them by reminding them just how much more arduous (yet strangely stylish) their trek north would have been 200 years ago at the very dawn of the bicycle age.
From our historic collection of British patent specifications we can show them coachmaker Denis Johnson's patent of 1818 for a "pedestrian curricle" (GB4321/1818).  This machine, popularly known as a Hobbyhorse, lacked pedals or any sort of driving gear and was, essentially, a sort of ride-on scooter. Intended to diminish "the labour and fatigue of persons in walking", Johnson's Hobbyhorse was closely based on the Draisienne invented a little earlier by the German Karl von Drais.
Well, pedals, tyres, brakes, a chain and some gears may be making the journey north so much easier for our colleagues than their regency counterparts but, when it comes to the clothing, we think a frock coat and top hat win the style race hands down!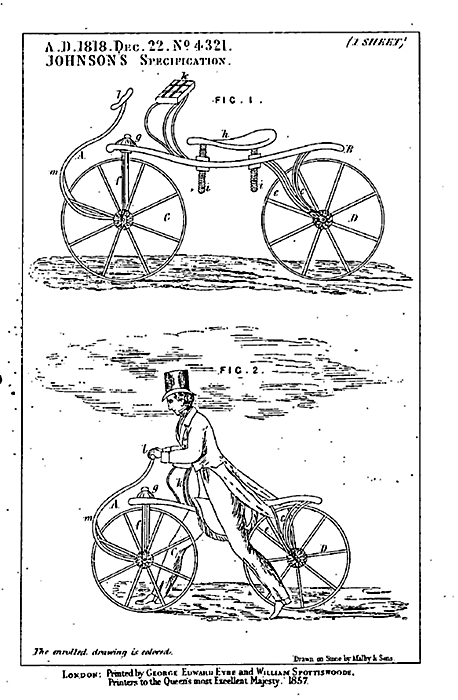 Image from Patent GB4321/1818. Johnson's specification for the Pedestrian Curricle or Velocipide
It would take another 60  or 70 years of development, hundreds of patents and a detour into the high-rise technology of the penny-farthing for the pedestrian curricle to evolve, by the late 1890s, into a bicycle familiar to today's cyclists. From this point on there was no major change in the shape and general appearance of the bicycle until the early 1960s when Alex Moulton patented his small-wheeled Moulton "F Frame" cycle (GB907467 of 1962).
To find out more about our collection of British patents you can contact our reference team in the Business & IP Centre on 020 7412 7454 or by submitting a query online.
Meanwhile, we wish our colleagues bonne route!
06 May 2014
In this post Philip Eagle, Content and Collection Specialist for Business and Intellectual Property, provides more information about the Library's Item of the week.
On the 6th May 1994, twenty years ago this week, the Channel Tunnel was officially opened by HM the Queen and President François Mitterrand. The current Item of the Week on the British Library's website is a Deputation to the Prime Minister by promoters of an earlier Channel Tunnel scheme, published in 1913 and held in the Business & IP Centre's Trade Literature Collection.
The work describes a scheme quite close to today's Channel Tunnel, with two bored single-track tunnels from Dover to Sangatte. Trains would be electrically hauled and cross passages would be used for workers and to improve ventilation.
Much of the 136-page brochure, however, is taken up by arguments against the fear that a Channel Tunnel might provide an avenue for France or some other hostile nation to invade Britain, which had shut down the most serious previous attempt to start construction of a Tunnel in 1882. It is argued that changes in both the political situation and military technology since would make a Channel Tunnel less of a hazard to Britain in the event of a European war, and more helpful as a way of evading any naval blockade to trade.
Arguments for the Channel Tunnel are familiar - increased trade, tourism, and the avoidance of seasickness. The most prominent supporter of a Tunnel scheme listed in the brochure is the late William Ewart Gladstone, whose speech of 1890 supporting a tunnel is quoted. The brochure ends by predicting through trains from London to points as far away as Lisbon, Nice, Palermo, Constantinople and Siberia, and the possibility of a tunnel under the Bering Strait to link Russia with North America for a London-New York express.
The illustration shows a drawing of an even earlier scheme by Hector Horeau in 1851, which would have involved a submerged iron tube resting on the sea bed. The huge moored towers seen in the picture would have been retained after the completion of the tube, to hold it in place and provide ventilation.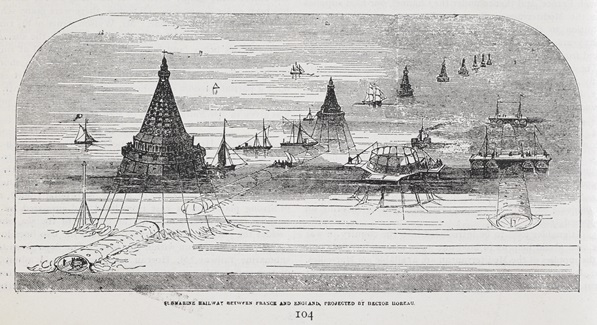 Elsewhere in the Trade Literature collection, we have a number of items covering the modern tunnel, including annual reports from Eurotunnel and Wimpey, and celebratory items in staff magazines from the contractors Tarmac and Costain. For people who want to see what St Pancras and Kings Cross were like before the Channel Tunnel Rail Link, we have a brochure published by the City and South London Railway tube company for their 1907 extension from Angel to Euston via Kings Cross (now part of the Northern Line), which has fascinating pictures of the station and the streets around.
19 November 2013
Abiola Olanipekun recently finished an internship at the British Library. In her final blog post she summarises her previous posts about the iPod generation and bids adieu!
In my final months at the British Library I have been a busy bee! I have written a series of blog posts about the Reform reports on the 'iPod generation' which were published in 2007 and 2008. If you have not read my previous posts, please take a look at the links below:
For the 1st one, click here.
For the 2nd one, click here.
For the 3rd one, click here.
If you wish to find out more, please visit our Management & Business Portal for in-depth pieces by Reform and others that will stimulate your brain juices!
Once you've done that folks, I hope you might read my final post.
The series of reports analysed the situation for the classes of 2005 and 2006 and made predictions about the financial future for people of my generation. The reports wrote about how the 18-34 generation may pay higher taxes than previous generations, will need to support a generation of long-living retirees, have lost the 'benefits bargain' and are generally in a dire mess when it comes to a healthy financial future. You may find this to be pessimistic, but in my own case, as a 26 year old living alone in London, I feel the unsettling reality of some of the findings and predictions in this set of reports.
Despite this, I am determined to take a guarded view and not be completely devoid of optimism. It is also possible to take a retrospective view, since a few years have passed since the publication of the reports: there have been changes to the economy since 2008 and while, for example, the number of graduates in non-graduate jobs has recently been reported to have risen, ONS data also shows that in the last quarter, employment levels have improved.
I like to think that maybe prospects might change and who knows, maybe we will come to read fewer articles about the iPod generation being financially challenged!
In the meantime, I hope that you all found what has been documented in these blogs useful – the Reform reports or what I have written or maybe both?! (Just being hopeful!). Thanks for reading.
Postscript: Abiola recently started a new job working in communications. We wish her the best of luck!
06 September 2013
The British Library has put together a new series of videos which show how different people have been inspired and supported by the Library's collections. Different areas of the collections such as newspapers, maps and market research reports are shown to enable researchers, educators and creative individuals carry out their work. Alex Hall, a final year PhD student at the University of Manchester has used the British Library's newspaper collections to undertake research in the history of science. Here is a bit more about his research and how he has used our collections.
History of Science – Alex Hall
Alex Hall is in the final year of his PhD at the University of Manchester, researching UK weather events and the history of the Met Office. He is interested in the way that the Met Office has communicated with the public, and how its role has changed since WWII. His starting point was the Daily Mirror headline after the Great Storm of 1987: 'Why didn't they warn us?' This prompted the question: how did this culture of blame develop?
Alex has used official documents from other archives to research particular events, for example, floods in the 40s and 50s. These sources can tell you 'what happened', or 'what was supposed to happen', but they often don't tell you how events unfolded, and how the public responded. He turned to the Library's unique collections of local newspapers to analyse the public response to the floods. He also used the Library's international collections to find government documents from around the world, to give a wider context to his work. Particularly useful was a US document called 'Weather is the Nation's Business'; he discovered that many British policy ideas had been directly drawn from this report. Alex has spoken at several conferences about his work, in the UK and US, and also writes a weather-related blog. This blog led to him being invited to speak to a group of Chinese meteorologists about his research. He hopes his completed research will prove useful to the Met Office, as his discoveries give insight into the evolution of its role and reputation.
Watch Alex's short video about his research at the British Library here:
In the case of the video failing to play, click here.
Follow Alex on Twitter @Green_gambit and read his personal blog here: http://greengambit.blogspot.com/
22 August 2013
Abiola Olanipekun is an intern at the British Library. This latest blog post is number two in a series of four which reflects on reports about the 'iPod generation' which appear on the Management and Business Studies portal and were published by Reform in 2006. 
This second blog post about the 'iPod generation' continues to follow the envisaged bleak turn of events for this generation. Before I start, you may want to read part one of this series here.
After my first posting, I re-read 'Class of 2006: A lifebelt for the iPod generation' and it confirmed that in 2006 there was no supposed 'happy ever after' or even a semi-decent outcome in sight, just a doomed financial future for this generation. Will there ever be any 'Green Shoots' at this miserable point? Knowing what happened to the economy in the years that follow suggest not.
Should you, as a member of our erudite audience, wish to see this report then feel free (once more) to click here. It's free to download from our MBS Portal.
As I read the second report in the series by Reform, I wondered about the relationship between how the evidence is researched and presented, and how it is received. In my first post I received the information as an inquisitive person but certainly felt miserable by the end of the report. This time around it I feel more miserable than I ever did! Knowing that many of the bleak predictions came true in one way or another make the warning produced by Reform even more depressing.
Below are just a few of the points and observations made at the time of this report. Whether this may or may not be the case for today is another debate…
Young people's earnings were rising by less than any other age group

Young people were most likely to be in debt

House prices had continued to rise beyond the range of young people's earning

Older people will gain from a rising state pension linked to earnings. 

Young people funding the increase in the state pension at the same time as facing automatic contributions of 3 per cent of their salary. 
This report generally confirms that is predicting bad news like the first report.
When the baby boomers are referred to as 'winning' the generation game it sets the generations against one another in an insulting way as it reminds of how the older generations have benefited from the welfare state. Or maybe my sense of humour has left because I (like a lot of my age group) am so poor and frustrated feel the reality of these generational differences.
I must stress now though that I am in no way carrying out a 'Debbie Downer' type approach to these pieces because that would negate the areas where progress has been made for the young. I also am grateful that the situation for the young people here is not as bad as it is in some other European countries, but recent news stories have also shown that there is economy uncertainty and poor employment conditions for many. Fixed-term contracts, or worse, zero hour contracts do not have a place in my heart. I am hoping for something other than more economic instability.
26 July 2013
Abiola Olanipekun is an intern at the British Library. For her latest series of blog posts she will write a four posts which review reports by Reform that have been uploaded onto our Management and Business Studies Portal. This first blog in the series is about the report 'Class of 2005: The IPOD generation – Insecure, Pressured, Over-taxed and Debt-ridden'.
As a member of the Generation Y, and the iPod Generation, I only know too well the constant reminders about how my generation are riddled with some form of debt or are broke, lost, underemployed and…broke again.
As the younger generation, we are said to be carrying a substantial financial burden of an ageing population on our backs whilst at the same time benefiting less from the state than the generations before us.
Our apparently declining morale is exacerbated by the strong-hold that older generations have on the property ladder which is of a kind that is no longer available to us. Whether it be restricted through receipt of erased housing benefit (young person single room rate anyone?) or through difficulty of affording (let alone attaining) a first mortgage…I think it's safe to say that things seem a tad bleak.
All this, from my point of view, has been looking this way more or less since 2008. But no, it seems I am wrong. The iPod Generation folks were suffering way before the 2008 financial crisis, according to Reform. (Oh, and in case if you are wondering what iPod stands for then here is a mouthful of sombreness: Insecure, Pressured, Over-taxed and Debt-Ridden.) Nice isn't it? Well actually no, it is not. I'm afraid there will be more acronyms to follow within this blog post.
As I was working through my latest assignment for the MBS Portal, I was introduced to the think-tank Reform. According to their work, the younger generation (who are under 35), have experienced systematic unfairness and financial insecurity for some time.
We pay higher taxes, have fewer benefits and, as Reform put it, have experienced the end of the 'welfare bargain'. According to Reform, a substantial number of young people don't save as much as older generations (and that's when we do save), are taking care of an aging population and pay higher taxes than previous generations did. We are then nicely reminded (being sarcastic by the way!) in the report of how the baby boomers had free education, jobs for life and the best of the housing property ladder.
Thanks! At such a financially sensitive time, that information definitely just helped my morale. Reading this report tastes rather like a dish served pure and raw (insert straight face icon here).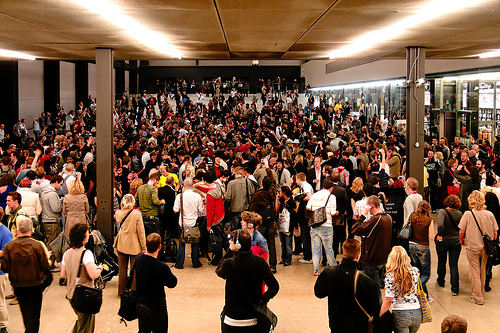 Above: some members of the iPod generation during happier times - at a silent disco at the Tate Modern. Photo © Dean Ayres
So, when did we ever have it so good?
Or let us just ask the real question, when will the under 35s ever have it as good as previous generations?
The initial aims listed in the report are to review the impact of tax, public expenditure and higher education policies on young people. Other points stressed in the report include the overall economic position of the younger generation, how policy decisions affect their financial standing (such as the tax increases on stamp duty and inheritance tax, introduction of tuition fees, and increased spending requirements for the NHS and social care).
Identified in this report are the following groups of young people (worrying reading - please take caution):
NEETS (Not in Education or Training)
KIPPERS (Kids in Parents Pockets, Ending Retirement Savings)
YADS (Young and Determined Savers)
SKIERS (Spending the Kids Inheritance)
Overall, I find this report bleak but nonetheless full of useful facts. Reform has made a clean effort with facts to show a particular type of financial sombreness for the younger generation that I did know entirely existed before 2008.
Nevertheless, all this hurts. It hurts as a young person, a young adult and another individual trying to make it through life on non-borrowed means and a testing wage. It hurts that these reports provide evidence that is visceral and relatable to such a degree, that my usual interrogation for anything I read is somewhat disabled when I read what Reform have to say. I believe that this is so because of how this information directly correlates with the fears that I have for my own future, and links to the other issues described in reports about Generation Y that I am facing now.
Form your own opinion and read it the report by Reform here which has been added as taster content to our portal.
Let's hope that my own future along with the rest of the under 35s is actually bright, like that really catchy Orange slogan.